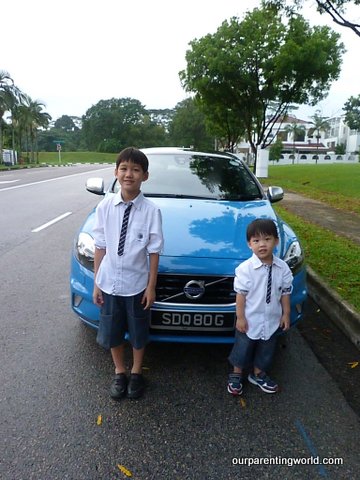 Daddy is a car lover and he loves Volvo cars for its safety, comfort, designs and performances. When Wearnes Automotive, the dealer for Volvo cars in Singapore invited Our Parenting World to test drive its new V40R. Daddy took up the opportunity to test drive this popular car and how good it is especially for families. 
This new model of Volvo V40R certainly looks trendy! The test drive car comes in this stylish Polestar blue colour.
The first thing Gor Gor and Di Di noticed was the brand new dashboard, which has a digital speedometer. It looks like a traditional analogue speedometer but its fully digital. Wow, it's so classy!
Then the boys noticed the panoramic roof of the car, which you can see the trees and the sky during the day, and the stars and moon at night. That is so cool! They have already fallen in love with this new Volvo.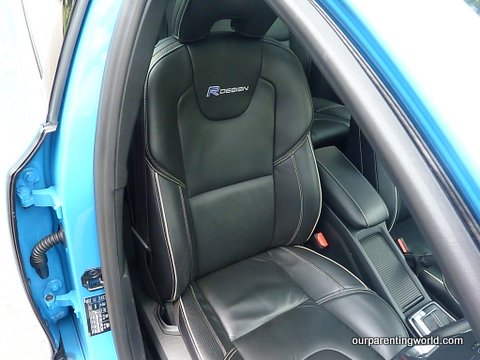 Volvo is well known for its safety, everyone knows that. But what is lesser known to other people except Volvo owners is Volvo has one of the most comfortable car seats in the world. If you spend a lot of time on the road and need a comfortable car with a nice seat, Volvo is the best!
The Volvo V40R looked small from the exterior but it was quite roomy inside. For our family of 2 adults and 2 children, we were very comfortable in this car. The acceleration from the turbocharged 1.6 litre engine was excellent and the handling was equally impressive. For those who like to have even more power, you can opt for their in-house Polestar upgrade, which will increase its horsepower from 180bhp to 200bhp.
Previously Volvo used to be popular among the middle-age conservative buyers like doctors, engineers and accountants. In recent years with the launch of its newer and trendy model like the S60 and V40, there are many young families who are choosing Volvo as their first family car. The attraction is not just Volvo cars are one of the safest in the world, they are also trendy and fun to drive. This Volvo V40R is very popular among young families of today.
Volvo V40R is the ideal car for families with young children. It is sporty and high performance for Daddy, trendy, comfortable and small enough to manoeuvre for Mummy and safe and fun (especially with the panoramic roof) for the kids.
Here Our Parenting World would like to thank the kind and lovely organisers of Wearnes Automotive and Volvo cars for inviting us and giving us an opportunity to test drive the car.