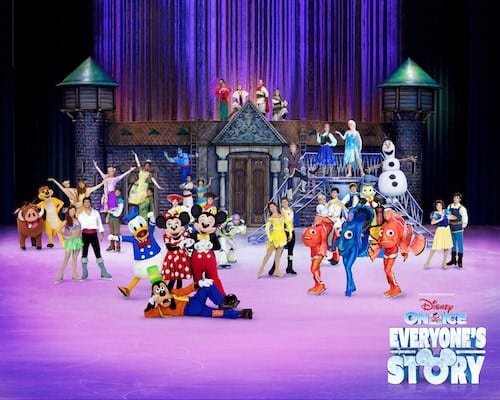 Our Parenting World's Giveaway Alert: Disney On Ice celebrates Everyone's Story – Tickets and Exclusive Merchandises Giveaways!
The very popular Disney On Ice is back in Singapore!
Celebrating its 25th anniversary this year, FELD Entertainment proudly presents Disney On Ice Celebrates Everyone's Story. Fans will be excited to know that this spectacular show will combine the incredible talents of world-class ice skaters with heartwarming Disney stories to take you on a celebration that is sure to create memories that will last a lifetime!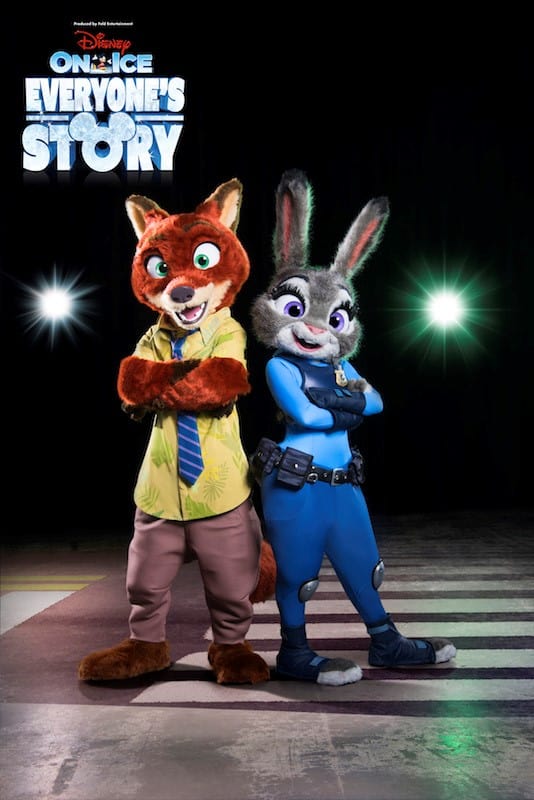 The show will kick off with a special pre-show with Judy Hopps and Nick Wilde of Disney's Zootopia enticing the crowd to help solve an off-ice caper that must be cracked for the on-ice action to begin! Fans can look out for more than 50 unforgettable Disney stars, a sing-along score of melodious masterpieces, stunning choreography, beautiful costumes and intricate sets.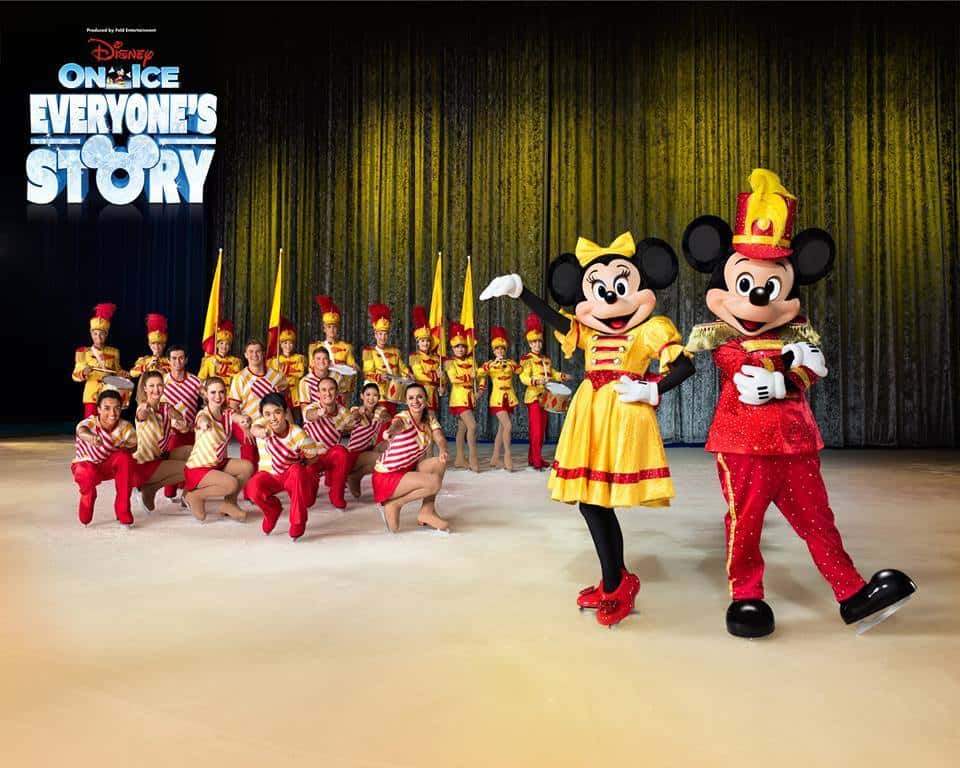 The mouse-ter of Ceremonies Mickey Mouse, sweetheart Minnie Mouse, Donald Duck and Goofy will also take to the ice with their friends from favorite Disney movies that span decades from Pinocchio to Frozen.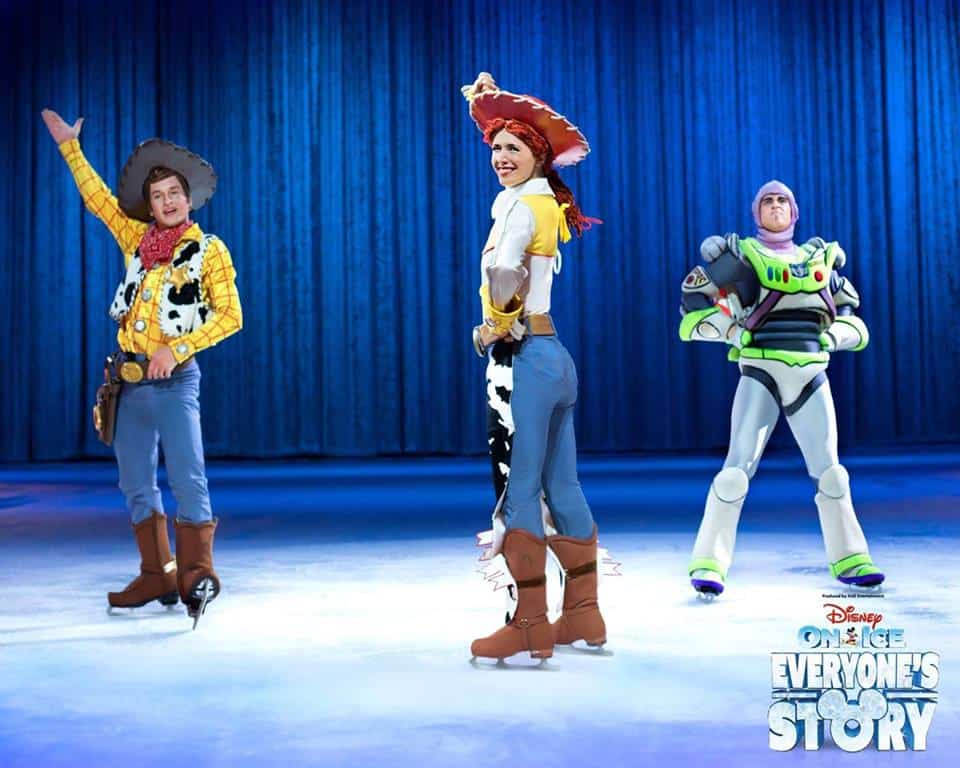 Travel to the heart of Africa with Disney's The Lion King, come along for an adventure in friendship with the gang from Disney•Pixar's Toy Story and watch in amazement as Belle breaks the Beast's curse in the tale of Beauty and the Beast.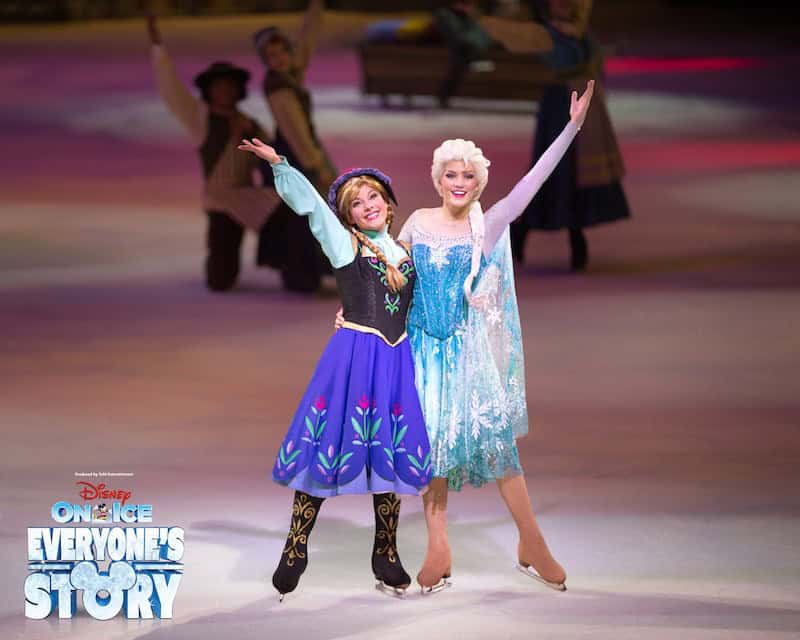 The most popular and all-time favourite royal sisters, Anna and Elsa will also make a special appearance from the number one animated feature film of all time, Disney's Frozen. Enter the magical kingdom of Arendelle and journey up the North Mountain with hilarious snowman Olaf and rugged mountain-man Kristoff, as they help the sisters discover that true love conquers all.
Disney On Ice celebrates Everyone's Story will excite audience with characters coming from 14 well-loved Disney stories including Pinocchio, Finding Dory, Lion King, Beauty and the Beast as well as the ever enchanting Frozen. You can look forward to sing and dance along to 30 of their favourite Disney songs including family favourites like "Hakuna Matata," "You've Got a Friend in Me" and "Let It Go." Audience can also rock out with Squirt and his rambunctious turtle friends from Disney•Pixar's Finding Dory with the original song "Turtle Rock," and fall in love with a musical montage of dazzling prince and princess pairs skating to "At Last I See the Light," "A Whole New World" and more.
Celebrate the 25th Anniversary of Disney On Ice in Singapore with a captivating show; Disney On Ice celebrates Everyone's Story will be performing from 14 – 18 March 2018 at Singapore Indoor Stadium.
To purchase the tickets, please go to www.sportshubtix.com.sg.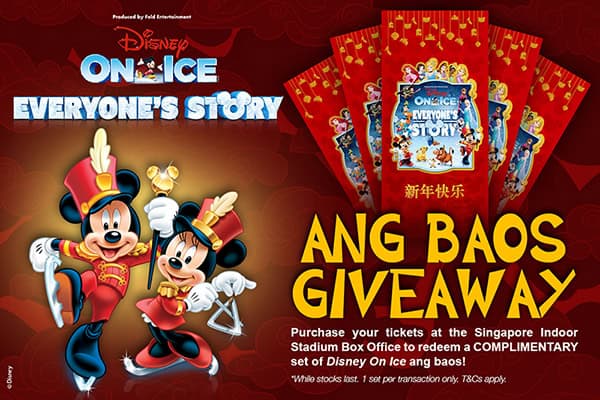 ANG BAO PROMOTION
Purchase your tickets at the Singapore Indoor Stadium Box Office to redeem a complimentary set of Disney of Ice ang boas through 15 February or while stocks last!
• Disney On Ice exclusive Ang Bao set of five (5) with purchase of any ticket at the Singapore Indoor Stadium box office only
• Limited to one set per transaction
For more information on the show, please log onto www.DisneyOnIce.com or visit the social channels below:
GIVEAWAY CONTEST: Tickets and Exclusive Merchandises Giveaways!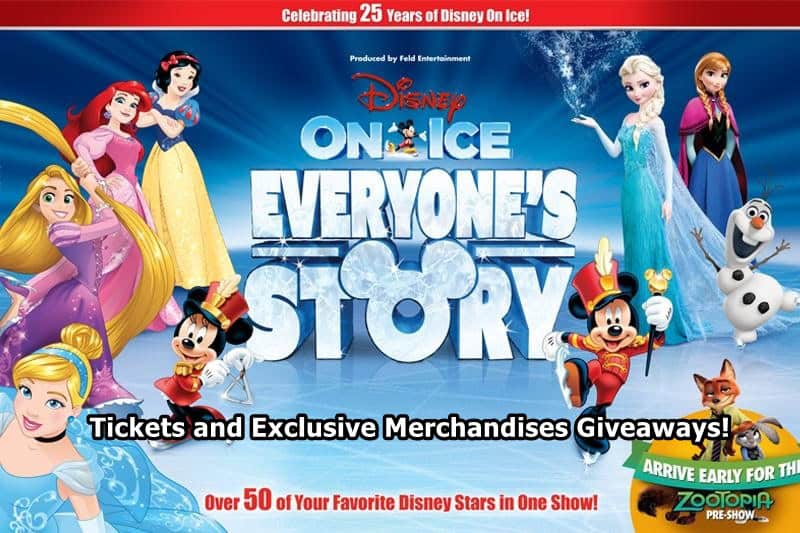 Good News!
Thanks to Feld Entertainment, we are giving away 4 CAT 1 tickets worth a total of $260 for the March 14th (Wednesday), 7:00pm show and the following exclusive merchandises to our lucky readers as follows:
• 2 x J.Hopps Ear Glow = $60
• 2 x Little dory plush = $36
• 1 x Snow Mug olaf = $16
The 3 lucky winners will receive the following:
1st winner will receive 4 CAT 1 tickets.
2nd winner will receive 1 Hopps Ear Glow, 1 Little dory plush and 1 Snow Mug olaf.
3rd winner will receive 1 Hopps Ear Glow, 1 Little dory plush
FACEBOOK AND INSTAGRAM CONTEST:
Here's how to enter the giveaway at our Facebook and Instagram:
1) LIKE and FOLLOW Our Parenting World Facebook and Disney On Ice celebrates Everyone's Story Facebook 
2) LIKE, SHARE and TAG at least 5 Family and Friends to share the giveaway post on Our Parenting World's Facebook Giveaway Post. 
3) FOLLOW and LIKE our Instagram at @opwmedia
4) LIKE, SHARE and TAG at least 5 Family and Friends on our Instagram post @opwmedia on Disney On Ice celebrates Everyone's Story.
Hurry, giveaway will close on 2nd March 2018 at 23:59Hr.
Please ensure that Step 1, 2, 3 and 4 are completed in order to qualify for the giveaway.
Thank you and Good Luck!