We are excited to know that a new Japanese restaurant has opened, as foodies, we can't wait to try it out! Kiyoshi Japanese Restaurant is a family-style restaurant that focuses on providing light and wholesome meal with fresh ingredients prepared using an innovative, contemporary approach. It specialises in Inaniwa udon, yakitori, sushi and affordable bento sets. 
Here's the highlight of some of the dishes that we have tried as follows: 
Yaki Mono (Grilled Items)
Grilled Salmon Mentai Yaki – $15.80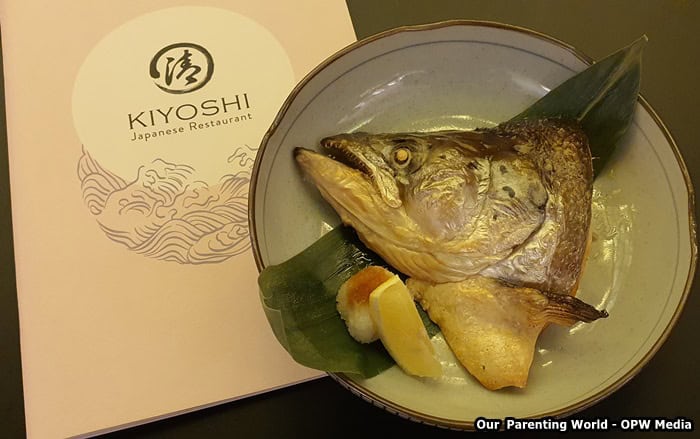 Salmon Kabuta Shioyaki (Grilled Salmon Head) – $11.80 (limited)
The grilled Salmon dishes use fresh Salmon meat that have been grilled to perfection, the meat is so moist and tender. Salmon contains high levels of Omega-3 fats – EPA and DHA which plays a crucial role in the growth and proper functioning of our body. This Salmon dishes are both delicious and healthy! 
Yakitori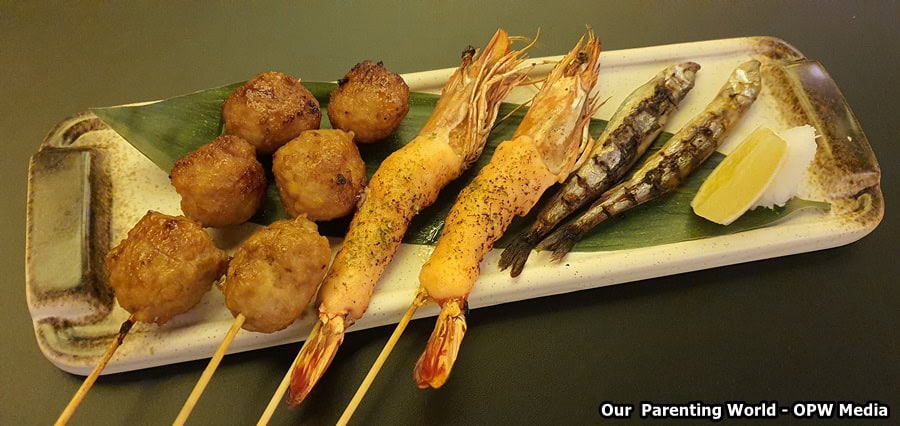 This Yakitori platter consists of Tsukune (Homemade Chicken Meat Ball) – $3, Ebi Mentai Yaki (Prawn with Mentai Sauce) – $4.80 and Shishamo (Capelin Fish with Roe) – $1.80. The meat is well seasoned and full of flavour. We especially like the Shishamo that is served with its roe intact. The fish is grilled till crispy and the roe will burst in your mouth which gives a lot of texture. 
Salad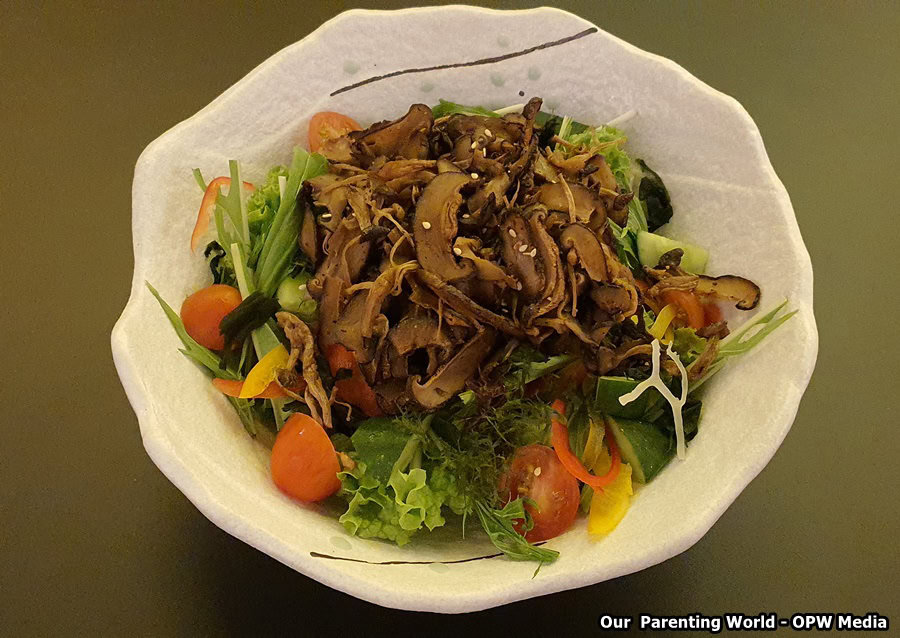 Mushroom Salada with Wafu Dressing – $10.80 consists of a variety of fresh green vegetables, tomatoes, topped with lots of mushroom and tossed with wafu dressing which means "Japanese-style dressing", a vinaigrette-type salad dressing that is popular in Japan. This salad dish is so refreshing and appetising! 
Nigiri Sushi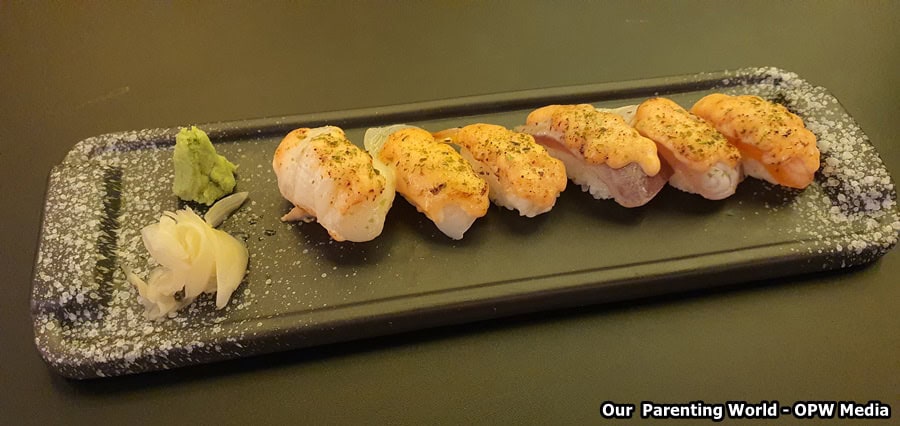 Salmon Mentai – $4.80 for 2 pieces
Kanpachi(Amberjack) Mentai – $5.80 for 2 pieces
Maguro (Tuna) Mentai – $7.80 for 2 pieces
Hotate Mentai (Raw Scallop) – $5.80 for 2 pieces
Ebi (Shrimp) Mentai – $4.80 for 2 pieces
Ika (Cuttlefish) Mentai – $4.80 for 2 pieces
Nigiri sushi consists of using very fresh slice of raw fish or seafood over pressed vinegared rice. Each piece of these heavenly sushi is so tasty that melts in your mouth. 
Special Maki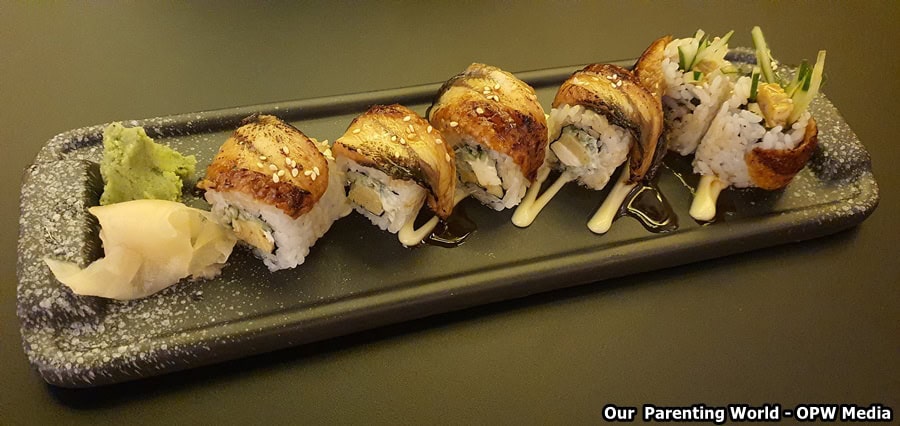 Unagi Cheese Roll consists of Tamago, Cucumber and Cream Cheese Roll topped with Seared Eel at $13.80. We love this cheese roll that is so unique with an interesting fusion combination of robust flavour from the fragrant eel, soft and creamy Japanese omelette and cheese. 
Oden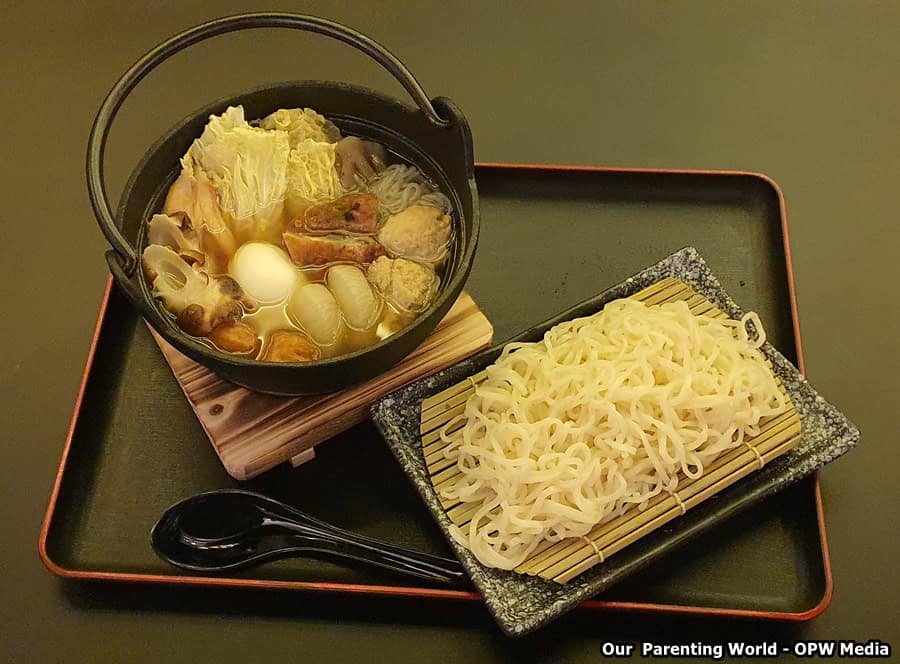 Oden (Japanese Fish Cake Stew) served with Inaniwa Udon – $22.80 (seasonal item)
This is a sumptuous dish consisting of an assorted fish cakes, Atsuage (deep-fried tofu), fish balls, hard-boiled eggs, konnyaku, vegetables simmered in light, soy sauce based broth and paired with Inaniwa Udon.
The restaurant specialises in Inaniwa udon, a type of udon made in the Inaniwa area of Inakawa machi, Akita prefecture. This cream coloured udon is hand-stretched and is slightly thinner than regular udon, yet thicker than sōmen, or hiyamugi noodles. The most important part of the making process is the repeated hand-kneading technique which helps it to achieve its thin, smooth and delicate, melt-in-your mouth texture. This is a wonderful comforting dish to indulge in especially on rainy days. 
Ramen
Gegikjara Ramen (Spicy Bean Paste Soup Noodle with Prawn, Squid, Pork and Vegetables) – $18.80. If you enjoy spicy food, you have to try this Gegikjara Ramen that can be hot and addictive. 
Udon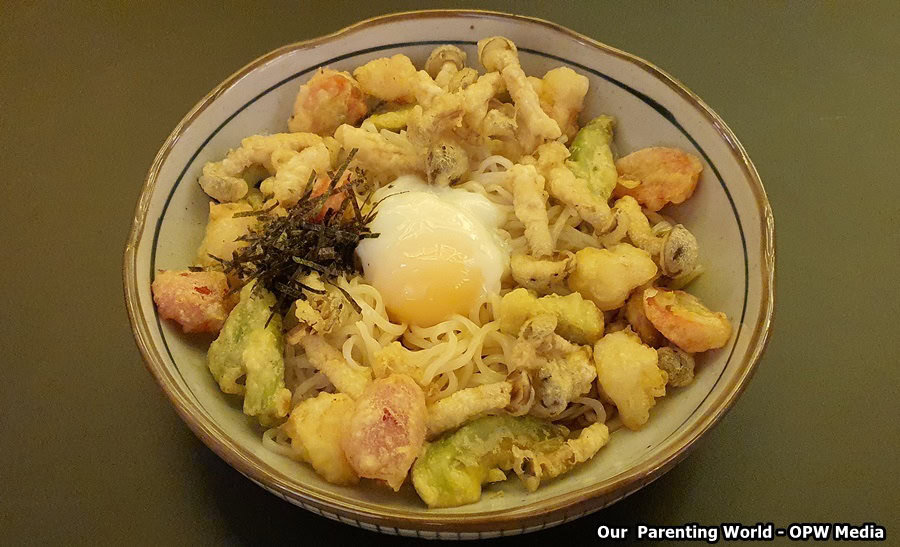 TEM Chirashi Udon -$16.80 (Cold Thin Udon with Assorted Tempura – Scallop, Cherry Tomato, Mushroom, Avocado, Capsicum). This cold udon is chewy and bouncy and filled with an assorted crispy and crunchy Tempura. 
Kiyoshi Japanese Restaurant is a 80-seater restaurant featuring a cosy, spacious and contemporary interior that is ideal for family gatherings and dinner with friends and loved ones. With a 'live' sushi bar, you can catch the chefs skillfully slicing the sashimi and rolling the sushi in action. 
Kiyoshi Japanese Restaurant
Venue: 75 Amoy Street, Singapore 069894.
For reservations, please call 6223 0995 or 9366 6419 or email info@kiyoshi.com.sg
Order online on their website at https://inline.app/order/kiyoshi/amoystreet
Islandwide delivery is available at $11.
Minimum order of S$30
Free delivery for orders above $100