Hello Everyone!
A very warm welcome to our website!
We have been wanting to do a blog to detail down some of the happenings in our lives. We have dear friends and relatives from Singapore to Overseas who would like to know how we are doing and keep in touch with us. We would also like to share our stories and make new friends. The best way is to do a blog. It will start from our wedding in 2005 to the birth our two boys  onwards. Here we go …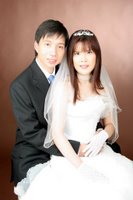 This is the beginning of our story from our boys' point of view. Gor Gor says: Mummy and Daddy were married on 22nd of January 2005, in less than a month, Mummy suspected that she was pregnant. Daddy bought her a pregnancy test kit and it was tested positive. True enough, the test confirmed that Mummy's instinct was correct. Mummy was very nervous and this was her first pregnancy. She soon realized that coincidentally  many of her friends were also pregnant. Mummy and her friends happily started to share their pregnancy journeys together. 
Mummy's expected due date was 12th of November however I chose to arrive on the 22nd of November 2005 exactly 10 months after my parents' wedding and arrival time at 0029am, 29 is my grandparents' favorite and lucky number !
My parents called me, Vincent. The origin of my name was suggested by my Daddy, he wanted my Christian name to follow Mummy's first letter "V". He loves my Mummy a lot and wants me to look more like Mummy. Vincent means "Strong in Victory".
"The Lord is my strength and my song and is become my salvation. Psalm 118:14.
We are further blessed by another little V in our family, my Di Di. Please read on to find out more about us. 
Welcome to Our Parenting World and thank you for joining us in our journey!