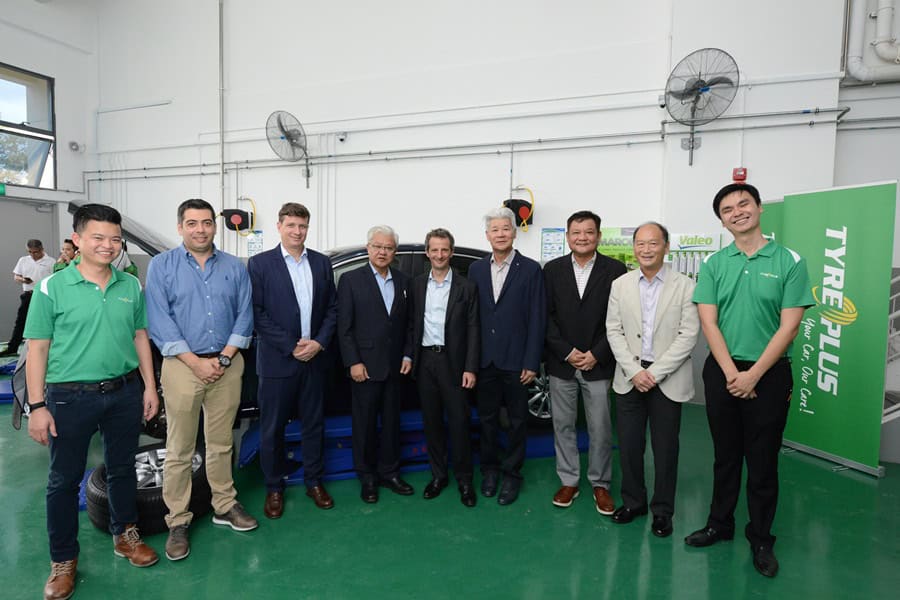 Key management team of Michelin Group and Hock Tyre Group at the Grand Opening of TYREPLUS in Singapore (Photo Credit: TYREPLUS)
TYREPLUS, one of the world's largest one-stop centres for car maintenance services with over 2,000 stores in 17 countries, has launched its firstever outlet in Singapore! Its flagship outlet is located at Wave9, Woodlands Industrial Park.
Car owners can look forward to a wide range of premium, mid-range and budget car services at competitive prices, including tyre changing and repairs, lubrication; wheel balancing; wheel alignment; alloy wheel maintenance; battery change; vehicle servicing; oil change; brake servicing; and air-conditioning servicing offered by TYREPLUS. At TYREPLUS, the drivers' and passengers' safety are the key focus. With a group of trained experienced technicians, the company follows a comprehensive Safety Check Points list that is used by specialists across 17 different countries. 
Mr. Tay Ming Wah, Chairman of Hock Tyre Group shared that "With the launch of TYREPLUS in Singapore, we aim to raise the profile of the car servicing industry through the adoption of advanced technologies and procedures that adhere to international standards. Individuals and corporate-car owners can come to TYREPLUS and get detailed report so that they know exactly the problems and troubleshooting services they are paying for. We aim to open more outlets so that our consumers can visit TYREPLUS within 15 minutes drive."
Highlights of TYREPLUS:
High-calibre technicians perform safety check procedures that comply with international standards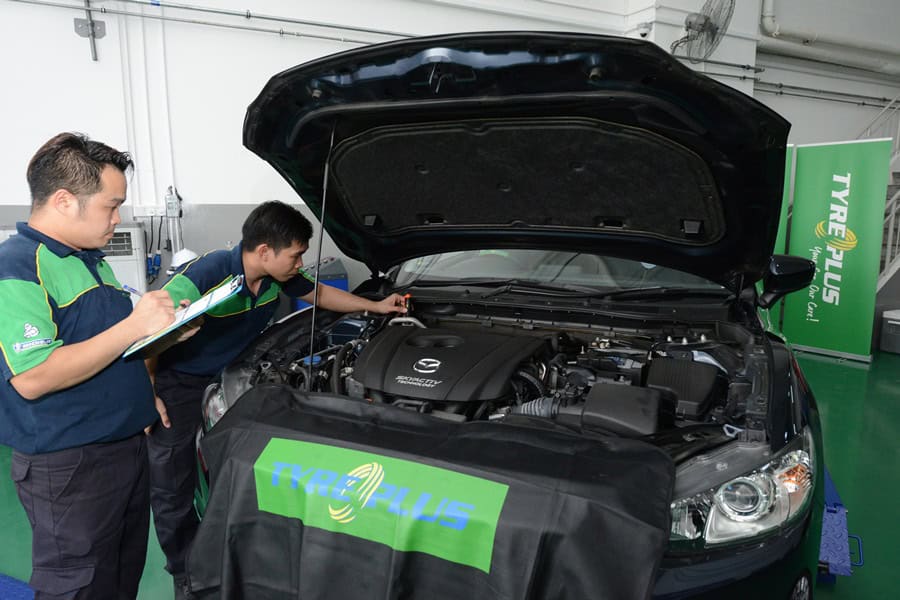 Photo Credit: TYREPLUS
As part of TYREPLUS's focus on driver and passenger safety, the company's trained and experienced technicians follow a comprehensive Safety Check Points list that is used by specialists across 17 different countries. Armed with this list, they are able to address any needs and concerns of the customers and ensure that work is delivered to the highest standards. All customers will receive this free check when they sign up for any of TYREPLUS's services.
First commercial automotive care specialist in Singapore to use Groove GloveTM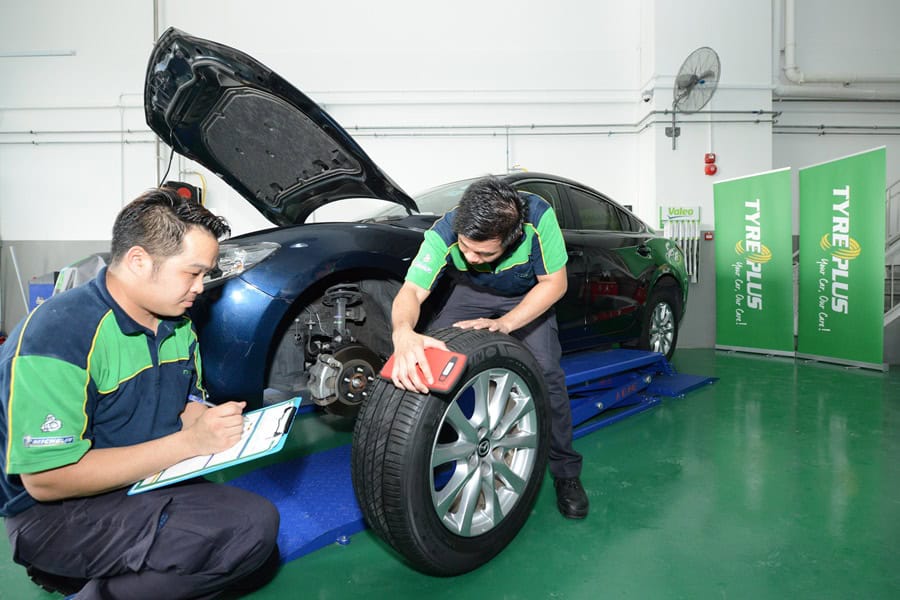 Photo Credit: TYREPLUS
A laser-powered instrument, Groove Glove measures tyre tread depth by taking thousands of readings across the face of the tyre, and from shoulder to shoulder. Buoyed by 120 proprietary algorithms, the hand-held device provides detailed, scientifically-derived cross-sectional wear information. Customers can retrieve their tyre health reports via a weblink, or by scanning a given QR code. The report projects braking distance, and immediately advises drivers if they need to adjust their tyres' suspension alignment; or if a tyre change is required. With this revolutionary technology, every tyre technician in TYREPLUS is transformed into a tyre specialist.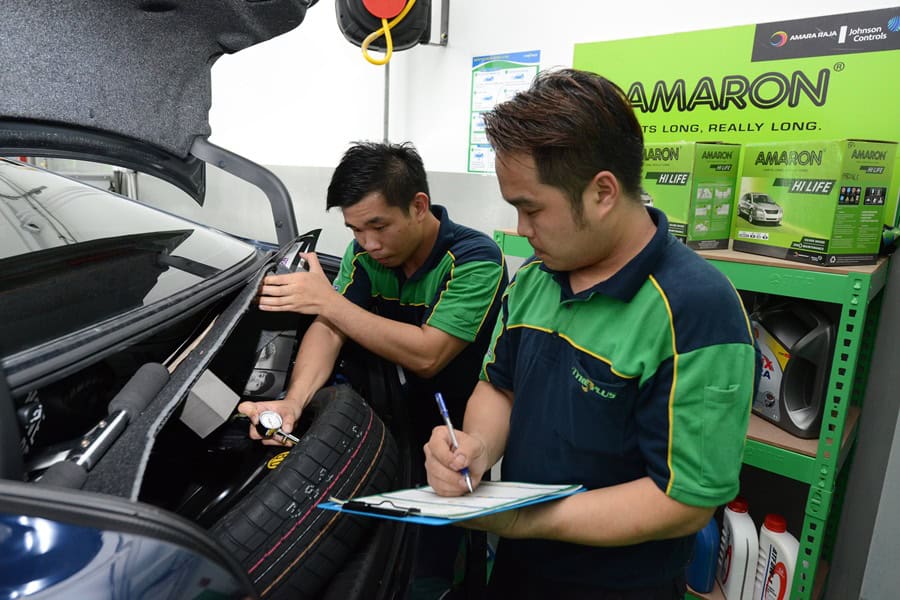 Photo Credit: TYREPLUS
Thinking of sending your car for servicing and maintenance?
Bring your car to TYREPLUS where you can have a peace of mind that your car is handled well by its well-trained and experienced technicians. Committed to offering both individuals and corporate-car owners the tyre safety they deserve, Michelin is proud to parter with Hock Tyre Group to launch TYREPLUS into Singapore. 
"Michelin is committed to offering both individuals and corporate-car owners the tyre safety they deserve. This strategic partnership with Hock Tyre Group has enabled us to bring TYREPLUS into Singapore. This is TYREPLUS's first master franchise in Southeast Asia. The mechanics will receive standardised training and will be audited periodically to ensure that they deliver consistent and quality service. Singaporean consumers now have a new choice when it comes to trustworthy automotive care and tyre services." shared by says Mr. Chan Hock Sen, Country Director of Michelin Singapore.  
Addition Information About TYREPLUS
TYREPLUS has been helping car-owners both individuals and corporates in 17 countries maintain their vehicles to the highest standards. Its professional tyre and car service centres offer quality services, as well as international brands. Its skilled, professional auto mechanics take care of any needs and concerns you may have.
TYREPLUS understands that nothing is more important than the safety of its customers, and nothing is more important to you than the safety of your family. Therefore, it takes the utmost care in providing only the highest quality products recommended by experts, with exceptional service provided by its highly-qualified and knowledgeable professionals who will provide an in-depth consultation and thorough inspection of your vehicle.
Address : 71 Woodlands Industrial Park E9, Wave 9, #01-13 Singapore 757048
Tel : +65 6265 9958
Opening Hours : Monday to Friday 08.30am – 06.00pm
Saturday 08.30am – 05.00pm
Sunday closed
To find out more, please go to their Facebook at https://www.facebook.com/tyreplussg/