Giveaway Closed and Winner Announcement! – Updated on 10 July 2017
Dear Valued Readers and Friends,
Thank you so much for your participation in the giveaway!
The lucky reader has been randomly chosen to win a pair of tickets to watch The Great Wall Musical and we are pleased to announce the lucky winner:
Philip Tong
Congratulations! Please also refer to Our Parenting World Facebook announcement. We will be contacting you for your prize collection.
Thank you to our kind sponsor, The Great Wall: One Woman's Journey for the fabulous prize to our readers and friends.
Thank you to each and every one of you, please stay tuned to our coming giveaways! 🙂
********
Our Parenting World's Giveaway Alert: The Great Wall Musical and Tickets Giveaway!
Behind the imposing façade of The  Great Wall lies one of the most enduring legends in Chinese folklore – the story of Meng Jiang Nü, whose tears brought down the Great Wall. 
The Great Wall: One Woman's Journey is a spectacular musical adaptation that transforms Meng Jiang Nü's tale into a soaring musical odyssey. Raw emotions are laid bare in a dazzling display of vocal showmanship as the characters come to life in a beautiful contemporary setting detailed with traditional design influences.
Captivating and profoundly moving, this production weaves a gripping tale of love and courage against an epic backdrop of imperial China. In the face of insurmountable odds, a young everywoman does not yield to her fate. What unfolds is a passionate display of a woman's resolve as she stands alone against the ultimate symbol of unbridled hubris and power.
Based on the brand-new script by acclaimed Singaporean playwright Jean Tay, who won best original script for Everything But The Brain, The Great Wall: One Woman's Journey is presented by an exciting new company Glowtape Productions and is supported by the National Arts Council. It is led by an international team of artists featuring composer David Shrubsole (National Gallery Singapore's Opening Festival, London Road) from the UK, helmed by Australian director Darren Yap (Man of Letters, Miss Saigon, Mamma Mia!)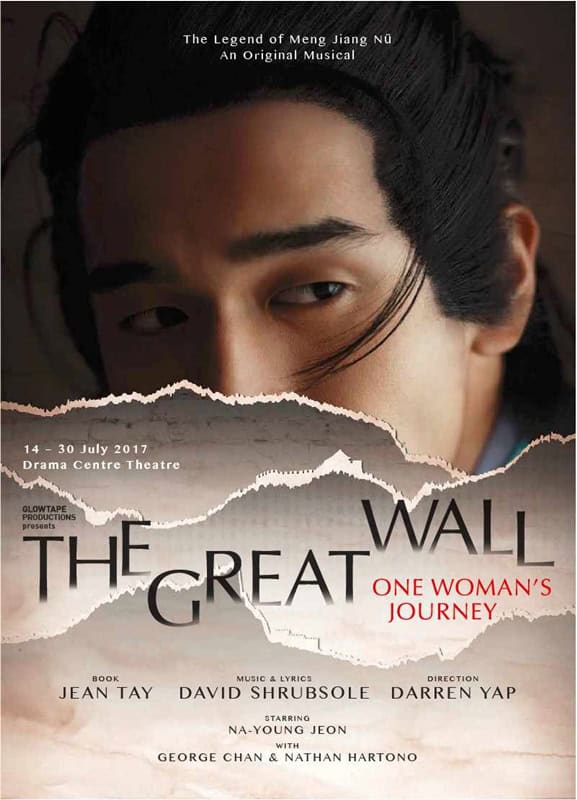 Join the phenomenal Na-Young Jeon's Singapore debut, multi-talented George Chan and homegrown singing sensation Nathan Hartono as they team up this July for The Great Wall: One Woman's Journey.