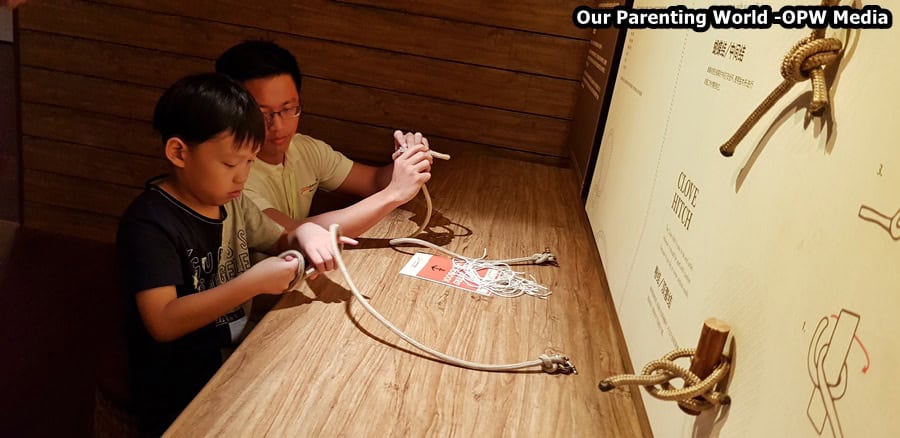 Resorts World Sentosa is launching two brand new experiences that children as well as the whole family can look forward to. It will be exciting and educating experiences for all to spend a meaningful time together.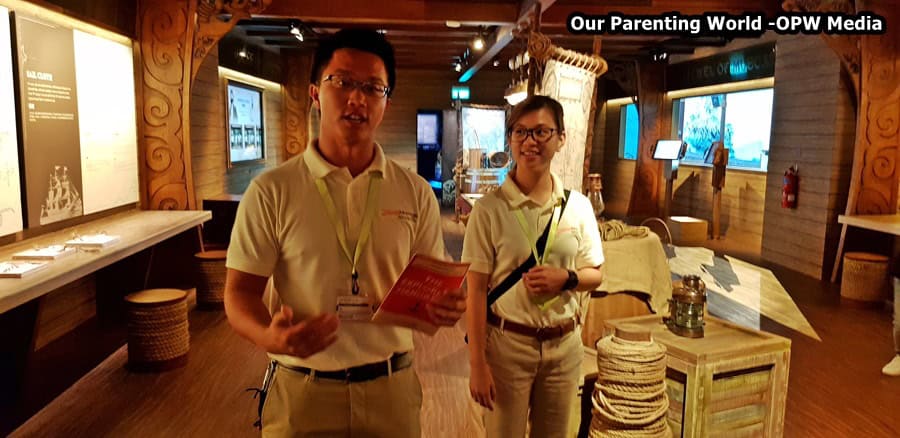 Search for the Junior Maritime Explorer
Maritime Experiential Museum at Resorts World Sentosa (RWS) has recently opened its door after 9 months of extensive overhaul and reconceptualisation, this is the newest attraction at RWS. The museum is the only one of its kind in Singapore dedicated to the exploration of the iconic Maritime Silk Route.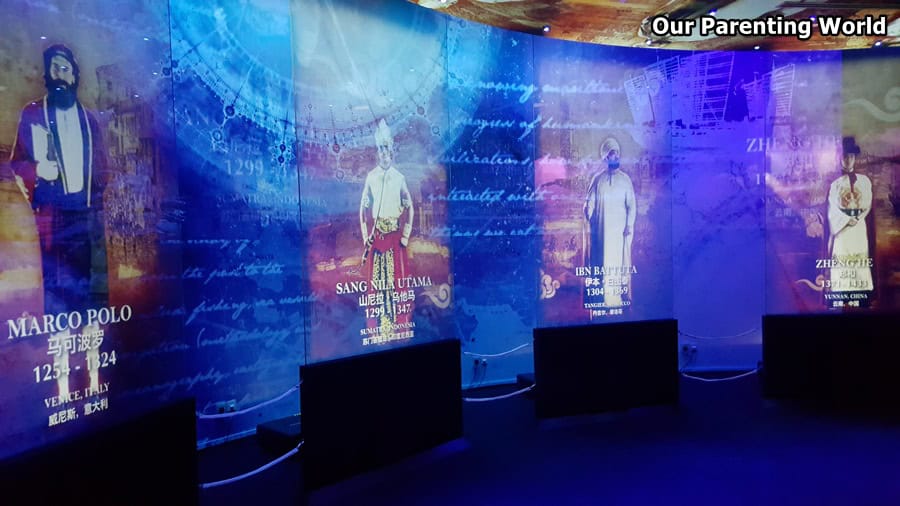 Now aspiring explorers can join the four legendary seafarers, they are Marco Polo, Sang Nila Utama, Ibn Battuta and Zheng He on an adventure along the Maritime Silk Route. There is a total of 15 immersive galleries including five brand new zones, the attraction holds a combination of state-of-the-art visual projections, multimedia shows, olfactory experiences and plenty of stunning Instagram-worthy displays.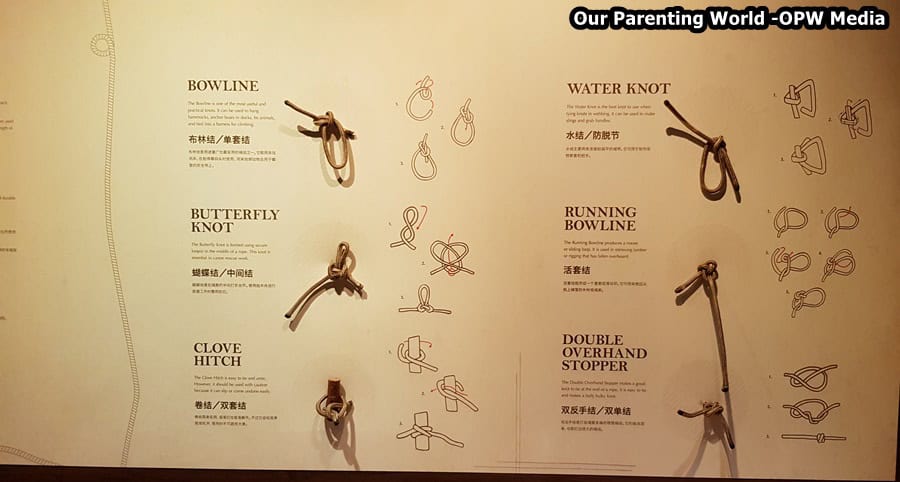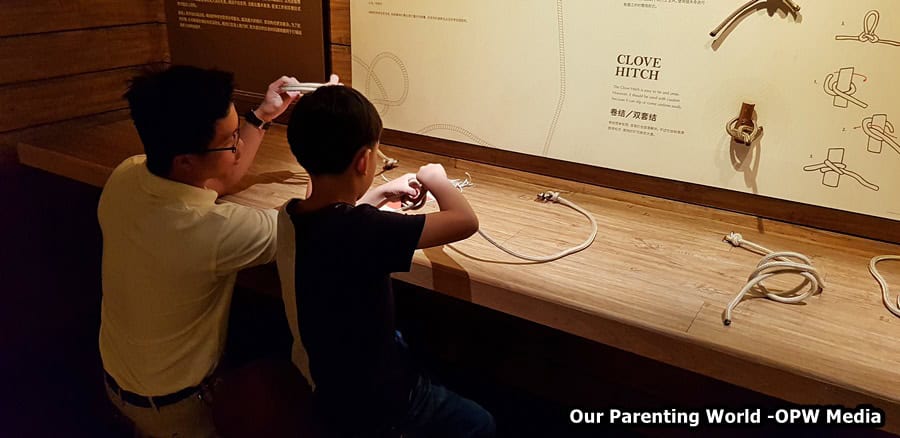 You can get hands-on tying classic mariners' knots at the Learning To Navigate chamber.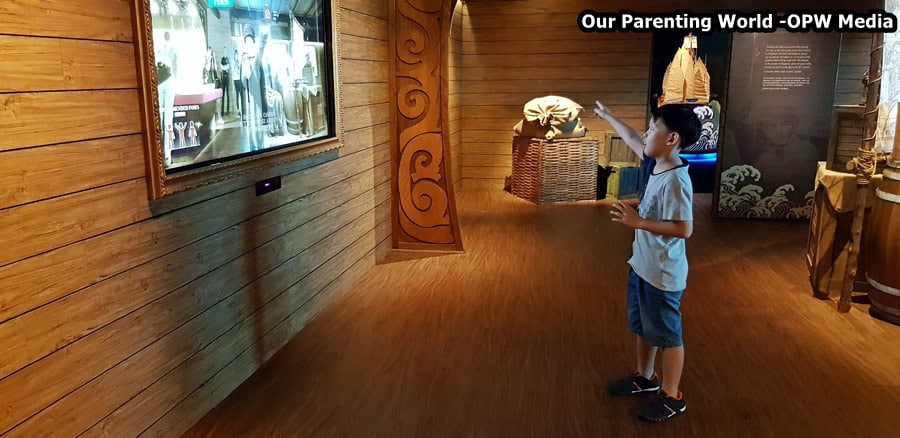 Have fun superimposing a variety of outfits at an interactive photo corner, and you can email these photos to yourselves as keepsakes.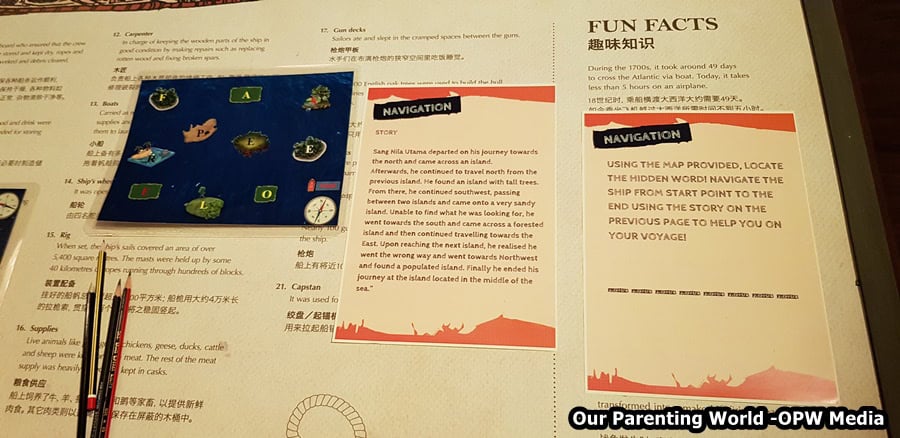 Learn to use the map and navigate your ship from the starting point to the end. Have fun!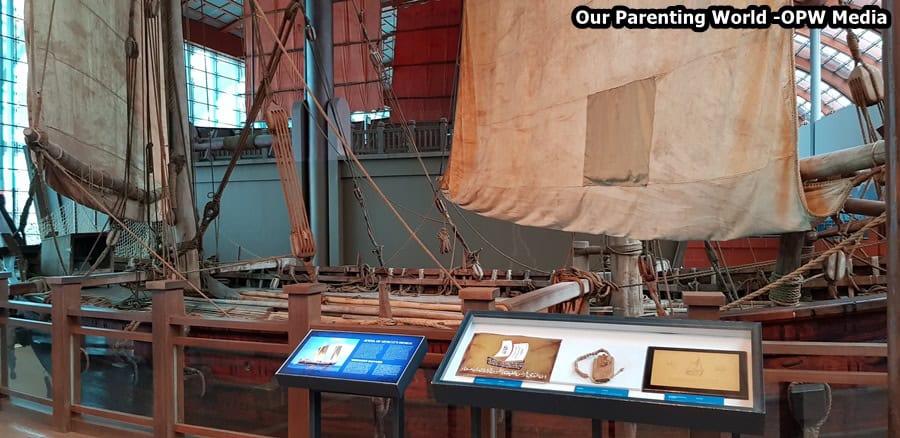 Find out more about the Jewel of Muscat, an Arabian ship with a crew of 15 made a tumultuous 138-day voyage from Oman to Singapore in 2010 using ancient navigational methods.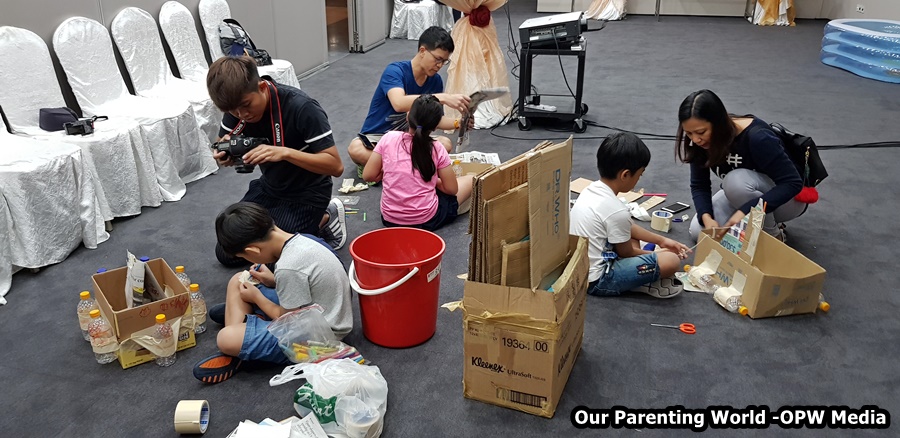 Ahoy! Young explorers, you can get hands on building your own ship using recycled materials.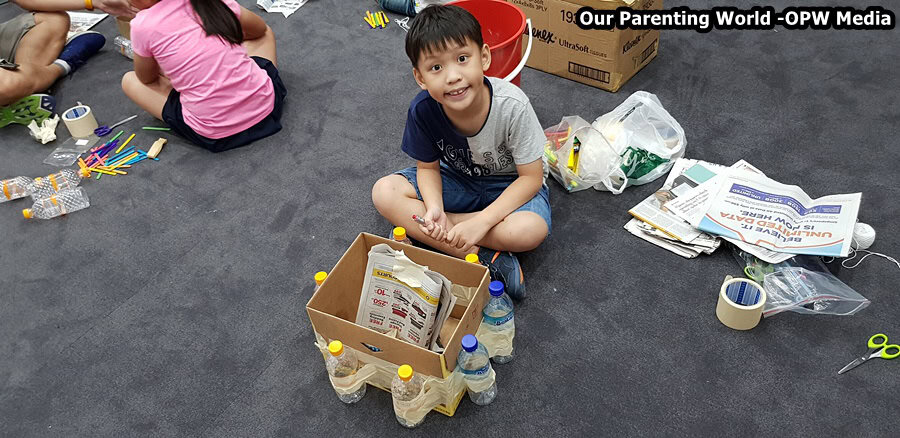 I am working on building a ship that can float.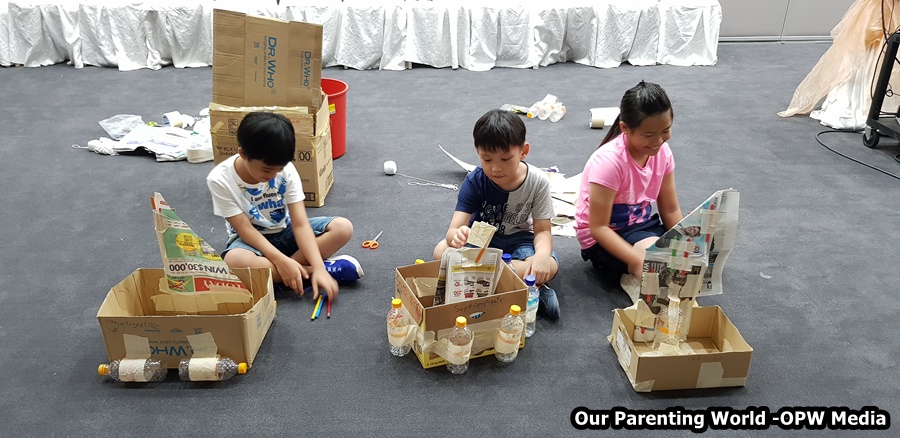 Bravo! Well done, young explorers! We love your ships!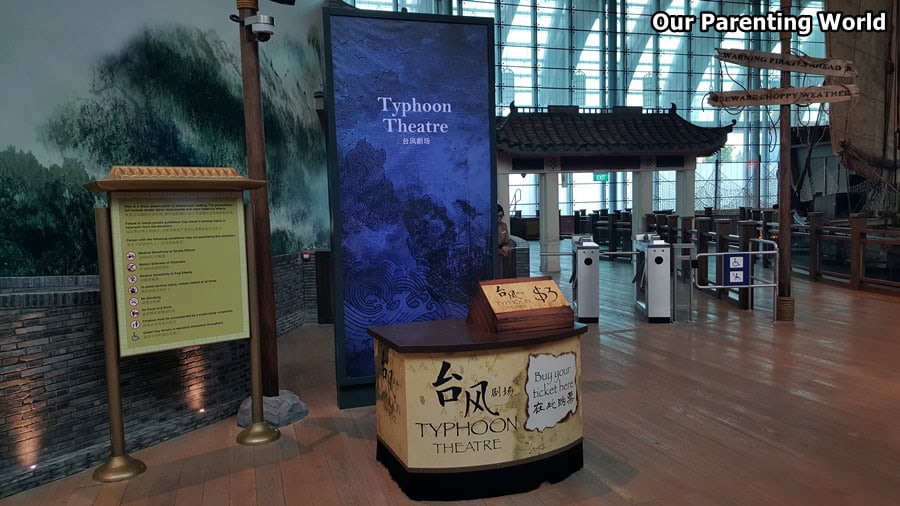 Let's head on to Typhoon Theater for an exciting multi-sensory experience which simulates a sinking ship in a treacherous storm. Maritime Experiential Museum's Typhoon Theatre is a must-see anchor attraction, simulating your fate in troubled waters, letting guests face the wrath of the sea before descending into the depths of the dark, blue, ocean. To find out more about the newly-revamped Maritime Experiential Museum, please visit http://ourparentingworld.com/discover-the-newly-unveiled-maritime-experiential-museum-at-resorts-world-sentosa/
Be a Junior Maritime Explorer at Maritime Experiential Museum – Additional Information
Kids aged seven to 12 years can sign up to become a Junior Maritime Explorer be a star reporter who will be the voice of maritime adventures, and appear on TV. To join this contest, participants can submit a short news-report-style video on a maritime event, or even on the museum itself. One grand prize winner will get to meet and interview National Geographic Explorer Erika Bergman, bring her on a tour of the Maritime Experiential Museum, and be featured in a National Geographic video along with Erika. This contest is held in partnership with National Geographic.
More information can be found at http://juniormaritimeexplorer.com/
For more information on the programmes at Resorts World Sentosa's attractions, visit www.rwsentosa.com/march-holidays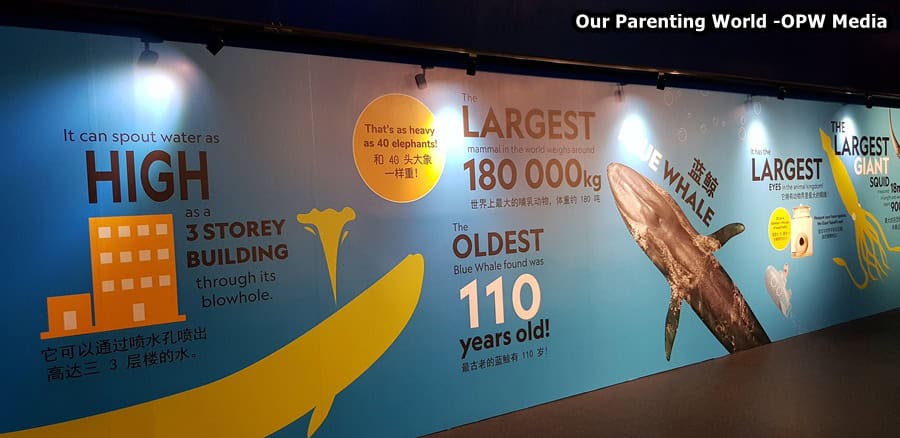 Travel into National Geographic's Ocean Wonders at S.E.A. Aquarium (10 March to 20 May)
Head over to S.E.A. Aquarium to learn more about the largest, fastest and other amazing marine species at National Geographic's first ever Ocean Record Breakers exhibition.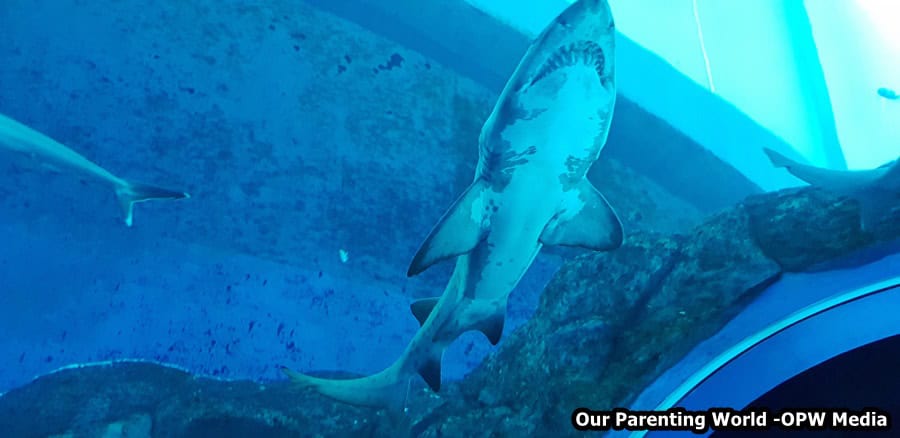 Sand tiger shark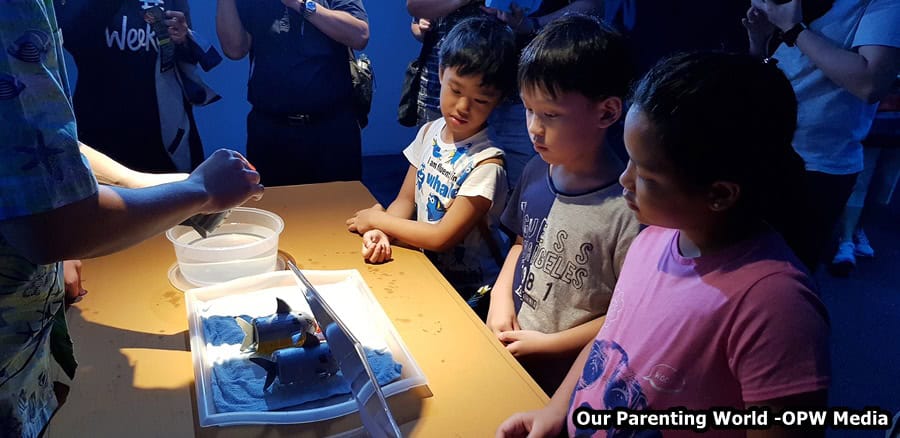 Learn more about the featured animals such as the sand tiger shark, the aquarium's newest resident famed for its rows of ragged teeth and vicious appearance.
In addition, shutterbugs can embark on a photography adventure. During the photo trail, guests will receive pro-tips on how to capture stunning aquarium images even without an underwater camera, and can upload their photos onto Instagram to stand a chance at winning attractive prizes.
Take a picture of the featured animals in S.E.A. Aquarium and upload to your Instagram account to win attractive prizes. Simply do the following: 
- Tag S.E.A. Aquarium @rwsentosa
- Hashtag #rwsoceanwonders
- Remember to set your profile to public!
Families with kids can participate in the first ever National Geographic Ocean Exploration Children's Workshop to learn what it takes to be a great explorer, and understand the most important global factors for ocean conservation. This full-day programme is the only maritime and marine conservation children's workshop in Singapore and features guided tours, exclusive documentary screenings and interactive activities at both S.E.A. Aquarium and the revamped Maritime Experiential Museum.
More information can be found at www.rwsentosa.com/oceanwonders 
Next brand new experience is happening at Universal Studios Singapore, step into the colourful world of DreamWorks Animation's Trolls with TrollsTopia at Universal Studios Singapore, and go on a journey filled with music, heart and hair-raising adventures! The entire family is sure to enjoy all-new shows with catchy music from the Trolls soundtrack, interactive virtual reality games, and a glitter-filled party!
Our Parenting World (OPW) team will be bringing you to the TrollsTopia at Universal Studios Singapore, to find out more, please visit http://ourparentingworld.com/enter-the-happy-and-colourful-world-of-dreamworks-trollstopia-at-universal-studios-singapore/