Singapore Repertory Theatre (SRT) is proud to present the return of its much-loved Shakespeare in the Park series with Julius Caesar.
At arguably the biggest Shakespeare production of its kind in this part of the world, audiences look forward to spreading their blankets under the stars to picnic and enjoy the Bard's best-loved plays in the uniquely beautiful setting of Fort Canning Park.
Directed by Guy Unsworth (Hand to God), and inspired by images of the G20 and N.A.T.O summits, this production sees Shakespeare's political thriller brought to life against the backdrop of global current affairs. Ambition, power, and greed collide as the leaders of the R.O.M.E 7 countries gather. Plots to assassinate the ever-ambitious Caesar are hatched. Are his conspirators truly doing a righteous deed? Or is chaos and defeat inevitable? 
Exclusive Interview with Julius Caesar's Director, Guy Unsworth
Our Parenting World (OPW) team is honoured to be able to interview Julius Caesar's Director, Guy Unsworth (GU) to find out more about his thoughts and the upcoming production, Julius Caesar.
1) Please share with us more about your background and what makes you decide to be a director? 
GU: I grew up near a local amateur theatre at home in North West England, where I developed a love for theatre and learned to act. At university, reading Industrial Economics, I tried directing (as a hobby) in the student theatre and fell in love with it. After my degree, and a short period of retraining as a director – plus a lot of time learning on the job – I have been a London-based theatre director for nearly 10 years now. I love the collaboration aspect of it. It's partly creative, partly managerial, and the overall result can be very satisfying.
2) What do you do as a theatre director? What are your key responsibilities?
GU: On the one hand, rather like a football manager selects their players and liaises with physios, coaches, psychologists or the club chairman, a theatre director assembles a team of actors, and liaises with designers, choreographers, composers, producers amongst others. Whilst a football manager doesn't actually teach their players to play football, my job is not to teach actors to act. Rather, I am there to facilitate the talent around me, hopefully enabling everyone to play the best they can.
Moreover, and perhaps crucially, my job is to ensure that all my players are playing as a team, and to provide the tactics and formations to do so successfully. 11 world class players do not necessarily make a world class team, whilst a world class manager would be nothing with a set of second division players. With that in mind I rely heavily on my many collaborators, all experts in their field, and I strive to communicate my decisions for how I feel best to play each match – or in my language, how best to serve up or deliver a particular show.
3) Describe a typical day of work for you.
GU: A hard question to answer without seeing the bigger picture. I spend about two thirds of my time planning shows, and a third rehearsing them. The prep work involves conceptualising, casting, working with designers, talking to marketing and PR teams, a lot of preparation on my own, but ultimately a lot of communication to make sure all departments are going after a central goal. As for the rehearsal process, these are generally full days spent with the actors and stage management, sometimes one-on-one, sometimes a whole group. This time is limited due to the cost to producers, so I try to work quickly but creatively. It's the most exciting time, but equally quite pressured.
4) What are some of the joys and challenges that you have faced in your directing career?
GU: The joy is definitely the leading of a team of people to achieve a central goal. These projects take a long time to get off the ground (in the case of Julius Caesar, we first spoke about it 2 years ago!) so the ultimate satisfaction is in getting a show and all its elements working together – it's really rewarding. As for the challenges, well it's a catch 22 because the challenge is in getting all those elements working together. It's not easy and a big responsibility, but I guess it's got to be a challenge in order to get the reward!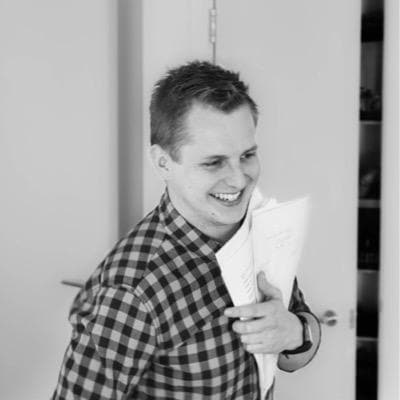 5) Do you have any advice to someone who aspires to be a theatre director?
GU: Yes, trust your instincts and try it. You won't know until you give it a go, and I very nearly didn't. It was a friend of mine at the time who told me that I'd never know until I tried it.
Also, there's a terrible feeling that you need to do it all yourself, which is not the case. With 10 actors, there are 11 brains in the room, and that can be very helpful. They're very creative too, so use them to help achieve the common goal.
6) We are so excited about the coming production, Julius Caesar in May 2018. Can you tell us more about the play and what are some of your favourite scenes?
GU: To me, it's a great high-stakes political thriller, and I'm pretty sure Shakespeare saw it as that too. It's got some brilliant dialogue in it and also a fantastically exciting story. But don't be put off by it being a play about politics – it's not. It's a play about power, ambition, revenge, friends, enemies, men, women, love. There's also a lot of talk about the supernatural and all the elements. There's a storm, a fire, a flood, a riot, a fight, a party. It's a big show, I'm very excited!
7) Please tell us more about your cast of Julius Caesar.
GU: When casting, I became interested in who these characters might be in today's society, and indeed what their relationships are, and I think our casting reflects some very unique choices. Jo Kukuthas plays Caesar, a woman with supreme power. Whilst gender doesn't feel so significant that a gender swap would be impossible, it's the casual descriptions of a man's world and Caesar's power over men which has a special resonance across the world today, bringing to the table for discussion the representation and role of women in power, and the attitudes from the public or, indeed, men.
Similarly the central relationship of Cassius and Brutus, two politicians who collude to overthrow Caesar, seems to have a depth beyond the basic politics. They are emotionally tangled with one another, and the battle between their professional and personal relationship offers great opportunities. I'm thrilled that Julie Wee and Ghafir Akhbar will take on this very exciting duo.
Mark Anthony often remains in people's minds when watching Julius Caesar, as he speaks some of Shakespeare's most famous rhetoric. Whilst Mark Anthony is a voice of reason after Caesar's death, he offers a hint of what the new politics is going to be. In the context of a contemporary setting, I can't wait to work with Thomas Pang again (after Hand to God), as we explore what the young politics of today is, and who indeed the politicians of tomorrow will be.
8) What can audience in Singapore expect from the coming production, Julius Caesar?
GU: Julius Caesar 2018 is an exciting political thriller set in a modern day setting of the fictional intergovernmental alliance 'The ROME 7′.
I think politics across the world and they way we experience it has changed a lot in the last few years. The media plays a much bigger part, and so there's something more theatrical about it. Somehow it's more exciting, more manipulative, more dramatic. When re-setting Shakespeare it's important to find the world and period which fits the specific play best, so whilst some plays wouldn't fit a modern production, Julius Caesar seems ripe for a contemporary setting. It's going to be fast and furious, with original music, a fantastic set, and lots of surprises along the way.
This year, designer Richard Kent has created a set which is a 360 degree design that the audience can enter through, and at times will be a part of. There is no traditional 'back stage' this year, so the audience will enter the park and see the set as soon as they enter. It will sit in the park as a self-contained sculpture and piece of architecture. With a fully designed view from every angle.
Thank you Guy Unsworth for taking our interview!
SOS (Save our Shakespeare) Campaign
Shout-out for SOS (Save our Shakespeare) Campaign! In order to bring the much-loved Shakespeare in the Park series with Julius Caesar to Singapore, SRT is embarking on a crowdfunding campaign to garner more support for 2018 and they are almost there, please help to support and contribute to the Save our Shakespeare Campaign.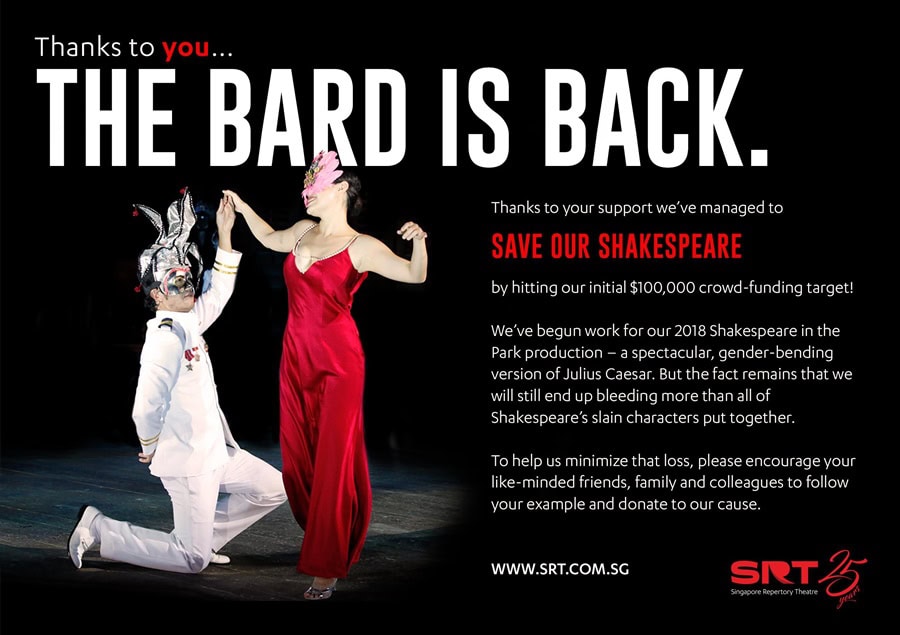 About the campaign from SRT: 
"As you may know, we had to cancel our plans for Shakespeare in the Park in 2017 due to lack of financial support.
We embarked on a crowdfunding campaign to get more thespians involved in Saving our Shakespeare (SOS) and many have heard our appeal for support. This has encouraged us to take the bold decision to go ahead with another Shakespeare in the Park production – Julius Caesar this coming May.
The GOOD news! We have reached our target of $100,000, but we still need your support to close the gap to help minimise the loss of the production.
We are so grateful to those who have donated – and we encourage more to do so. It really does matter that we keep our local arts scene thriving. Theatre is about time with loved ones, time to unwind and be inspired and time to open minds and broaden perspectives.
Help keep Shakespeare in the Park alive."
For more details and to contribute to the campaign, please visit: 
https://www.giving.sg/singapore-repertory-theatre/keep_shakespeare_in_the_park_alive
Shakespeare in the Park makes its highly-anticipated return in May 2018 with Julius Caesar. Directed by Guy Unsworth (Hand to God) and starring Jo Kukathas (Romeo & Juliet) as Julius Caesar alongside Ghafir Akbar (Disgraced), Daniel Jenkins (Hand to God, Romeo & Juliet), Thomas Pang (Hand to God, Romeo & Juliet) and Julie Wee (The Merchant of Venice).
Spread your picnic blanket under the stars and be mesmerised by the beautiful set and amazing cast.
Over 250,000 people, many first-time theatre-goers, have enjoyed SRT's stunning sets and contemporary interpretations over the last 10 years. Past productions include Romeo & Juliet, The Tempest, The Merchant of Venice, Othello, Twelfth Night, Macbeth, A Midsummer Night's Dream and Much Ado About Nothing.
Build memories to last a life-time…
TICKET INFORMATION
Julius Caesar –  SRT's 25th Anniversary anchor production 
Dates: From 2nd to 27th May 2018
Prices: From $45 (group concessions and F&B packages available)
Venue: Fort Canning Park
Ticketing: SISTIC at Tel: 6348 5555 or www.srt.com.sg/show/juliuscaesar