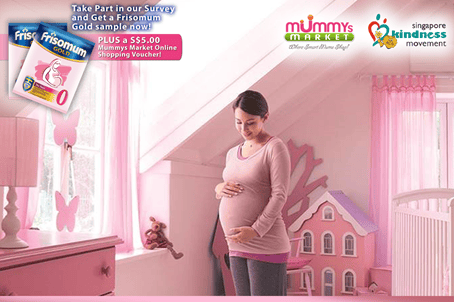 {News Flash}
The issue of pregnant women not being able to find a seat on public transport or being unfairly treated at the workplace is still prevalent today. To raise more awareness about this issue, the Singapore Kindness Movement recently collaborated with home-grown brand and organiser of the popular Baby Market and Baby World Fairs, Mummys Market, to create a survey to hear from mums-to-be.
Targeted at mothers who have given birth within the last year and have relevant memories of their pregnancy term as well as new mothers whose Estimated Date of Delivery (EDD) dates are approaching in 2016, the survey will run till Monday, 29 February, 2016 with the results slated to be announced in March. 
Participants will be asked a series of questions surrounding their treatment at the workplace and on public transport via a Google Doc (Direct URL:http://www.tinyurl.com/kindnessformums). Upon completion of the survey, receive a complimentary Frisomum Gold Sample, which can be collected at the next Baby Market Fair, as well as a S$5 Mummys Market online voucher.
This initiative will build on existing efforts and social discussions to encourage more kind acts towards expectant mothers on public transport and at the workplace and in turn, continue to do our part to make Singapore a gracious society.