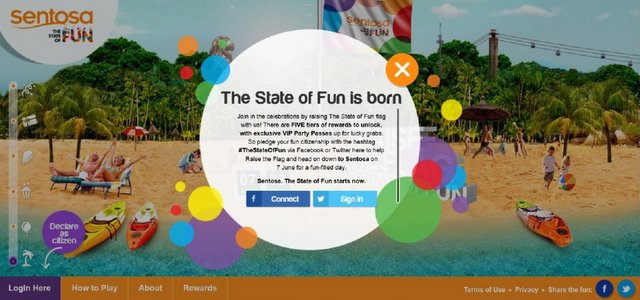 Update: Contest is closed and thank you for your participation!
We are pleased to announce the following winners:
Susan Quek
Yeo Poh Hoon
Mrs R Jetty
Wang Subin
Congratulations to all the winners! We will be contacting you shortly to collect your prizes. 
********
Our Parenting World is very excited to announce the launching of Sentosa the State of Fun, the Raise of the Flag Microsite at https://thestateoffun.com/
Help to "Raise The Flag" to unlock the various attractive rewards and redeem them at the actual party on the 7 June, from 10am to 9pm.
How to Play:
Please log into your personal Twitter or Facebook account to participate at the Microsite.
Every tweet or Facebook post with the #stateoffun will be registered and appear on the microsite.
Each time the flags reaches a certain point, rewards will be unlocked and it is available to be redeemed at the Launch Party.
Tweets have to be relevant to Sentosa or the State of Fun.
More goodnews!
4 lucky readers will be chosen to win an annual Sentosa Islander Pass Prize. 
Here's how you can take part to win:
CONTEST:
Please share what are your plans for having the State of Fun (eg. Picnics, family day etc) on the comment section of this blog entry. Contest will end on the 4 June 2014 at 23:59Hr
Thank you and have lots of FUN at Sentosa!