This year, the highly-anticipated Sentosa GrillFest is returning with its inaugural Home Edition bringing more than 80 mouth-watering treats including juicy burgers, grilled platters, BBQ delights, and more straight from Sentosa to guests at home with island-wide delivery!
Update on 20 November, 2020: Sentosa GrillFest will be extended for another week till Sunday, 29 November 2020! All details on the extension can be found at www.sentosa.com.sg/Grillfest. In light of the extension, the Sentosa GrillFest LazMall Flagship Store will also continue to operate until the 29 November for guests to purchase discounted vouchers and delivery coupons. All vouchers that have been issued will be extended until 29 November.
Sentosa GrillFest has also partnered the Singapore Chefs' Association (SCA), the official body representing professional cooks in the local F&B industry, to offer 14 gastronomical creations from some of Singapore's top chefs, conceptualised exclusively for the event. Led by Eric Neo, Executive Chef of InterContinental Singapore and President of SCA, the line-up of Singapore's well-known and up-and-coming chefs will be serving up exciting offerings, including fresh takes on local and Asian favourites such as Steamed Cheong Fun with Grilled Beef in Mala Sauce, Burnt Bee Hoon with Grilled Prawns and Egg White Gravy, Seafood Laksa Linguine, and more! 
That's more, foodies looking for gourmet food will be spoilt for choice with the return of gourmet food exclusive partner, Angliss Singapore, and its series of delectable delights, including brand new Grill-It-Yourself Kits for cooking enthusiasts to whip up their own grilled feast at home, minus the guesswork and the hassle of grocery shopping.
So look forward to digging into a diverse range of F&B treats! If you wish to bask in Sentosa's island vibes can meanwhile reserve their seats and dine in at six participating restaurants in Sentosa, including Trapizza, Rumours Beach Club, and eM by the Marina, among others. Entry into Sentosa island is free until 31 December 2020.
Please note that Sentosa Golf Club is not a dine-in participant. They will be available for delivery only. 
Foodies can place their home delivery orders or make dine-in reservations, via https://www.sentosa.com.sg/grillfest starting from 27 October, home delivery orders for each week (Thursday to Sunday) will start on Tuesday and close two hours before the start of the selected delivery timeslot. For dinein, reservations can be made up to seven days before the intended visit. Mastercard holders can also enjoy $5 off their home delivery orders with a minimum spend of $50 (excluding delivery charge, terms and conditions apply).
Catch 'live' content and discover great deals on Lazada
In another first, Sentosa GrillFest has also collaborated with Lazada to bring exciting treats to guests at home through LazLive from this week – including online cooking classes, flash deals, discount vouchers and hot gourmet bundles. They include:
Tuesdays: Cooking Class
Hosted by Kelly Latimer, viewers will be in for a treat as top chefs of Sentosa GrillFest roll up their sleeves to share their personal tips and tricks, while taking the audience step-by-step through the cooking process.
All dishes featured will be available for order. Those looking for more hands-on experiences can catch classes featuring Angliss Singapore's Grill-It-Yourself Kits to pick up pro-tips, before ordering and attempting to cook up a treat.
Dates and Time: 20 & 27 October 2020, 3, 10 and 17 November 2020, 6pm to 7pm
Wednesdays: Flash Deals
Get discount vouchers of up to 50% off and other exclusive deals from Angliss Singapore's gourmet marketplace! Offers are capped and limited, so remember to set your calendars for this one!
Dates and Time: 21 & 28 October 2020, 4, 11 and 18 November 2020, 6pm to 7.30pm
Thursdays to Sundays: Talk Show
Tune in for grilling hacks and fun food challenges! Join host Charlotte Mei and chefs of Sentosa GrillFest as they dish out tips on ingredients, cooking and dish presentation, and more!
Dates and Time: 29-31 October 2020, 1, 5-8, 12-15 and 19-22 November 2020
5pm to 6pm on Thursdays and Fridays
3pm to 4pm on Saturdays and Sundays
Exclusive discounts and exciting 'live' content from Sentosa GrillFest can be accessed via Sentosa GrillFest's LazMall Flagship Store.
Guests can also tune in to Angliss Singapore's Facebook page for more 'live' content and hot deals featuring specialty gourmet products, and to pick up fresh premium meat cuts, seafood and more. Live streams will be held on Angliss Singapore's Facebook page on Tuesdays (8pm to 10.30pm), Thursdays, (8pm to 10.30pm) and Saturdays (3pm to 5.30pm).
For more information on Sentosa GrillFest Home Edition, please visit https://www.sentosa.com.sg/grillfest.
Thanks to Sentosa GrillFest 2020! We received a sumptuous media drop of delicious treats as follows: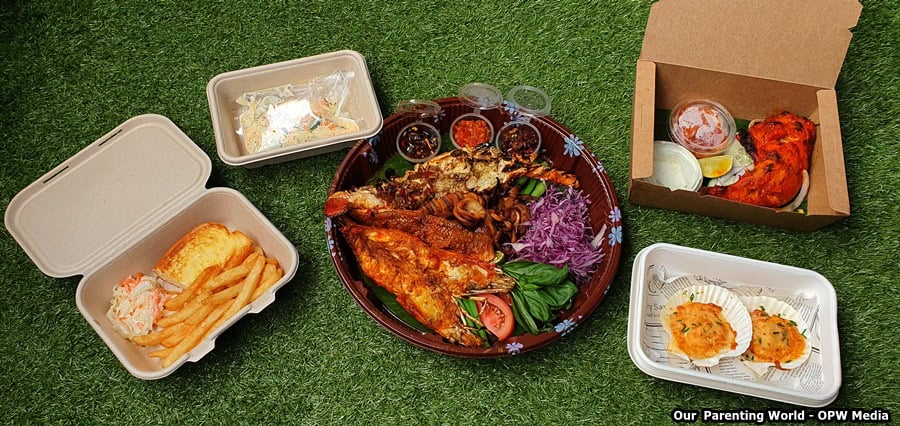 Lobster Roll (Angliss Singapore) (L), Jimbaran Seafood Platter (Rumours Beach Club) (M), Tandoori Spring Chicken Red Onions Salad, Mint Yoghurt (Sentosa Golf Club) (Top R) and Baked Atlantic Scallop with Sambal Mayo and Cheese (Singapore Chefs' Association) (Lower R). 
Lobster Roll from Angliss Singapore consists of air-flown Boston lobster that has been deshelled and poached in garlic butter, minced with house sauce. The lobster filling has been sealed separately to ensure freshness. Served the lobster filling in the fresh baked brioche bun when you are ready to eat. The lobster roll is accompanied with fluffy thick-cut fries and salad at the side. 
Jimbaran Seafood Platter (Rumours Beach Club), this is a delightful seafood platter that is filled with treasures of the sea including grilled jumbo prawns, bamboo lobster, red snapper, squid and served with cucumbers, tomatoes, basil, long beans and sambal. A gorgeously delectable platter that seafood lovers will enjoy! 
Tandoori Spring Chicken Red Onions Salad, Mint Yoghurt from Sentosa Golf Club, the tandoori chicken has been well-marinated, the meat is so soft and tender. So yummy! 
Baked Atlantic Scallop with Sambal Mayo and Cheese from Singapore Chefs' Association consists of fresh and juicy Atlantic Scallop gratined with flavourful sambal and mozzarella.
Foodies, mark your calendar! Don't miss the Sentosa GrillFest 2020 where you can indulge in a wide array of delicious food offerings that will satisfy your food cravings!