Domino's Pizza has launched a range of irresistible bundle deals featuring the new Cheese Xplosion Pizza just in time for the Lunar New Year!
Pizza lovers will be delighted to know that the Cheese Xplosion Pizza boasts mindblowing cheesy goodness in every bite. This delicious pizza is the latest addition to Domino's Pizza's menu. An insane amount of 100% Mozzarella Cheese tops a layer of their cheesy and garlic-infused Top Secret sauce, and every Cheese Xplosion is made on their hand-stretched cheesy crust which oozes with mozzarella and parmesan while offering a subtle crunch as it is sprinkled with even more parmesan and breadcrumbs.
Whether you are looking for a fuss-free crowd pleaser or a special treat for the pizza lovers amongst your family and friends, Domino's latest Prosperous Meals make the perfect choice for your gatherings and reunions to usher in the Year of the Ox.
• <Code: HENG> Heng! set at $28.80: 1 Regular Cheese Xplosion Pizza with 1 Salsa Sauce, 4 pieces of Golden Roasted Drummets, 1 Chocolate Lava Cake, 1 Ondeh Ondeh Lava Cake, 2 cans of soft drink
• <Code: ONG> Ong! set from $38.80: 1 Large Cheese Xplosion with 1 Salsa Sauce, 1 Regular Pizza of your choice, 8 pieces of Golden Roasted Drummets, 1 Breadstix, 1 bottle of soft drink (1.5L)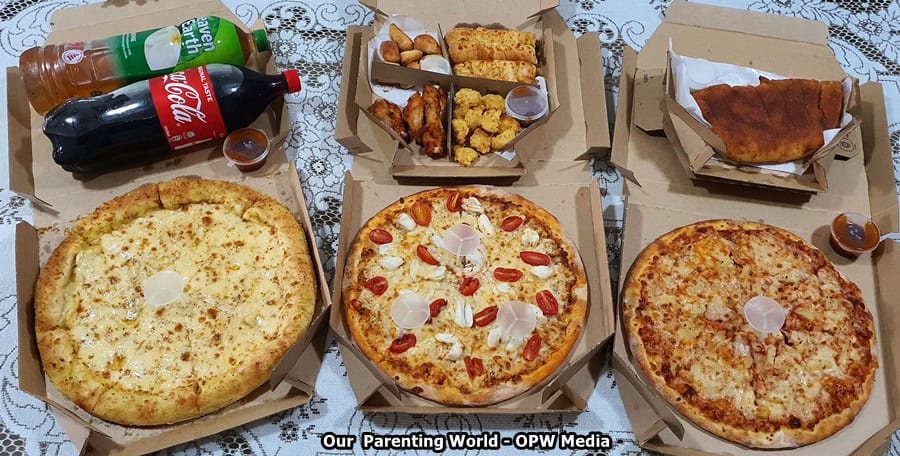 • <Code: HUAT> Huat! set from $78.80: 1 Large Cheese Xplosion Pizza with 2 Salsa Sauce, 2 Large Pizzas of your choice, 1 Awesome Foursome, 1 Breadstix OR Cinnastix OR Garlic Twisty Bread, 1 Garlic Cheese Onion Rings, 1 9" Banana Kaya, 2 bottles of soft drink (1.5L)
Thanks to Domino's Pizza for sending to us the mouth-watering Pizzas, we absolutely love the new Cheese Xplosion Pizza loaded with generous amount of cheese that is so cheese-ilicious! The Prosperous bundle deal – Huat! set is a good and value for money set for the whole family to get together to enjoy a hearty and delectable meal with different types of pizzas, appetizing sides and soft drinks.

The Cheese Xplosion Pizza is a limited-time offer via Domino's Pizza Singapore's website or in stores, and the festive bundle deals will be available till 15 March 2021.
For an extra surprise, any purchase of a Prosperous Meal entitles you to a sure-win digital fortune cookie. During the campaign period, $21,888 worth of prizes will be up for grabs including:
• Free Onion Rings
• $1 Crazy Chicken Crunches
• $8 off Huat Meal
• Lucky draw chance: 10 winners will be randomly selected to win a Party Set (6 Large Pizzas)
The full terms and conditions can be found on Domino's website.
Plan Ahead and Place Your Pizza Orders in Advance
Planning a reunion dinner? With Domino's Pizza, planning ahead for any gathering is fuss-free as they provide customers the option of placing their order up to 14 days in advance via www.dominos.com.sg.
Advance orders are available for both delivery and in-store collection.
For Click & Collect orders, spend a minimum of $22 to enjoy a complimentary bottle of Coca-Cola
(1.5L)!
Delivering Reunions Across Borders
It goes without saying – this Lunar New Year will be a very different one for many, given the current social distancing measures and international travel restrictions.
To give back to the community it serves, Domino's Pizza Singapore has partnered Domino's Pizza Malaysia to bring cheer to families separated across the border. Via a social media contest, 10 lucky winners will have a special Lunar New Year treat sent to their loved ones in Malaysia! Even though physical reunions are not possible, this initiative provides the chance for families to catch up while sharing the same meal.
To participate:
1. Head to the contest post on Domino's Pizza Singapore's Facebook or Instagram channels.
• Leave a comment on the post between 18 Jan 2021 to 25 Jan 2021, telling us about your loved one(s) in Malaysia and why you'd like to send them a Lunar New Year surprise. Only Singapore residents may submit their entry.
2. 10 winners will be chosen. In addition to having a Lunar New Year treat (worth more than RM100) sent to their loved ones in Malaysia, each winner will also receive an Ong Meal delivered to them.
During this period, Domino's Pizza Singapore encourages customers to opt for its Zero Contact delivery and takeaway services.
In addition to social distancing guidelines implemented at Domino's Pizza stores, they are taking extra precautionary measures to limit physical contact while upholding food safety. These measures include:
• The use of food barriers during deliveries. Upon arrival at the customer's door, rider will contact the customer before placing the food barrier on the ground. The orders are then placed on this barrier to limit physical contact while keeping the food off the ground.
• Regular hand sanitization for all kitchen staff and delivery riders.
• More frequent sanitization of all food contact surfaces
• Hourly sanitization of high touchpoint areas in all restaurants. These include door handles, the order counters, and public sinks
For more details, visit: https://www.dominos.com.sg/faq