Safari Zoo Run 2019 is back for the 11th year on 24 February 2019 and this year, the race route will include River Safari for the first time!
In addition, Safari Zoo Run 2019 will also see the introduction of new race categories to further encourage family bonding. The Safari Zoo Duo Dash and Safari Zoo Junior Dash will allow adults to team up with their children for a competitive 2km race. Experienced runners will get a chance to test their endurance with the 12km competitive run—up from 10km last year. Families can opt for a leisurely 4km stroll as they appreciate nature and wildlife along the way. 
New green initiatives are introduced to encourage participants to bring their own water bottles to reduce single-use plastic. In keeping with the theme of the race—Run for Wildlife—Wildlife Reserves Singapore (WRS) will also do away with plastic wraps for race tees and finisher medals.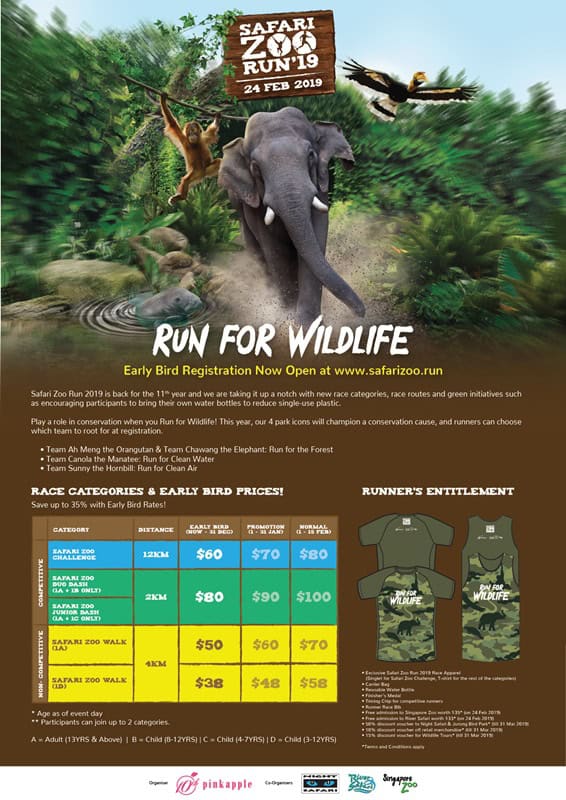 In the upcoming run, WRS' four park icons—Jurong Bird Park's Sunny the hornbill, Night Safari's Chawang the elephant, River Safari's Canola the manatee and Singapore Zoo's Ah Meng the orangutan—will champion a conservation cause, and runners can choose which team to root for:
Team Ah Meng and Team Chawang: Run for the Forest
This forest-dwelling duo want to raise awareness on deforestation and protect the homes of their forest inhabitant friends. Join them and pledge to start using sustainable sourced products such as FSC-certified items.
Team Canola: Run for Clean Water
Canola is garnering support to protect her river-dwelling neighbours and provide cleaner homes for them by reducing single use plastic that have destroyed their watery environment. Pledge to reduce the use of single use plastic by opting for refillable water bottles.
Team Sunny: Run for Clean Air
Sunny's wish is for everyone to enjoy cleaner air. Pledge to reduce your carbon footprint by taking public transport instead of driving!
Do sign up now as Early Bird rate ends on 15 January! 
Promotional rates continue from 1 – 31 January 2019. Normal registration will run from 1 – 15 February 2019. For more information, visit http://www.safarizoo.run/. 
Safari Zoo Run 2019
Date: 24 February 2019 (Sunday)
Time: 7.00am to 11.00am
Venue: Night Safari, River Safari and Singapore Zoo 80 Mandai Lake Road Singapore 729826
Race Categories:
1. 12km Safari Zoo Challenge
2. 4km Safari Zoo Walk
3. 2km Safari Zoo Duo Dash
4. 2km Safari Zoo Junior Dash
Good News! Giveaway Alert!
We are giving away 3 tickets to 1 lucky reader for you to bring your loved ones to participate in Safari Zoo Run 2019, 4km Safari Zoo Walk worth $210 at normal rate.  
Facebook and Instagram Contests:
Here's how to win the giveaway:
1) LIKE and FOLLOW Our Parenting World Facebook Page and Safari Zoo Run Facebook Page

2) FOLLOW our Instagram at @opwmedia and @wrs.ig 
3) LIKE, SHARE and TAG 5 family and friends or more to share this Facebook Giveaway Post
4) LIKE, SHARE and TAG 5 family and friends or more to share this on @opwmedia Instagram Giveaway Post 
Hurry, giveaway will close on 25 January at 23:59Hr. Thank you and Good Luck! 🙂