What is Manuka honey?
For those of you who aren't sure of what Manuka honey is, here's a brief introduction.
Manuka honey is the honey extracted from the bees that feed on the nectar of the Manuka shrub that is native to New Zealand. This shrub cannot be found anywhere else in the world.
Manuka honey is different from normal honey because of its special properties, that is not found in any other type of honey.
Manuka honey' special properties.
So what makes Manuka honey special?
The property that makes Manuka honey special is Methylglyoxal.  
Methylglyoxal is an antibacterial and antiseptic chemical that is beneficial in treating many ailments. The quantity of Methylglyoxal found in Manuka honey is 100 times more than any other honey in the world.
How is this measured?
UMF is an organization that is dedicated to tracking and grading all the Manuka honey in the world. They rate each batch and give them a unique number that helps you identify good quality Manuka honey from the bad. Higher the rating, better the quality of Manuka honey.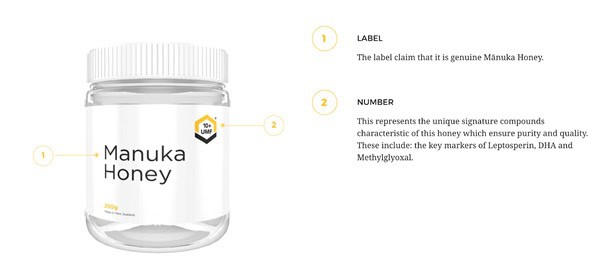 In the image above, you can see that the rating is 10+
The lowest rating starts from 5+ and goes all the way to 22+ which is the highest.
Here is a table that helps you understand the content of MGO and NPA.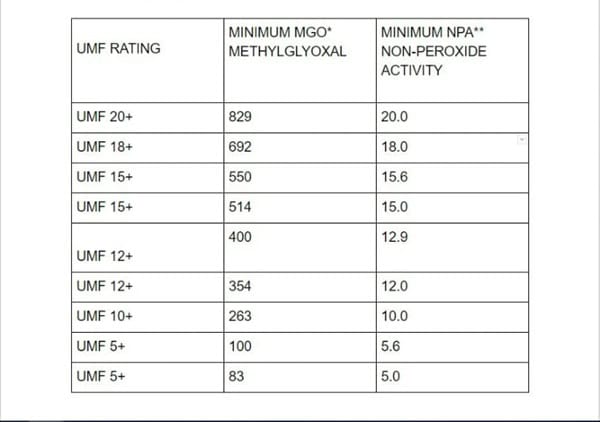 Benefits of Manuka honey
The benefits of Manuka honey have been widely written about. The most important quality is its ability in curing and preventing very common diseases and ailments. Here are a few ailments Manuka honey helps cure.
Sore Throats – Manuka honey soothes the throat and attacks the bacteria that reduces swelling.
Gum Care – It is a powerful agent against gingivitis and helps reduce bleeding from the gums.
Improves digestion – One of the most important functions in the body is the digestive process. Manuka honey soothes the stomach and makes sure your digestion is smooth.
The best Manuka honey you can buy in Singapore
HNZ Manuka Honey is a premium Manuka honey brand from New Zealand. With over a century of experience in this business, it's safe to say HNZ Honey are experts at making this type of honey.
They own the entire experience
One of the most important factors that make HNZ Honey a premier honey making company is, they own the entire process of manufacturing. They own the lands, from where the honey is made, to the factories where it's packaged and shipped.
This gives them control of the manufacturing process, guaranteeing the highest quality.
Independently Lab Tested
Each batch is tested for quality before it's shipped and if anything is found to be out of order, the batch is discarded.
They have just launched in Singapore, check out their Facebook page for more details.
Disclaimer : Patients with any ailments or disease should consult a doctor before consuming Manuka honey.