Enjoy a Chinese New Year feast with a Japanese flair to your Chinese New Year celebration with RE&S Enterprises, whose stable of F&B concepts include Ichiban Boshi, Ichiban Sushi, Sushi-GO, Shimbashi Soba, Kuriya Dining and Kuriya Japanese Market!
RE&S is a multi-concept owner of more than 70 F&B outlets in Singapore and Malaysia that aim to provide an authentic Japanese dining experience. Our team went for a media food tasting to try out the sumptuous and innovative Chinese New Year dishes at  Ichiban Boshi. Here's the highlights of the Chinese New Year dishes as follows: 
Chinese New Year Specials
Auspicious Salmon Yuzu Yusheng (Set A – 8 to 10 pax) $62.80 – Available for dine in/online.
6 Treasures Fruits Yusheng (6 to 8 pax) $56.80 – Available online exclusively via the festive e-stores of Ichiban Boshi, Ichiban Sushi and Kuriya Japanese Market.
Toss to a Prosperous year with Ichiban Boshi's and Ichiban Sushi's best-selling Salmon Yuzu Yu Sheng (prices start from S$36.80 for 2-3pax serving) and 6 Treasures Fruits Yu Sheng (S$56.80, serves 6-8pax). Salmon Yuzu Yusheng takes a refreshing take on the must-have Chinese New Year dish featuring slices of the freshest Norwegian salmon and house special yuzu dressing made using ingredients from Japan. If you want a healthier version, opt for the 6 Treasures Fruits Yu Sheng consists of vibrantly colourful and refreshing medley of six fruits: pomelo, pear, guava, mango, pineapple and jackfruit. 
Japanese Treasure Pot (4 to 5 pax) $188 – Available online exclusively via the festive e-stores of Ichiban Boshi, Ichiban Sushi and Kuriya Japanese Market. 
RE&S Enterprises Group introduces its first-ever Japanese Treasure Pot/Pen Cai that is set to delight foodies! The pot is priced at S$188 and serves 4-5 persons. This sumptuous pot features a splendid array of premium ingredients, including whole abalone, sashimi-grade scallops from Hokkaido, snow crab leg meat, prawn, homemade Japanese chashu, homemade chicken roulade with cabbage and spinach, kamaboko fish cake and shiitake mushroom.
The superior stock is full of flavour, has been boiled for hours using fresh ingredients to create a light and comforting, yet slurp-worthy taste, and the one pot dish is topped with gold leaves for a touch of sophistication. 
The Japanese Treasure Pot is available online exclusively via the festive e-stores of Ichiban Boshi, Ichiban Sushi and Kuriya Japanese Market.
Additional Information: 
For a more exquisite lohei experience, Kuriya Dining offers two types of yu sheng: Premium Yu Sheng and Kuriya Yu Sheng. The Premium Yu Sheng is flecked with gold flakes for an auspicious touch. It will certainly satisfy the sashimi lover, offering premium sashimi such as fatty tuna, amberjack, sea bream and scallop. Other lip-smacking ingredients include lobster, snow crab and Japanese abalone. The Kuriya Yu Sheng comes with a sashimi selection that includes salmon, medium fatty tuna, amberjack and scallop. Japanese abalone, snow crab, salmon roe and tiger prawn round out the line-up. Prices for the Premium Yu Sheng and Kuriya Yu Sheng start from S$198++ and S$98++ respectively.
Enjoy a unique lo hei with Shimbashi Soba's trio of yu sheng offerings, which feature handmade soba! The soba is made fresh daily by the in-house chefs. The kanpachi (amberjack) sashimi for the Fuji Yu Sheng is specially air-flown from Japan! Top-grade ingredients are used for the different yu sheng, from salmon roe to abalone. Each comes with shredded cucumber, carrot, white radish as well as house-made yuzu sauce. Prices start from S$48.80++. 
Ichiban Boshi's Mainstays
In addition, diners can look forward to enjoy Ichiban Boshi's Mainstays featuring a medley of Ichiban Boshi's signature dishes as follows: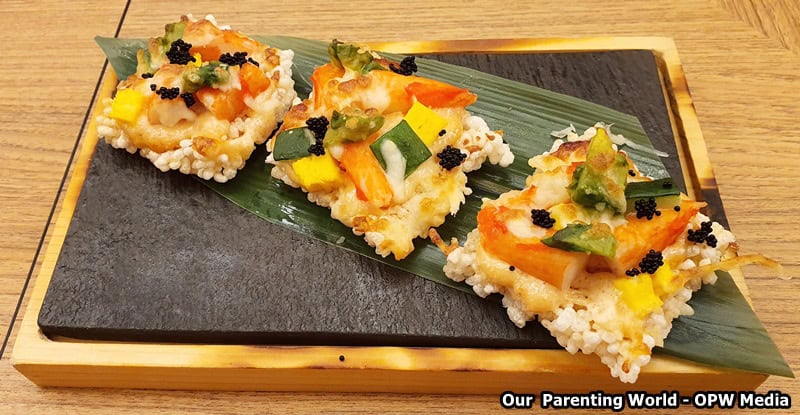 Okoge Pizza $6.90 – this is an unique pizza in the form of crispy rice cracker as a base filled with delicious toppings.

Long Bamboo Rainbow Chirashi $19.90 consists of Maguro, Japanese red sea bream, Yellowtail, Salmon, Egg, Black flying fish roe, Salmon roe on sushi rice with ginger.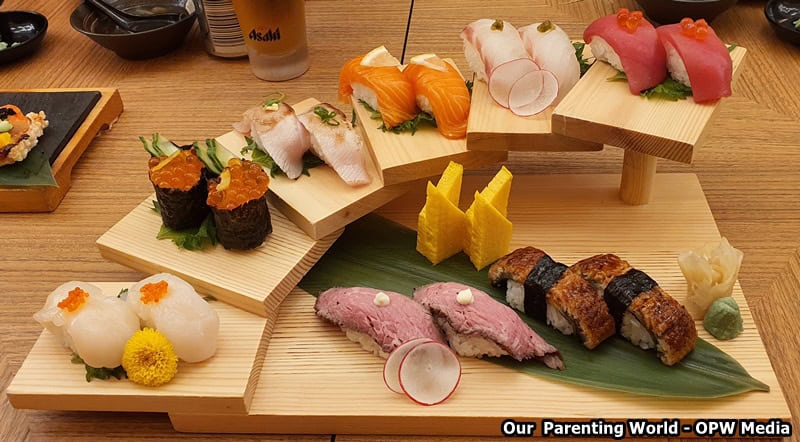 Premium Sushi Moriawase $45.90 consists of a sumptuous variety of Sushi like Madai, Hamachi yellow tail, Salmon, Maguro, Roasted Beef, Unagi, Scallop, Ikura Salmon Roe that will please any Sushi lovers. 
Wafu Aqua Pazza $38.90, this is a hearty, nourishing and comforting soup using fresh whole fish  simmered in-house special broth together with clams, carrot, potato, onion, cherry tomato and Japanese greens that is so tasty! 
CNY offerings will be available from 26 January to 26 February 2021, online pre-orders will begin on 13 January 2021 (2-day advance order is required) https://festive.ichibanboshi.com.sg/en_SG/.
Get a free set of the Limited Edition Fortune Cat Red Packets with every purchase of yu sheng (dine-in or takeaway)!
Hosting an intimate party
If you are thinking of hosting an intimate party, Ichiban Boshi, Ichiban Sushi and Kuriya Japanese Market will each be launching a wide range of platters, including sushi, maki, chinmi, fruit platters and more (prices start from S$26.90). Ichiban Boshi's Sashimi Platter offers a range of fresh sashimi, including spicy salmon carpaccio, salmon, sweet shrimp and bluefin tuna. Ichiban Sushi's Maki Platter will come with beloved items such as Fried Salmon Roll, Chicken Floss Roll, Unagi Mayo Roll. Finally, Kuriya Japanese Market's exquisite Utage Premium Sushi Platter showcases BBQ Eel, Salmon Ebiko Mayo, Aburi Egg Mentai, and more. 
Free Collectible Hongbaos
Get a free set of Fortune Cat Red Packets with every purchase of yu sheng (dine-in or takeaway)
• Limited edition, not for sale – 6pcs per packet with 3 designs
• Valid for in-store and online orders
• Limited to 1 packet per Yu Sheng (while stocks last)
Pickup and Delivery Channels
For convenience, the offerings are available for pick-up and delivery. The festive e-stores are as follows:
• Ichiban Boshi: https://festive.ichibanboshi.com.sg
• Ichiban Sushi: https://festive.ichibansushi.com.sg
• Kuriya Japanese Market: https://festive.kuriyajapanesemarket.com.sg
• Sushi-GO: https://festive.sushigo.com.sg