Original Sprout is a California based family brand that produced worry-free luxury products made by a Mom, loved by Moms. Original Sprout sets foot  in Singapore  with their  top five products.  With  a large  following  by Hollywood celebrity moms, the eco-friendly range of products is set to be the label of choice for moms in Singapore. Invaluable experience as a master stylist with professional experience and a mother with real life experience, founder Inga Tritt believes Original Sprout will appeal to moms looking for a safe professional solution for their child's skin and hair care needs.
All products from Original Sprout align itself with the brand's ethical philosophy – promoting an environmentally-friendly lifestyle by only utilising ingredients that are:
 Free from synthetic hormone disruptor

 Free from oestrogen disrupting ingredients

 Free from Sulphate

 Paraben-free

 Does not use Lavender and Tea Tree Oils, Phthalates, Clove or Musk

 100% vegan; No  Soy, Gluten, Honey, Peanut or Dairy

 Parfum with natural extracts

 Environmentally responsible; bio-degradable

 Eco-friendly and not tested on animals 
Hollywood celebrity moms and hairstylists  such  as  Kate  Hudson,  Jorja  Fox, Chris McMillan, Brooke Shields and Tori Spelling have all given their stamp of approval on the brand.
Mummy is always on a look out for good quality products that are safe, free from harmful chemicals and even better the products are environmentally friendly. As parents, we have to be careful of the products that we buy and use on our children. When Original Sprout approached Mummy, she is excited to know all the good things that Original Sprout offer and decided to test it out.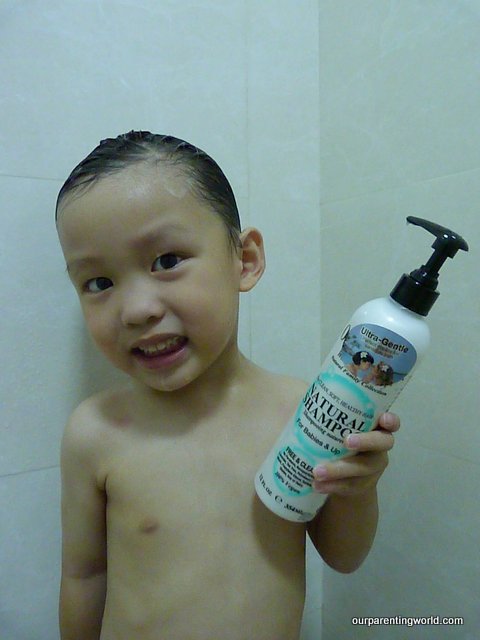 This is the natural shampoo, Di Di applied literally on his hair and told Mummy that he loves the clean and fresh feeling after using the shampoo. His hair feels very soft. 
More about Natural Shampoo 354ml, SGD$25:

The new and  improved  sulphate  free  Natural  Shampoo keeps the  scalp,  hair  and skin nourished  and  healthy, leaving hair shiny, hydrated and easy to comb. The organic emollients used in the formulation help detangle hair and makes rinsing effortless, saving time and water.
How to use: Wet hair & apply shampoo, later, rinse.
This is Hair & Body Babywash which is particularly useful for Di Di as he does get rashes sometimes on his body due to heat rashes and irritations from insect bites. This wash helps to keep his body clean and which will help in the better adsorption when applying medication for his rashes. This product is also good for washing hair. Di Di likes the soft feeling of his skin after his bathe. 
More about Hair & Body Babywash 354ml, SGD$25.00 (Also available in 975ml which retails at SGD$59.00):
This extra moisturizing cleanser gently washes away dryness, cradle cap, eczema, psoriasis, baby acne, heat and diaper rash, and skin irritations. Infused with organic Rosemary, this Baby  Wash helps  to  get  rid  of  issues  such  as  hair  lice. Formulated with a gentle pH, this all-in-one wash leaves hair and skin clean and ultra soft.
How  to  use:  Apply  liberally  on hair  and  body. Lather and rinse.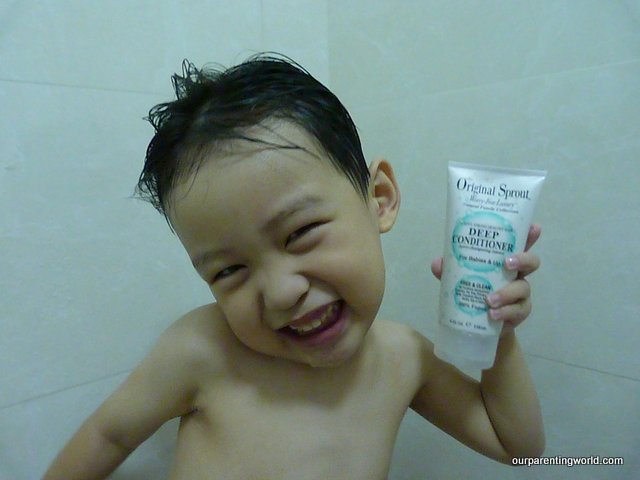 This is Deep Conditioner, after shampooing his hair, Mummy applied the conditioner on his hair and leave it for a few minutes. After drying, his hair has a smooth and silky feeling.
More about Deep Conditioner 118ml, SGD$16.90:
Hard water, sun, wind and pollution dehydrate hair, making it prone to tangles and frizzies. The specialized family formula cares for every hair type, transforming frizzies into ringlets and fly-aways into smooth, silky locks. It is formulated to be safe, effective and natural for everyone in the family.
How to use: Use liberally on freshly shampooed hair and rinse after a couple of minutes.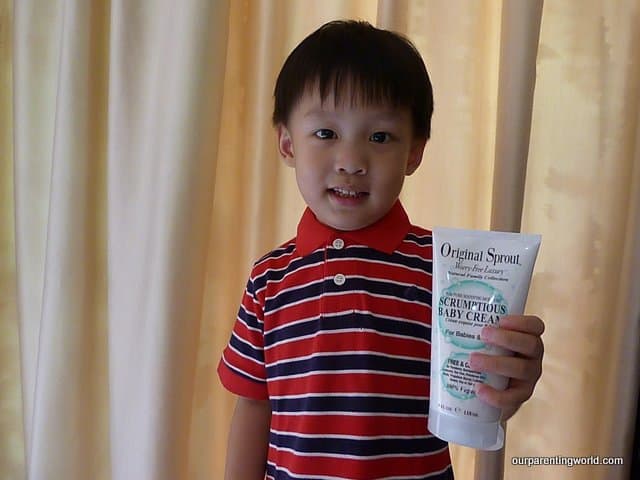 After bathing, Mummy helps to apply Scrumptious Baby Cream, the word Scrumptious already described the cream as being luscious and delightful one on Di Di. We are happy that Di Di loves this cream as most importantly, it is not greasy, he doesn't like to apply cream with greasy feeling. This cream is suitable for him and his skin looks hydrated and feels smooth. 
More about Scrumptious Baby Cream 118ml, $16.90:
The Scrumptious Baby Cream is an irresistible soothing protective barrier that keeps skin soft and smooth as velvet. The multi-benefit cream is infused with natural Zinc for Environmental Protection, and organic Rosemary to help calm and soothe sensitive skin. Suitable for every skin type, it is a non-greasy cream that is extra hydrating.
How to use: Massage gently to skin until absorbed.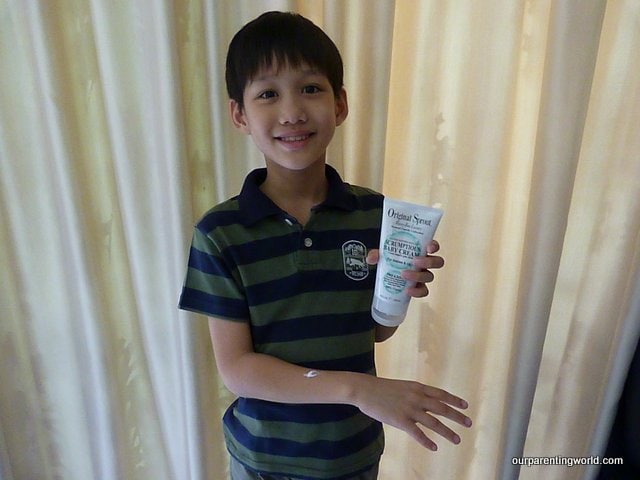 Gor Gor also uses the products and he likes the cream which he applied on his skin. Gor Gor plays a lot of sports and takes part in outdoor activities. This cream helps to keep his skin hydrated. 
Original Sprout is available at 48 selected Watsons outlets island wide. For more information, visit  www.originalsprout.com.
Full Disclosure: We received the Original Sprout products for review. However, all opinions and views are entirely ours.