One thing that always worries Daddy every year ever since Gor Gor started Primary school is the amount of books that he has to carry in his school bag. It has been increasing over the years.
During Primary 1 and 2, there were less books and files to carry to school, but from Primary 3 onwards, there are more books and files because students have to study 4 subjects now (Science is the new subject) compared to 3 subjects in Primary 1 and 2.
As a doctor, Daddy is always concern about caring for one's back, especially for a child. If a bag is too heavy and being carried in a wrong manner, it may cause long-term damage to the spine. If a child does not carry his school bag properly on his back, it may cause kyphosis, which in layman's term means excessive curvature of the spine or hunch back. Such condition could be bad for the long-term growth of the child.
To manage this risk, there are two things parents could do. Firstly is to reduce the amount of stuff a child needs to carry in his school bag. For example, instead of a big water bottle, you could replace with smaller water bottle and top up with water again in the school when the bottle is empty. Every night, you could help your child check his timetable for the next day and take out the books and files which are not required for the next day.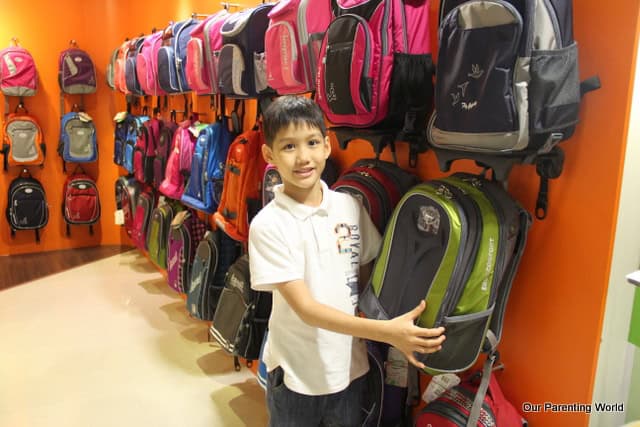 Another way to manage this risk is to have a good school bag. This is where Ergoworks comes in. Ergoworks is actually a Singapore company which designs and manufactures ergonomic spinal protection school bags for children.
Best of all, parents can be assured that all ergonomic products from Ergoworks are endorsed and recommended by The Chiropractic Association (Singapore) and Singapore Physiotherapy Association. Ergoworks has a wide range of school bags with a variety of colours to choose from. Gor Gor chose a bag from the Impact Ergo-Comfort Spinal Support Backpack with Functional Compartments series. 
How different is the Impact Ergo Backpacks compared to the conventional school bag? From far, they look fairly similar but once you have a closer look, you will be surprised with these Impact Backpacks. For a start, these bags are light, much lighter than the usual school bags. A lighter bag would means less weight to the back of the child.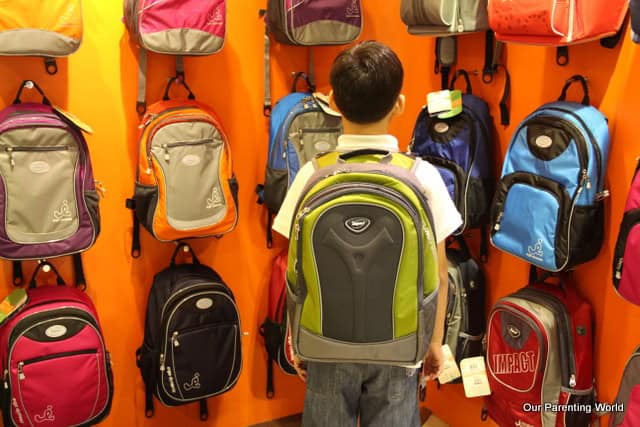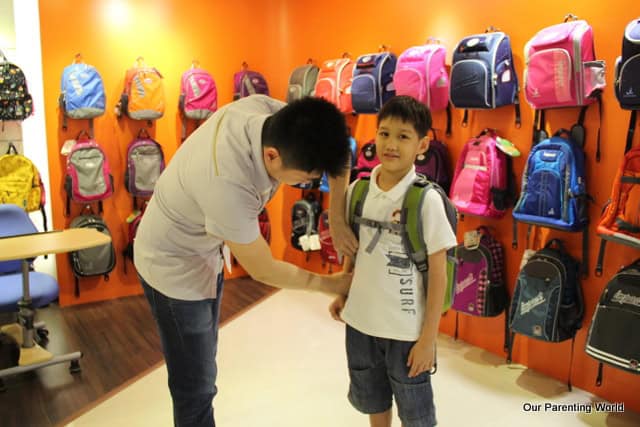 When the friendly and knowledgeable salesperson in the shop helped Gor Gor to put on the bag, we were surprised with the amount of soft padding on the back and nicely design contoured which fit the bag nicely to Gor Gor's back. The back looked like a natural extension of Gor Gor's body instead of a normal school bag which could not fit properly. There is also a front strap to help holds the bag in the right posture for the child.
The Impact Ergo-Comfort Spinal Support Backpack which Gor Gor chose also has many different compartments so that Gor Gor can keep files, books and exercise books in separate compartments instead of putting all of them together in the main compartment in his old school bag. This makes searching for the required file or book much easier in school.
We are very impressed with the bag and also the service and guidance provided by the salesperson. With the increase weight of children's school bags nowadays, it is important for your child to have a good school bag so that his back can be protected. Certainly Ergoworks range of school bags fit the requirement nicely.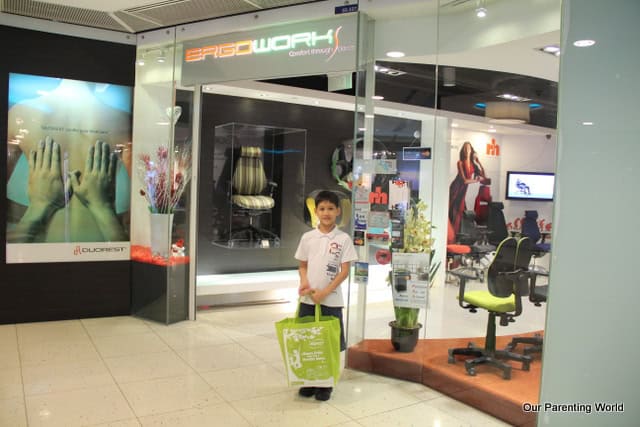 Gor Gor is very happy with his new school bag and he can't wait to show his friends when the school starts. Thumbs up to Ergoworks!
Before school starts, you should visit one of their 3 showrooms in Singapore to learn more about their range of ergonomic backpacks. 
The details are below:
Marina Square
6 Raffles Boulevard #03-337 Marina Square
(level 3 Art of living furniture zone)
Opens Daily: 11:30am – 9.00 pm
Telephone: 6837 3370
Centrepoint
176 Orchard Road #03-36 Centrepoint
(level 3 next to LALU boutique)
Opens Daily: 11:30am – 9.00 pm
Telephone: 6836 8488
Causeway Point
1 Woodlands Square #03-26 Causeway Point
(level 3 next to Kiddy Palace )
Opens Daily: 11:30am – 9.00 pm
Telephone: 6893 8488
Please click HERE to find out more about Ergoworks.