Looking for beautiful flowers and lovely flower arrangements to send to your loved ones/family/friends or to show your appreciation, express your gratitude or to send your congratulation to someone? Flowers are certainly one of the best gifts to send to someone for any special occasions and to brighten up your recipient's day!
Little Flower Hut started in 2010, is one of the leading home grown florists shops and online flower delivery services in Singapore. Over the years, it has grown to be the preferred Singapore Florist  for individuals and corporate clients. It was created out of their love for flowers and inspired by nature. They aspired to come up with crafted flower arrangements to perfectly display the natural beauty of each bloom. It offers all kinds of flower arrangements from flowers bouquet, in a basket, in a vase and even a flower stand. Besides flowers, they also provide a variety of gifts like baby hamper, get well soon hamper, and other gift hampers. For more details and to order, please visit its website at https://www.littleflowerhut.com.sg
In addition, you will never need to worry about missing any special day be it like important day like birthday, anniversary for your loved ones/family/friends, it is quick, easy and convenient to order. It offers value for money, best price in Singapore and same day island wide flower delivery in Singapore 24/7 using the freshest and beautiful flowers so that you can get the perfect flowers and gifts to the special someone that matters to you!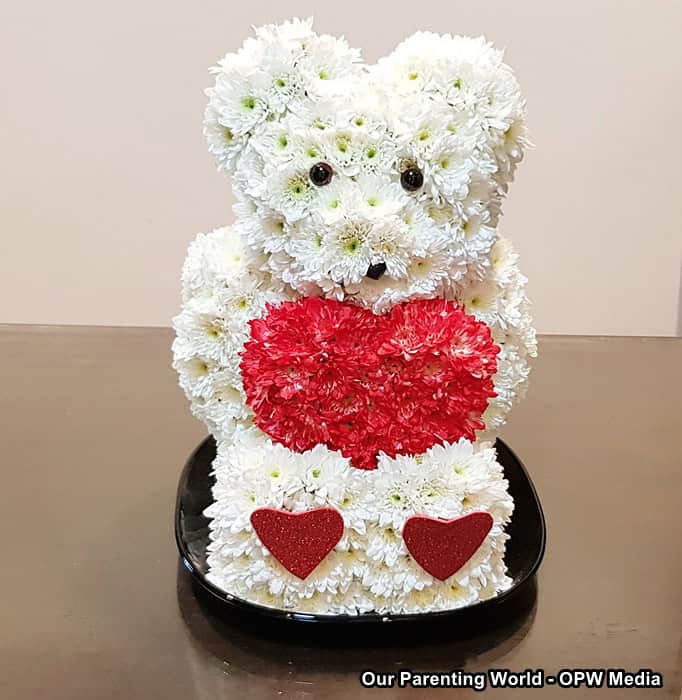 Little Flower Hut has added a new creation to its extensive collection, the Teddy Bear Series price range is from $199 to $260 which is a special product for International Women's Day! Thanks to the kind folks at Little Flower Hut for sending to us this gorgeous flower arrangement!
The ladies in our team fell in love with this ultra-adorable teddy bear flower arrangement and to many of us this is the first time we have seen such an unique and stunning floral creation of a bear made of flowers! 
This Teddy Bear creation is known as Mr. Crush and is hand crafted covered with fresh blooms  and complete with a pair of eyes, nose and heart shaped decorations. Mr. Crush is so skillfully constructed and lifelike that we just can't help admiring it! 
Side view of Mr. Crush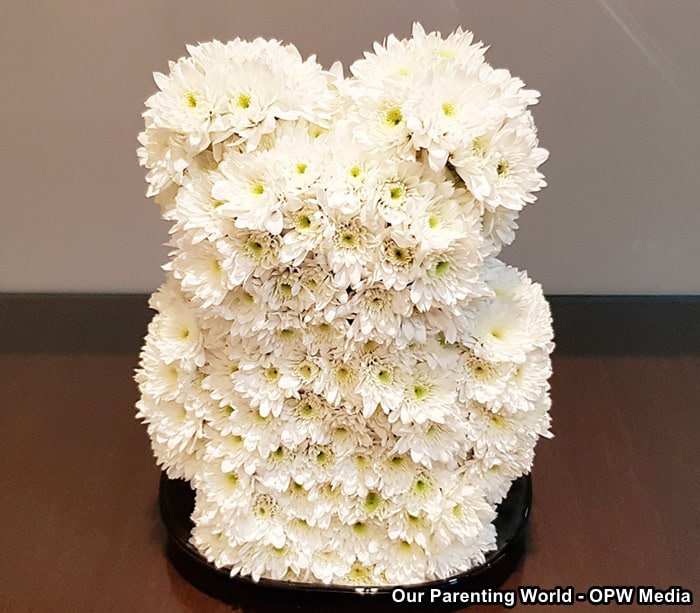 Back view of Mr. Crush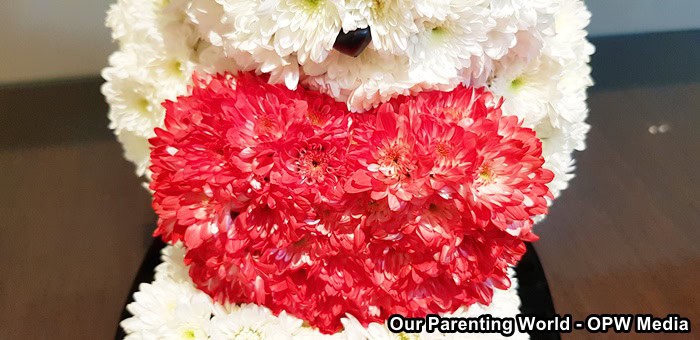 Mr. Crush holding onto the heart shaped floral arrangement that is set to melt your heart! 
Send Mr. Crush to the special someone and create a smile on your love one's face today with Little Flower Hut's crafted Teddy Bear Creations Exclusive! Get an extra-big hug from this gentle giant will be a lovely gift for your love one that is completely made of flowers. It is available in 2 sizes approximately 30cm and 100cm (1m Life Size). Please give 3 days advance order for Life Size Teddy Bear. In addition, you can complete the gift with accessories like balloons, plush bear, chocolate, wine and more for an addition cost. To find out more and to order Mr. Crush, please visit https://www.littleflowerhut.com.sg/shop/td-111-mr-crush/

Mr. Devotion (L), Ms. Happiness (M) and Mr. Affection (R)
In addition, Little Flower Hut has other Teddy Bear Series that you can choose from Mr. Devotion, Ms. Happiness, Mr. Affection and others in their website. Instead of the usual flowers bouquet, why not send a Teddy Bear flower arrangement to your special someone! With so many Teddy Bear Series to choose from, you will be able to find the relevant teddy bear that you would like to bring a smile and create special memories to your recipient! 
To find out more and to order the Teddy Bear Series, please visit https://www.littleflowerhut.com.sg/product-category/big-bouquet/teddy-bear/
Customer Service Team can be contacted at Tel: (65) 6503 9750
Venue: 25 Jalan Chegar, Singapore 578483
Email: sales@littleflowerhut.com
Website at https://www.littleflowerhut.com.sg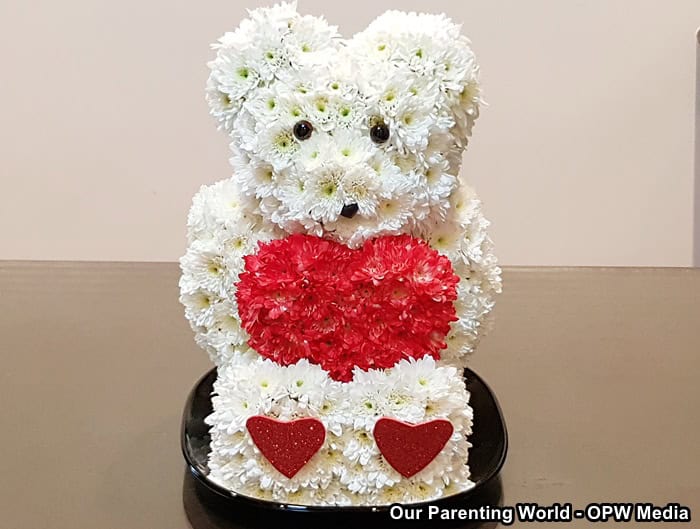 Good News! Giveaway Alert! 
Thanks to Little Flower Hut, we are giving away one set of Little Flower Hut's newest floral creation, the Teddy Bear Series, Mr. Crush worth $229.90 to one lucky winner! You can send this stunning hand crafted Teddy Bear Creations Exclusive to your loved one/family/friend or get and win one for yourself! This lovely floral creation is sure to bring a smile to your recipient! 
Facebook and Instagram Contests:
Here's how to win the giveaway:
1) LIKE and FOLLOW Our Parenting World Facebook Page and Little Flower Hut Facebook Page 
2) LIKE, SHARE and TAG 5 friends or more to share this Facebook Giveaway Post
3) FOLLOW our Instagram at @opwmedia  and @littleflowerhutsg

4) LIKE, SHARE and TAG 5 friends or more to share this on @opwmedia Instagram Giveaway Post
Hurry, giveaway will close on 31 March at 23:59Hr. 
Thank you and Good Luck! 🙂
Giveaway has closed, winner has been announced and notified, for winner's announcement, please visit Our Parenting World Facebook Page at this LINK. 
Terms and Conditions
Entry into the giveaway contest will be deemed as acceptance of these terms and conditions. The rules of the giveaway contest and how to enter are as follows:
1) The prize is as stated, subject to change and fulfillment by the sponsors. Winners are not allowed to change the prizes. The prize will be non-transferable, non-refundable and non-exchangeable for other products/dates/times. The sponsors reserve the right to amend the giveaway contest, substitute any prize or with another of equivalent value without giving notice.
2) All participants have the opportunity to win as long as you have completed and fulfilled all the steps/requirements specified on the giveaway contest. Please make sure your likes and shares are set to public for verification purposes. Incomplete entries and fake accounts will be disqualified at the discretion of the organisers.
3) Winners of past giveaways in the last one month will not qualify for this giveaway, please wait till after one month from the date that you have won to participate in the current giveaways. 
4) Giveaway contest is open to all Singapore residents with a valid Singapore mailing address
5) The organiser (ourparentingworld.com) is not responsible for inaccurate prize details supplied to any entrant by any third party connected with the giveaway contest and by the sponsors.
6) Winners will be notified by email /Facebook/Instagram after the contest has ended. If the winner cannot be contacted or do not claim the prize, we reserve the right to withdraw the prize from the winner and or pick a replacement winner. 
7) The organiser reserves the right to cancel the contest if circumstances arise outside of its control.
8) The sponsor's and the organiser's decision in respect of all matters to do with the giveaway contest will be final and no correspondence will be entered into.
9) Other terms & conditions apply.