Events Shout-out for 2017 International Champions Cup Singapore and Battle of the Masters!
Look out for the 2 BIG and EXCITING sporting events, 2017 International Champions Cup Singapore in July and Battle of the Masters in November!
2017 International Champions Cup Singapore
The countdown begins to the highly anticipated 2017 International Champions Cup Singapore (ICC SG), which will take place later this month. With just over 20 days to go before Chelsea FC and FC Bayern kick off the first match of the tournament at the National Stadium on 25 July, the ICC SG is offering attractive benefits to all ticket holders.
All ticket holders to any of the three matches of ICC SG are eligible for a Grand Draw that will see the lucky winner walk away with a pair of return airfare tickets to either London, Munich or Milan. Other than the airfare, the winner will also receive three nights accommodation and a pair of passes to watch their favoured Club in action on their homeground in the upcoming 2017-18 season. All ticket holders simply need to enter a contest by naming their favourite team and the names of the players from their team featured in the main event poster.
Ticket holders can email their answers and their Sports Hub Tix account number to contest@catalystmedia.com. The contest closes on 18 July at 2359hrs.
In addition to the Grand Draw, ticket holders will also get the opportunity to experience top quality European football together as a family, at minimal cost with the Kids Go Free campaign. To encourage quality family time and to inspire the next generation in pursuing sporting excellence, ticket holders will be able to bring their children, grandchildren and friends to the second match, FC Bayern vs FC Internazionale on 27 July, for FREE (limited to 6 children, aged 3 – 12, per transaction, please visit www.internationalchampionscup.sg for more details). Fans who have already purchased tickets for the second match can contact Sports Hub Tix for more information (+65 3158 7888).
Scheduled to take place at the National Stadium July 25, 27 and 29, the ICC Singapore will feature Chelsea FC, FC Bayern and FC Internazionale in a round-robin three-match tournament. The fixtures will mark the first time top-flight European teams play each other in Singapore, which is the only country in Southeast Asia to host a leg of the annual tournament for the next four years (2017 – 2020).
Ticketing
Tickets are available for purchase at www.sportshubtix.sg, the Sports Hub Box Office as well as at all Singapore Post outlets. Tickets start from $25 (child) and $40 (adult) for the ICC Singapore. Please visit www.internationalchampionscup.sg for more information.
Fixtures for the International Champions Cup Singapore 2017
Tuesday, 25 July
Chelsea FC vs FC Bayern
Thursday, 27 July

FC Bayern vs FC Internazionale
Saturday, 29 July

Chelsea FC vs FC Internazionale
Facebook: https://www.facebook.com/IntChampionsCup/
Twitter: https://twitter.com/icc_sg
Instagram: https://www.instagram.com/iccsg/
Youtube: https://www.youtube.com/user/IntChampionsCup
Official Hashtags
# 2017ICC
#ICCSG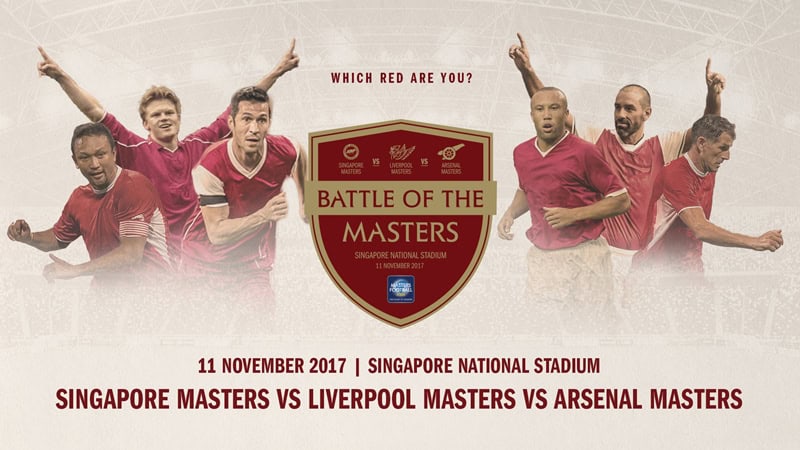 Battle of the Masters
Battle of the Masters which will feature the Liverpool Masters and Arsenal Masters have now expanded with the addition of our very own Singapore Masters.This November 11, ticket holders can look forward to three matches that will now be 40 mins each in a round-robin format. Fans can enjoy the expanded tournament and the best part is that the ticket prices remain the same! The Family Package (2 Adult + 2 Child) are still available from $88 on www.mastersfootball.com and SportsHubTix. 
Tickets for Battle of the Masters presented by Masters Football Asia are available from at www.mastersfootball.com and Sports Hub Tix www.sportshub.com.sg/sportshubtix/.
Tickets start from $20, Family packages (two adults & two children below the age of 12) are available from $88.Fans are advised to purchase tickets early so as to enjoy ticket savings and to earn the opportunity to win "money can't buy" experiences and privileges. From 15 June to 31 August 2017, Standard Chartered Credit/Debit Card holders will enjoy 20% off regular ticket prices. In the same period, ticket buyers can enter a contest and stand a chance to win themselves the opportunity to be an assistant manager to either of the teams. Assistant manager privileges include a spot on the team bus as the teams make their way to the National Stadium, warming up with the teams on the pitch before the game, and finally, taking their place amongst the players on the team bench. Six assistant manager roles are up for grabs and interested parties can check out both the Masters Football Asia's Facebook and Instagram platforms for more details.All tickets purchased before 31 August are also eligible for a contest to win an exclusive spot in the football clinic for children aged 6 – 14 years old. The one-hour football clinic will be led by the Arsenal Masters and Liverpool Masters at the National Stadium on Match Day. 50 slots are available and winners will be picked on 31 August. For more information, please visit www.mastersfootball.com.
Event: Battle of the Masters
Date: 11 November 2017, Saturday
Time: Gates open at 5.30pm, kick-off at 7pm
Schedule: Singapore Masters V Arsenal Masters
Singapore Masters V Liverpool Masters
Arsenal Masters V Liverpool Masters
Team list (as of 5 July) *Please note that all players are subject to availability
Liverpool Masters
David James, Steve McManaman, John Arne Riise, Luis Garcia
Arsenal Masters
Ray Parlour, Robert Pirès, Nigel Winterburn, Gilberto Silva, Mikaël Silvestre
Singapore Masters
Fandi Ahmad, V Sundram Moorthy, Aide Iskandar, Aleksadar Duric, Rezal Hassan, Shahri Rahim, Zulkarnean Zainal, Rafi Ali, Nazri Nazri, Steven Tan, Malek Awab, Dalis Supait, Alam Shah, Indra Shadan, Noh Rahman, Fahmie Abdullah, Lee Man Hon
Hashtag: #MastersBattle #LiverpoolMasters #ArsenalMasters
Twitter: @mastersfootball
Facebook: https://www.facebook.com/legendsfootball?fref=ts
Instagram: @mastersfootball