Long Jiang Classic Noodle and Congee House 龍江粥麺家 at Clarke Quay is headed and co-founded by award-winning Chef Francis Chong 張偉忠 who is well-known for his mastery in seafood and an impeccable skill in Chinese cuisine. He is also the 6th and 7th President of Society of Chinese Cuisine Chefs (新加坡中厨协会).
If you are craving for quality and fresh seafood dishes, Long Jiang Classic Noodle and Congee House is a perfect place for you to bring your family and friends to have an enjoyable meal at affordable prices! What's more, the restaurant is opened till 4am daily. Now you know where to eat when you are having a craving late at night.
Let's look at some of the signature dishes at Long Jiang Classic Noodle and Congee House as follows: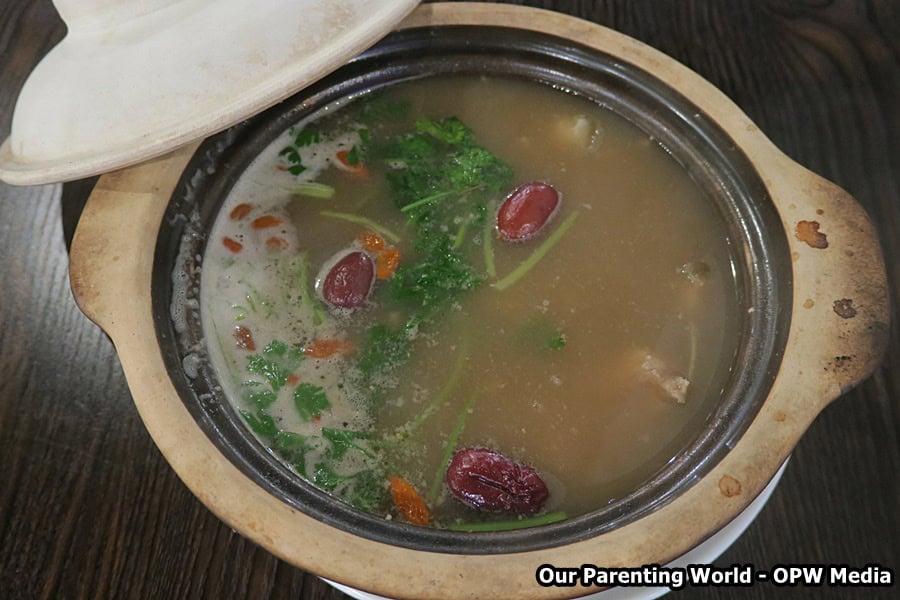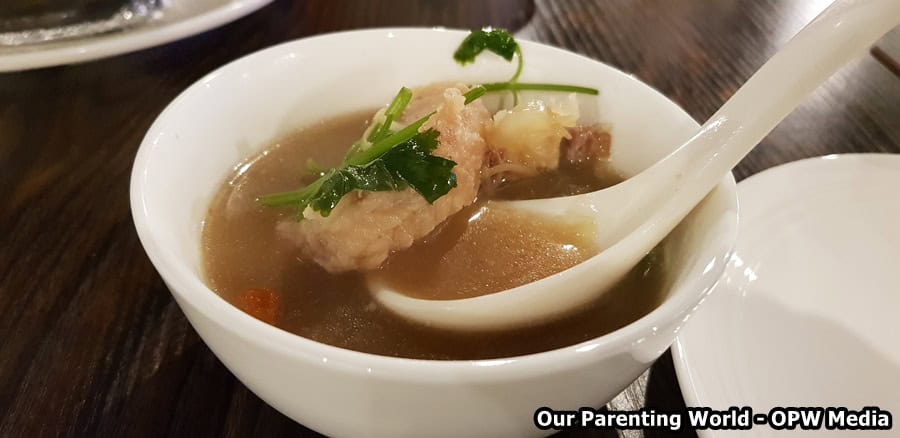 Nutritional Crocodile Soup $38 / $68
This is a delicious and comforting soup with crocodile meat which is highly nutritional. Crocodile meat is popularly used to cure colds as well as respiratory illnesses like asthma. The soup is so good that we finished very drop of it and what's more, it is beneficial for health!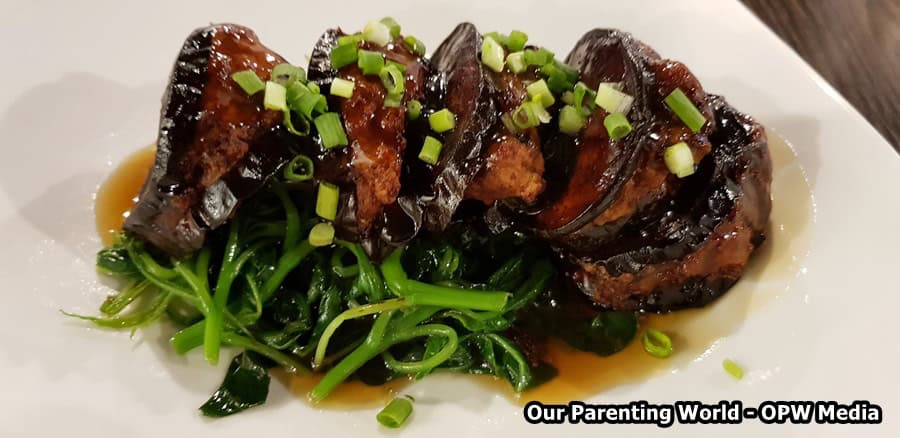 Pan-fried Stuffed Aubergine with Abalone Sauce $14 / $28
If your kids don't like to eat vegetables, you should let them try this dish. The Aubergine, more commonly known as eggplant is filled with fragrant stuffing and pan fried to perfection and is further enhanced by the abalone sauce.
KL Seafood Hokkien Mee $11.80
If you are looking for the famous version of Kuala Lumpur Black Hokkien Mee, visit Long Jiang Classic Noodle and Congee House to satisfy your craving. This version is soaked in sweet, thick dark sauce and stir fried to bring out the burnt aroma which is known in Chinese term as "wok hei". It literally means the "breath of the wok" and the noodle dish is generously filled with fresh seafood. Yummy!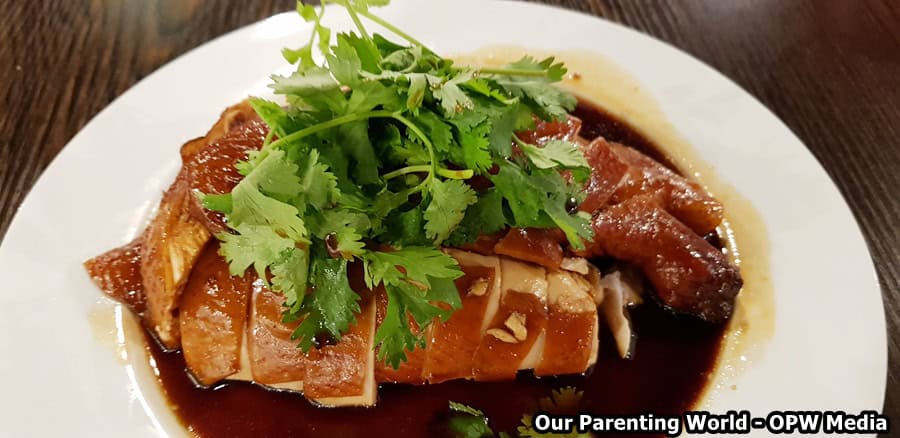 Signature KL Soya Chicken $18 / $36
This chicken dish is well received by our team, the meat is so juicy, tender and full of savoury soya flavour with shiny, smooth browned skin. It is so good to eat it on its own or you can order a bowl of rice to go with the meat.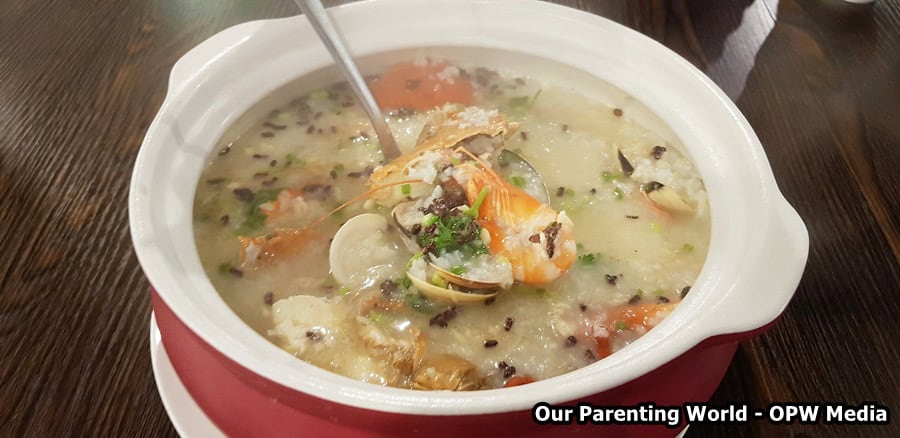 Signature Ocean Treasure Porridge $48 
This is one of the highlight and signature dishes at the restaurant, this treasure pot of porridge is good for 3-4 persons consists of an assortment of luxurious fresh crustaceans with mud crab, crayfish, live prawns, conpoy and clams over a sea of smooth congee that is set to please everyone! We all enjoy this full-bodied congee that is filling, mouth-watering and so comforting! The kids love the porridge!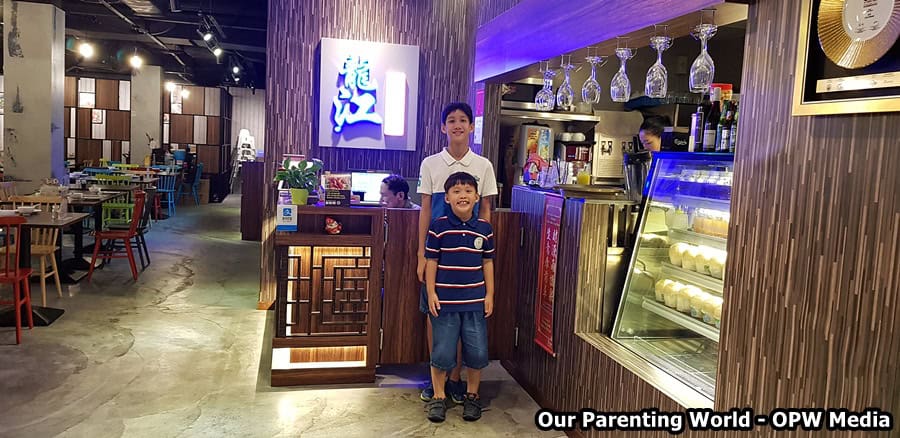 Long Jiang Classic Noodle and Congee House is conveniently located at Clarke Quay, one of Singapore's most vibrant nightlife hotspots along the Singapore River.
We have known the award winning Chef Francis Chong for a long time and you can be assured of the quality and tasty food when you dined at the restaurant. 
The restaurant covers over 2650 square feet including an outdoor dining area, it can seat up to 116 people, making it great for family occasions of all sorts. With the restaurant long operating hours till 4am, diners will be pleased to find comforting seafood congee dishes like Signature Ocean Treasures Porridge, heartwarming noodles soups and many more, it will be an ideal place to dine for supper.  
Long Jiang Classic Noodle and Congee House 龍江粥麺家 
Venue: Clarke Quay – Block B, 3 River Valley Road #01-16 (beside taxi stand) Singapore 179021 
Nearest MRT: Clarke Quay
Telephone : +65 6266 3323
Daily operation hours: 11am – 2.30pm 5pm – 4am 
Website: https://www.facebook.com/longjiangclassic/
Giveaway Alert! Good News!
Thanks to Long Jiang Classic Noodle and Congee House, we are giving away 3 sets of  Signature Ocean Treasure Porridge (worth $48/each) to 3 lucky readers. This big pot of porridge is good for 3-4 persons for you and your family to enjoy this luxurious and sumptuous pot of treasure porridge. 
*The redemption can only be on Weekdays (except PH)
FACEBOOK AND INSTAGRAM CONTEST:
Here's how to enter the giveaway at our Facebook and Instagram:
1) LIKE and FOLLOW Our Parenting World Facebook and Long Jiang Classic Noodle and Congee House Facebook. 
2) LIKE, SHARE and TAG 3 to 5 friends to share this Facebook Giveaway Post
3) FOLLOW our Instagram at @opwmedia
4) LIKE, SHARE and TAG 3 to 5 friends to share this on @opwmedia Instagram Post
* Please set your accounts to public and indicate your instagram handle at the Facebook Comment Post and check that all the steps are entered correctly to be eligible for the giveaway.
Hurry, giveaway will close on 23 April 2018 at 23:59Hr. Winners will be announced and notified on 26 April, please check this space for announcement.
Thank you and Good Luck! 🙂 
Giveaway Closed and Winners Announced, please refer to our Facebook Page for winners' details at
https://www.facebook.com/our.parentingworld/posts/1622618201185098