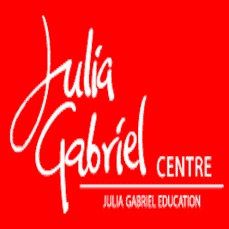 Many of us especially parents in Singapore would have heard of Julia Gabriel, she is a renowned early childhood educator, one of the pioneers in Singapore's early childhood education scene who is also an accomplished storyteller, performer, speaker, lecturer, author of children's books and has been involved in the production of educational television programmes for the Ministry of Education in Singapore.
Goodnews for Parents!
Julia Gabriel Centre's Positive Parenting Series is back with a series of workshops this year that promises to provide insights and hands-on guidance on how to nurture confident, independent, motivated and successful children.
Julia Gabriel is passionate about education and parenting. Our Parenting World, Mummy and Daddy attended the workshop on "Developing Your Child's Concentration" personally conducted by Julia Gabriel, herself, who is the Founder and Director of Julia Gabriel Education and she has more than 30 years of experience in early childhood education.
Why is it important to develop your child's concentration?
If your child is able to focus and concentrate, it will be beneficial especially for school children who need to focus and concentrate on doing their homework and during tests/exams if there are distractions around them. Their ability to concentrate will affect their performance and as parents, we need to help them to develop this valuable skill of being able to concentrate.
In this workshop, Julia taught us how we can adjust our posture and do breathing techniques to help us to concentrate. Children develop concentration skills right from pre-birth, Mummies and Daddies can help your child to develop a strong sense of control by creating peaceful times, talk, sing or read to your baby gently, slow down to let your baby hear a quieter heartbeat. 
She also advises parents at what stage your child is, what you can do to help your child develop his/her concentration skills. For example, Gor Gor is now in Primary school, when your child is studying, keep all distractions for example, like televisions off to help your child to concentrate. Set clear and reasonable time expectations for your child to complete a task or activity. Sleep and diet are very important. Make sure your child gets enough of sleep and rest. Encourage your child to exercise and participate in sports as that will help to increase blood flow and to connect both the left and right hemispheres of the brain. It will help to increase the hormonal response that will promote mental sharpness.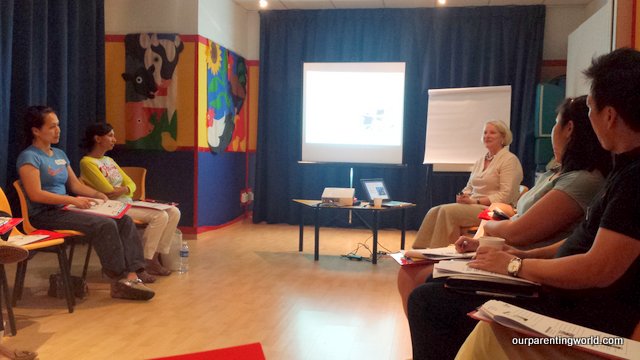 The workshop is conducted in a cosy and lively manner. 
Parents get to share their parenting experiences with valuable inputs from Julia Gabriel.
Our Parenting World, Mummy and Daddy find the workshop informative and we take home with loads of tips on helping our children to develop their concentration skills especially getting to hear and learn from Julia Gabriel. Besides getting valuable parenting tips, we also get to know and share with other parents at the workshop. 
There are more workshops from Julia Gabriel Centre's Positive Parenting Series personally conducted by Julia Gabriel, please see the below for the complete list of workshops coming up in July to November 2014. 
Developing Your Child's Reading and Writing – 11th July
How do children learn to read and write? When are they ready to learn and what can I do at home to support my child's literacy? Are apps or books better for my child? In addressing these questions, this workshop will look into:
How to develop a literacy-rich environment at home
Tips for encouraging a strong start to reading and writing
Laying foundations for a life-long love of books and reading
Developing Your Child's Organisational Skills – 29th August
Personal organisation is an essential skill in leading full, productive lives. Children who are able to grasp the concept of planning ahead and managing their responsibilities well, are more efficient and experience less frustration in coping with the demands of school. This workshop will explore:
Strategies to develop organisation tools
How to empower children's sense of ownership and responsibility

 
Developing a home in which organisation skills flourish
Developing Your Child's Imagination – 26th September
An active imagination can make all the difference in one's approach to life. Children with active imagination are more optimistic, more able to manage their emotions and often perform better in school. This workshop looks into:
What we can do at home to support children's ability to create mental images
How to develop the power to see possibilities and situations that will enhance children's potential for success
Engaging and enjoying the imaginative process together with your child
Developing Your Child's Critical Thinking – 24th October
Critical thinking is an essential skill in problem solving and the ability to communicate logical solutions. It includes skills for effective analysing, reasoning, evaluating and creativity, which children develop over time with the help of parents, family members and educators. This workshop will explore:
The process of critical thinking
How you can empower your child's thinking at home
The four steps towards expanded thinking
Developing Your Child's Social And Emotional Awareness – 21st November
Social and emotional awareness is a critical in the development of self-awareness, self-regulation, decision-making, relationship skills and what is or is not appropriate in our interaction with others. This final workshop will look into:
The difference between inter and intra personal awareness
How we can impact our children's ability to engage with others and to lead happy, well-balanced lives
Julia Gabriel Centre's Positive Parenting Series will be held from 7:00pm to 9:30pm on the respective dates at Julia Gabriel Centre, #04-00 Forum, 583 Orchard Road, Singapore 238884.
Each session only costs $65 per person or $110 per couple including workshop materials. Enjoy a 10 per cent discount from your 3rd workshop onwards.
For more information and registration, call 6733 4322, email enquiries@juliagabriel.com or visit www.juliagabriel.com.
More about Julia Gabriel and Julia Gabriel Centre:
Julia Gabriel founded and established the highly successful Julia Gabriel Centre at Forum, Orchard which provided enrichment courses from 6 months and up. Please click HERE to find out a wide variety of courses suitable for your child's age. As the Centre grew, it set up Chiltern Houses which is a full and half day childcare with a comprehensive preschool curriculum. Please click HERE to find out about Chiltern House. Julia Gabriel has not forgotten how important Mandarin is for Singaporean children and together with a dedicated team of Chinese teaching professionals set up Chengzhu Mandarin Centre which is well received by parents. Please click HERE to find out more about its Mandarin programs.
Julia Gabriel Centre team has expanded its education venture overseas to countries like New Delhi, India, Jakarta, Indonesia, Kuala Lumpur and Shanghai. 
Full Disclosure: We were invited to attend the workshop by Julia Gabriel Centre. There is no monetary compensation and all views and opinions are entirely ours. Thank you to Julia Gabriel, Julia Gabriel Centre and organisers for inviting us to this informative workshop.