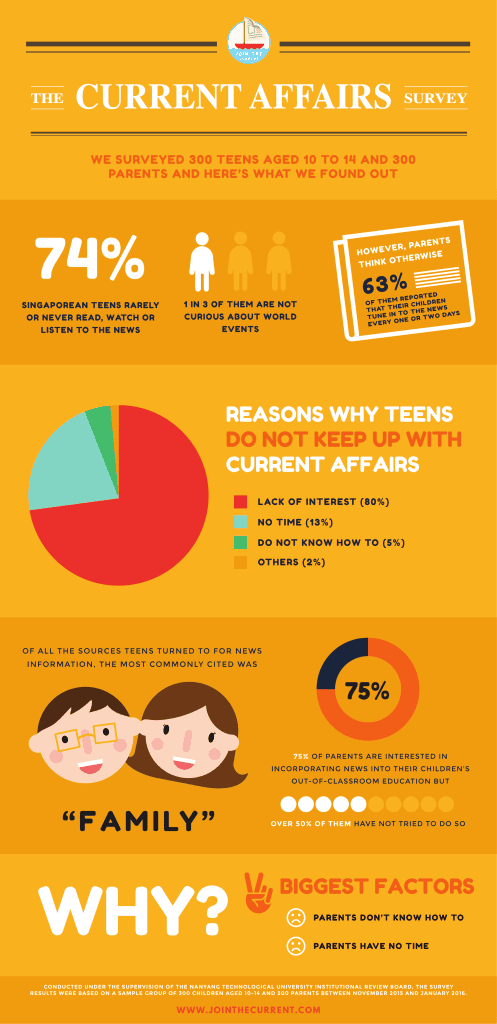 Image Credit: Join The Current
Join The Current, is ​a news literacy campaign pioneered by a team of four 22 ­years ­old communication studies undergraduates. They are Ms Miranda Yeo, Ms Lynette Teo, Ms Natalie Huam and Ms Fiona Tan. The campaign is part of their final year project at Nanyang Technological University's Wee Kim Wee School of Communication and Information, and is the ​first ​campaign of its kind to champion current affairs for teens. 
They conducted a survey of 300 upper primary and lower secondary students and 300 parents. Respondents were asked about their perceptions of their own news consumption habits, the importance of knowledge in current affairs, and their sources of news information.
Here's what they have discovered and based on the survey results, they found out that more than 70 per cent of Singaporean teenagers aged 10 to 14 rarely or never read, watch or listen to the news ­ and one in three of them are not curious about world events. Yet, their parents think otherwise, with 63 per cent of them reporting that their children tune in to the news every one or two days. 
Among the reasons teens cited for not keeping up with the news, a lack of interest was the most common at 80 per cent. Of all the sources teens turned to for news information, the most commonly cited was "family", highlighting the importance that parents play in encouraging their children to develop a news reading habit. While 75 per cent of parents are interested in incorporating news into their children's out ­of­ classroom education, over half of them have not tried to do so. Most said they did not know how to or had no time.
The survey conducted by Join The Current team confirmed Singaporean teens lack interest in current affairs and most cite family as important source of news information.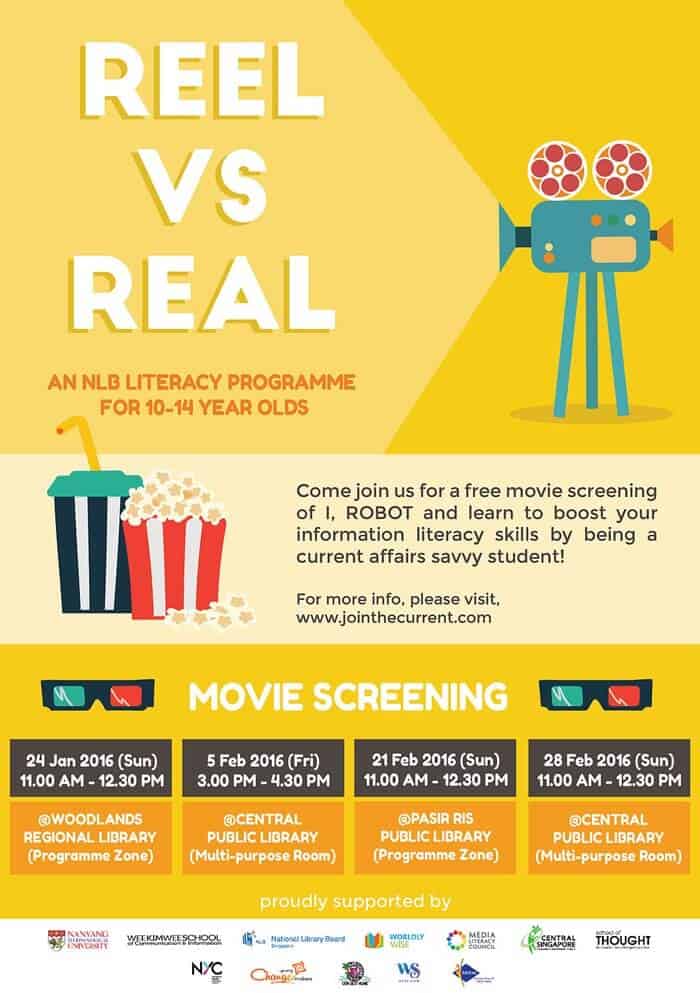 Image Credit: Join The Current
Here's help from Join The Current team, based on these insights, the team came up with campaign aimed at engaging teens aged 10 to 14 to ​take an interest in current affairs and identify as a global citizen​. ​It focuses on ​information literacy to help teens navigate complexities of new media. 
It has partnered with the National Library Board (NLB) to launch four literacy workshops to be held in various libraries in January and February. The workshops will introduce serious topics such as climate change and unemployment through a movie screening, games and quizzes. While the workshops are open to the public, community beneficiaries from Chinese Development Assistance Council, Jamiyah Children's Home and Students Care Service will be present as well.
Together with Worldly Wise, an education centre that teaches current affairs to children, the team has produced a handbook, "The Current Compendium", ​designed to introduce current affairs in a fun and palatable manner ­ with heavy use of graphics and colourful design. The handbook was distributed to over 500 students as part of a goodie bag at school booth outreaches and three Edusave Merit Bursary Award ceremonies held in January.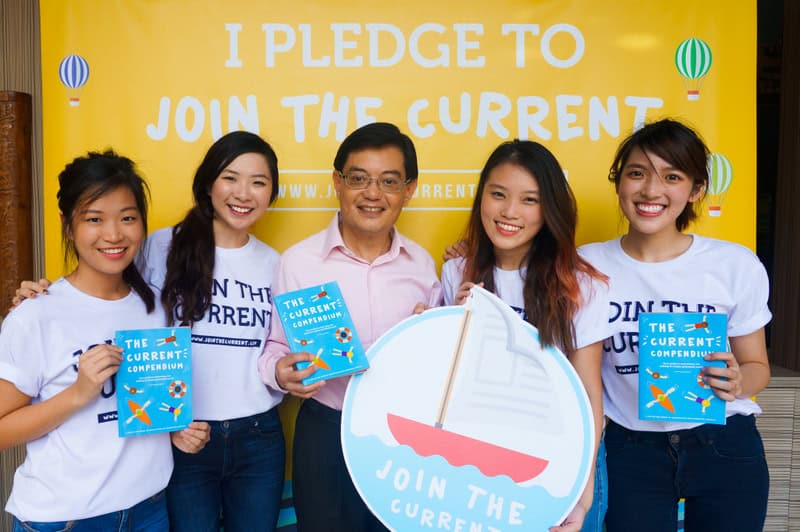 Image Credit: Join The Current
Minister for Finance and former Minister for Education, Mr. Heng Swee Keat, expressed his support for Join The Current and encouraged the students to learn, read more and find out more about their world, which he said is changing much faster for our children as compared to their parent's generation. 
Join The Current team just launched a video and it features a fun social experiment where a 'Curiosity Box' is placed in the middle of a mall atrium to trigger the curiosity of children and to remind them to stay curious about world events. Please go to this link at https://www.facebook.com/JoinTheCurrent/videos/1749780858591186/ to view the video. Through the set-up of the 'Curiosity Box', children who approached it received bite-sized information of current affairs and were rewarded for their curiosity at the end. The team hopes that this initiative will serve as a reminder to parents to keep their children's curiosity burning bright and to fuel it by encouraging their children to read widely and reflect on the changes in their world.  
More information on the campaign can be found at ​www.jointhecurrent.com. The website encourages visitors to pledge to 'Join The Current' through visiting news sites, comparing different news sources and sharing opinions with family and friends. 
Follow its Facebook page at www.facebook.com/jointhecurrent​. The Facebook page keeps followers up­-to­-date with Join The Current's community engagement activities.