Event Listing: Income Eco Run 2017
Income​ Eco Run 2017 is Southeast Asia's premier eco-run which champions environmental conservation and aims to raise awareness for everyone to play their part in supporting the cause.
Previously known as NTUC Income Run 350, the run has been renamed Income Eco Run to step up the ante on bringing runners closer to the eco-friendly agenda. The call to action for 2017 is to run towards "zero waste".
Our Parenting World is pleased to announce that the race will be held on Sunday, 30 April 2017, at the F1 Pit Building. The categories of the event include: 21.1km half marathon, 10km competitive race and 800m Kids Dash as well as a 10km Team Category.
Income Eco Run 2017 aims to drive the green message amongst runners and people in Singapore at large, calling members of the public to take to the run to show their pledge for green practices.
In fact, Income will up its ante on its green commitment by embarking on a detailed 'green' audit partnering Green Future Solutions, which helps organizations address environmental challenges and identify green opportunities. Income Eco Run will be the first in its class in Singapore to set environmental benchmarks via the audit for improvements year on year.
The 'green' audit will focus on two main areas- waste and energy – culminating in an electronic report which will detail green recommendations for benchmarking setting and improvements subsequently.
The audit perimeters of the Run are as follows.
Carbon emissions generated by the use of transport by participants, volunteers and staff
Carbon emissions generated from the use of direct electricity and fuel
Waste and recyclables generated
Material usage and responsible sourcing
To hit home the message on reduce, reuse and recycle, ​Income Eco Run 2017 will introduce the '​Zero-Waste Runner'. ​As a 'Zero-Waste Runner', participants will not receive a finisher tee and race medal to help reduce wastage from producing race entitlements. The registration to be a ​Zero-Waste runner is limited to the first 1,000 participants. They will be recognized as 'Zero-Waste Runner' with a special silkscreened symbol on their race tee and given a BYO bottle.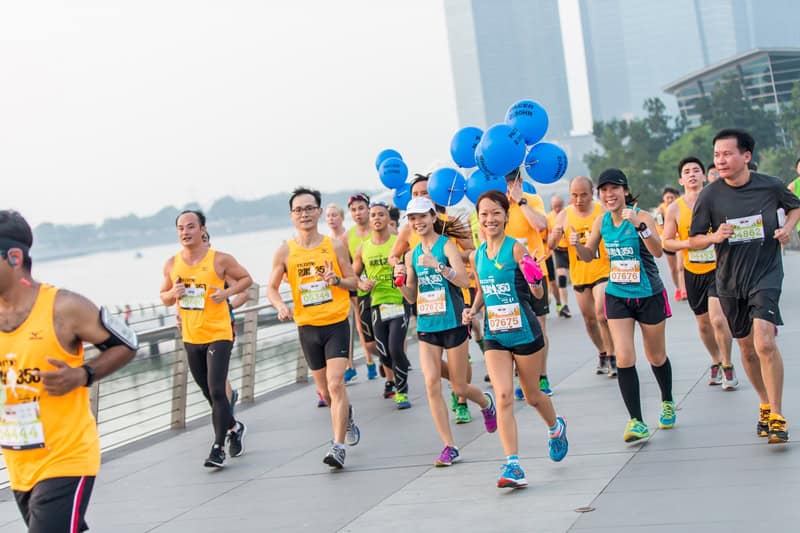 All the above images credited to NTUC Income RUN 350, Organised by Young NTUC 2016.
This year will see the introduction of the ​10km team category. ​In this race category, runners are encouraged to take part in teams of four and run in support of zero waste and a sustainable environment together. Other categories that runners can sign up for are the 21.1km Half Marathon Competitive (Individual), the 10km Competitive Run (Individual), the 10km Competitive Run (Mixed Team) and the 800 metres Kids Dash for children aged 4 to 12 years old.
As part of the eco movement, Income will be partnering a Farmers' Market to feature eco-friendly and local produce during the Race Entitlement Pack Collection (REPC) dates. Through this partnership, they aim to educate and encourage those in attendance to pick up healthy and environmentally-friendly practices and eating habits.
Additional Information: 
Event Name: Income Eco Run 2017 (英康环保竞跑)
Date: Sunday, 30 April 2017
Race Venue: F1 Pit Building
Time: 5am – 11am
Targeted Runners: 10,000
Race Distances: 21.1km, 10km (Individual and Team of 4), 800m Kids Dash
For more information and to register for the run, please visit the following:
Website: ​www.incomeecorun.sg
Facebook: https://www.facebook.com/IncomeEcoRun/​