The Polliwogs Grand Event of The Year – Halloween Bash 2018! Role Playing Adventure, Interactive Shows and Games all rolled into one Halloween BIG PARTY!
"Halloween Bash 2018 – The Search for The Candy Rain Spell!"
Plot Summary: The Legendary Candy Rain! Rumor has is that it happens once every year in Spook-tacular Town on Halloween! This year, Larry and the Children are going to find out for themselves! Upon a visit to the Wizard's Lab however, the gang are disappointed to learn that he has run out of the ingredients needed to cast the Spell! The only way solution – venture deep into Haunted Locations of the Town and acquire them! Can Larry and the Children make Candy Rain in Spook-tacular Town?
What Can The Children Expect:
Interactive Shows! Meet The Polliwogains and other Spooky Characters from Spook-tacular Town!
4 Fiendish Locations! Dr Puzz's Labs, Skeleton Theater, The Haunted Carnival and The Monster Lair!
Role Playing Adventure! Tasks and challenges awaits the children at every turn!
Live Monster Hunt! Where children get to chase a silly Monster for clues!
Carnival Games and Lucky Draw! Top Prize – A Birthday Party for your child worth $688.00
Best Dress Contest! Winner walks home with a 2x Golden Village Movie Vouchers
CANDY RAIN effect finale!
What Will Be Provided
Goodie Bag with one FREE PLAY PASS to The Polliwogs! (worth $50.00)

Trick and Treat Bag for collection of all kinds of goodies!

Premium Bento Boxes for Children and 1 Adult. ($15 for additional adult)

Unlimited Playtime and Free Entry on the actual day of The Event! (Sign-ups can come before event time)
What are you waiting for, reserve your slots now to take on the Halloween Bash on 26th – 27th October 2018!
For more information on the Halloween Bash programs, perks and to purchase the tickets, please visit its website at https://thepolliwogs.com/kids-activities/halloween-bash-the-polliwogs-suntec-city-2018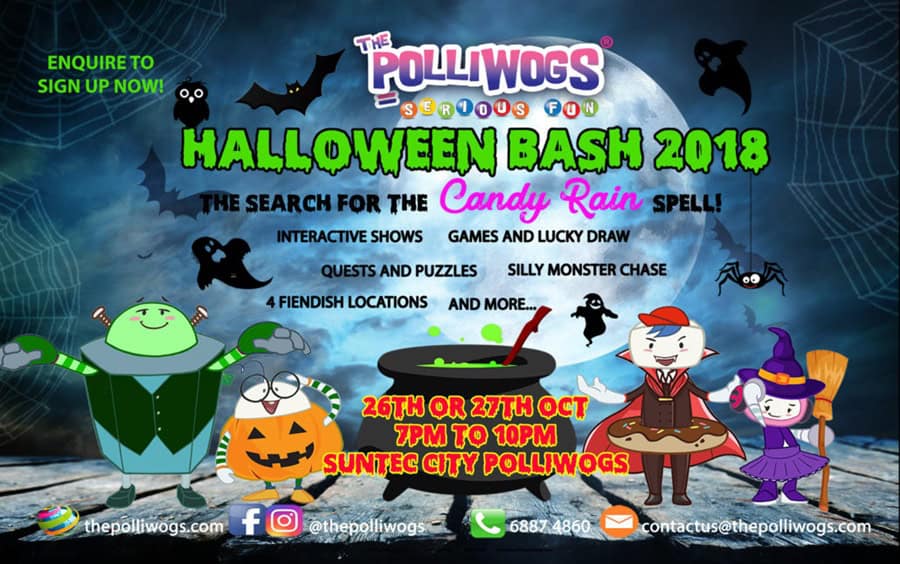 Good News! Giveaway and Promo Code Alert!
Thanks to The Polliwogs, we are giving away 1x FREE event ticket giveaway (worth $89.00) for 1 lucky reader for you to bring your child to The Polliwogs Grand Event of The Year – Halloween Bash 2018 on 26th October 2018 at 7pm onwards and have a fun-filled night!
[PROMO CODE] If you can't wait for the giveaway and would like to purchase the tickets now,  you can get a 10% discount on ticket price when you book through The Polliwogs's online registration at https://form.jotform.me/82611002732443 with the special promo code <OURPARENTINGWORLD>
Here's how to win the giveaway:
1) LIKE and FOLLOW Our Parenting World Facebook Page and The Polliwogs Facebook Page
2) FOLLOW our Instagram at @opwmedia and @thepolliwogs
3) LIKE, SHARE and TAG at least 5 family and friends to share this Facebook Giveaway Post
* Please set your profile to public, indicate your Instagram handle at the Facebook Comment Post and please check that all the steps are entered correctly to be eligible for the giveaway. 
Hurry, giveaway will close on 24 October at 23:59Hr. Winner, please kindly respond within 24 hours after the winner's announcement or your ticket will be forfeited. 
Thank you and Good Luck! 🙂
Giveaway Closed and Winner Announced, please visit Our Parenting World Facebook Page's for winner's details at https://tinyurl.com/y8y3t7jo