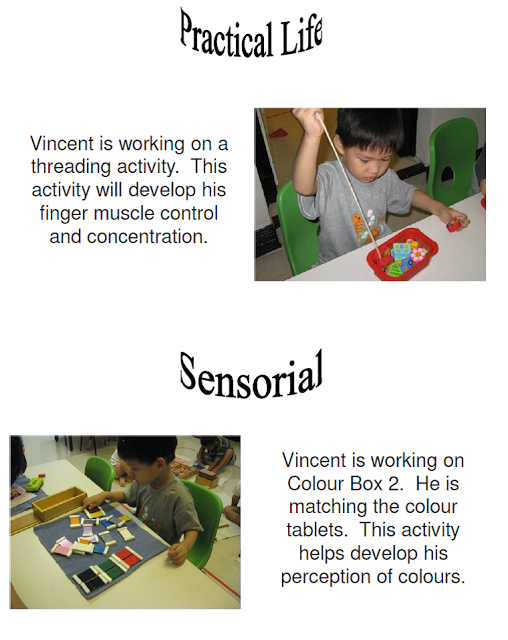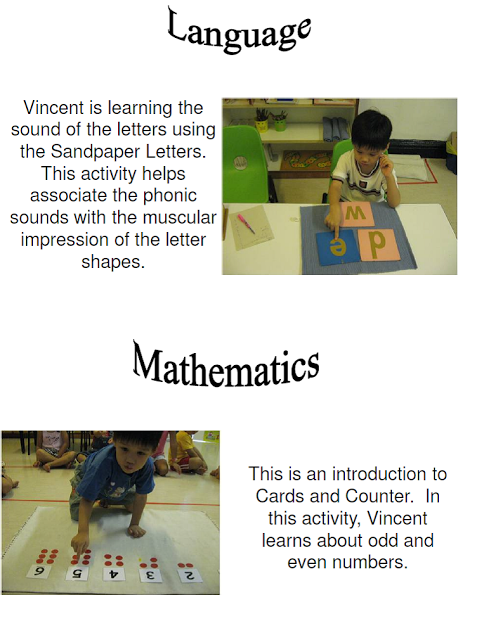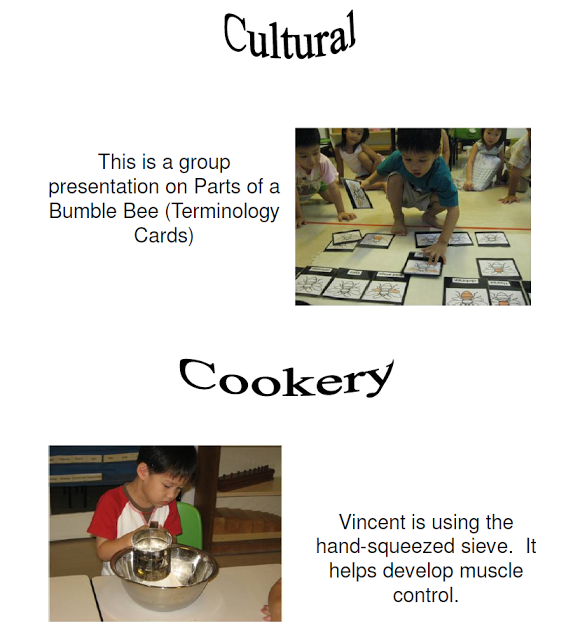 His teacher's comment:
The exercises for practical life are designed to teach the child to function in his own
environment by teaching him to cope with the things around him. The daily functions of
our home are routine and simple to us, but they are new and exciting to a child.
Vincent has been working on almost all of the materials in the Practical Life area.
I noticed that he enjoys the pouring of water through a funnel and the opening
and closing of boxes materials. Daily practice with these materials will help
develop hand-eye co-ordination, self-reliance and fine motor skills.
We have made simple cheese pizzas and vanilla muffins over the months.
Vincent was introduced to skills like spreading and whisking while making these
goodies. What children found more interesting was eating the goodies.
Sensorial exercises are concerned with the development and refinement of the five
senses, thereby sharpening the child's intellect and control and preparing him for the
Vincent has been working with Knobbed cylinders, Knobless cylinders, Broad
Stair and Long Rods. We have also exposed him to a different level of challenge
when using the materials in the Sensorial area. For example, instead of working
with just one Knobbed Cylinders, he is introduced and encouraged to work with
two blocks of Knobbed Cylinders at one time. Each block is different and
provides visual discrimination of size and dimensions thus, stimulating his
The young child learns through repeated work and gradually builds up a strong basis
before advancing to abstract concepts.
Vincent has mastered both numeral and quantity counting from 1 to 9. He also
understands the concept of zero and the counting of quantities from 1 to 9 using
the Spindle Box. Odd and even numbers were also introduced using the Cards
and Counters. In the coming months, we will reinforce work with these two
materials before moving on to the Short Bead Stairs. The Short Bead Stairs
will start Vincent on 'teen' counting.
"Reading and writing go hand in hand."
Currently, Vincent is working on the alphabet sounds through the use of
Sandpaper Letters. It develops a visual impression and memory of the letter
shapes and he also learns the writing direction of the letter shapes.
Culture introduces rules of behaviour, values, tradition and cross-cultural mixing.
In April the children learnt all about "Insects". We work on the different parts
of a bee using the Terminology Cards. We took a trip to the "Insect World" in
Sentosa. The children had a guided walk and learnt about other insects too.
Trees and Flowers were the themes for May and June. They were introduced to
parts of a tree, leaf and flower using Terminology Cards. A nature table was set
up with things such as tree bark, angsana seed and simple and compound leaves.
We took a short walk to the park to learn and examine different trees and
leaves. It made concrete what they learnt in the class.
Art and Craft activities were made interesting by tagging it to the themes.
Children did a bark rubbing activity and coloured a leaf puzzle
Vincent shows growing confidence in his interaction with peers and adults. He is
a pleasant boy and I enjoy having him in my class.