Goldleaf Restaurant is the first home-grown Taiwanese-Chinese Restaurant in Singapore founded in 1971. Over the years, it has served nostalgic and heartwarming homemade dishes that are enjoyed by many. We learnt from the restaurant that it was the first to bring in the Taiwanese Porridge into Singapore's food scene that became very popular among the locals.
However over the years, some of us might not have heard of Goldleaf Restaurant even though it has been around in Singapore for years, due to changes in location. Currently, it has been relocated to a charming heritage shophouse, a quiet and attractive area at Katong with ample parking lots.
The place is cosy, spacious and tastefully decorated, great for families and friends to gather and bond over delicious, comforting food that Goldleaf Restaurant is well-known for.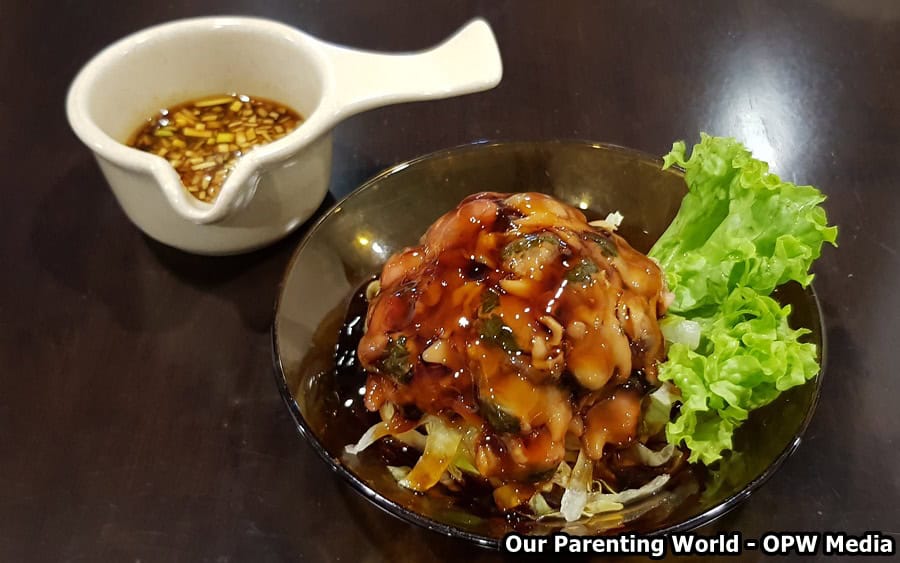 Cockles with Goldleaf Special Sauce/Sambal 新鲜生蛤 (特製醬/三芭) $11.80
This is one of the all-time favourite dishes using only fresh cockles that is served in special sauce. The cockles are so smooth and creamy, best eaten by dipping the cockles into the homemade chili sauce that has an unique tangy chili flavour.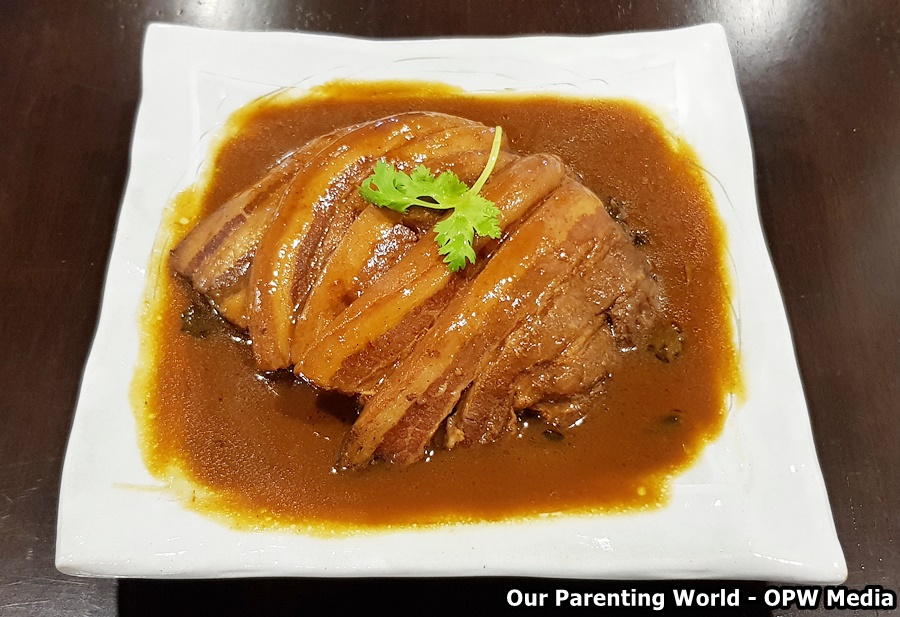 Braised Pork Belly with Preserved Vegetables 梅菜扣肉 $18.80
This dish is one of Goldleaf Restaurant's signatures and a must try dish when you visit the restaurant. This dish has been served since 1971. It comes with big slices of tender, tasty and juicy pork that has been flavourfully stewed with beautiful, brownish colour.
The pork belly is served with preserved vegetables that is so appetising. You can pair this dish with its sweet potato porridge or steamed bun.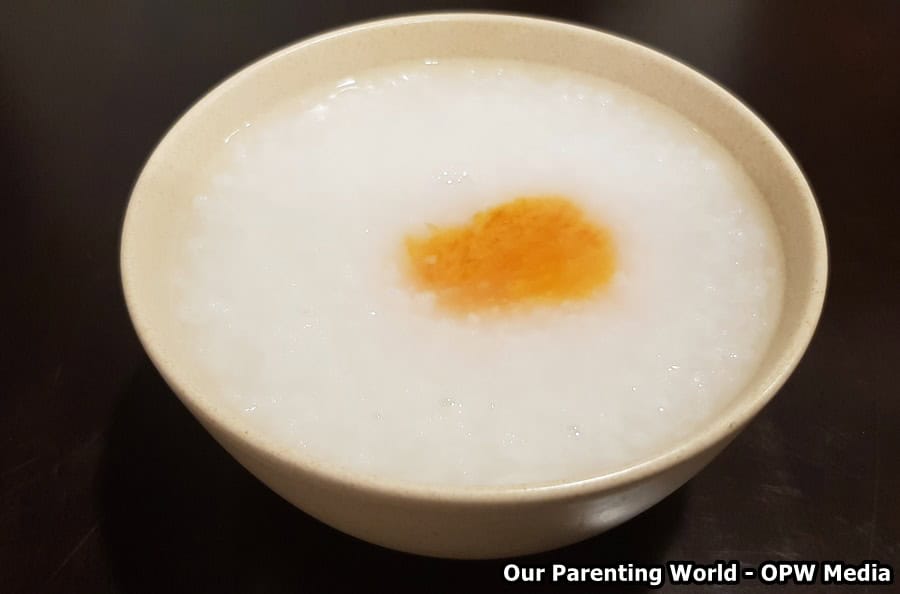 Sweet Potato Porridge 番薯粥 $2.20
This comforting, steamy, warm sweet potato porridge is the highlight of Goldleaf Restaurant, it uses premium rice and has a chunk of sweet potato in each bowl. Best thing is the porridge is free-flow, you can order as many as you like and it goes perfectly well with all the dishes.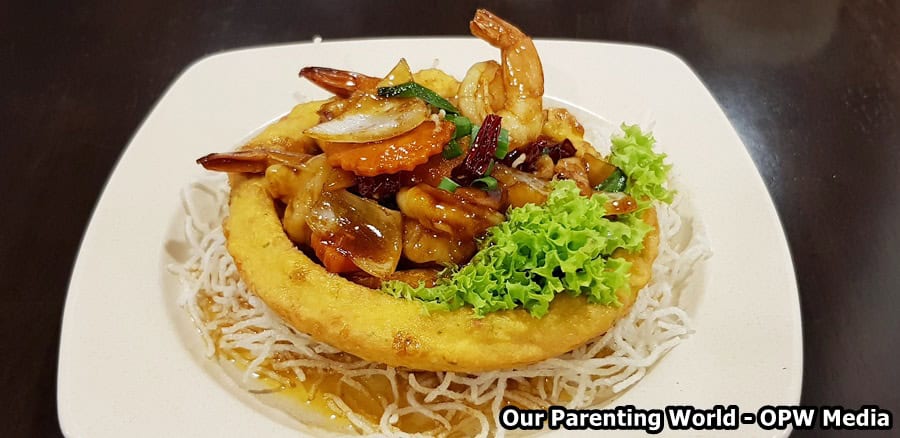 Volcano Beancurd with Prawns 火山豆腐 (虾) $18.80
The is one unique dish featuring volcano beancurd which is like a tempura basket but in the form of beancurd that wraps around the juicy prawns that have been stir fried till bursting with robust flavours. The beancurd is slightly crispy on the outside, with soft, chewy texture on the inside.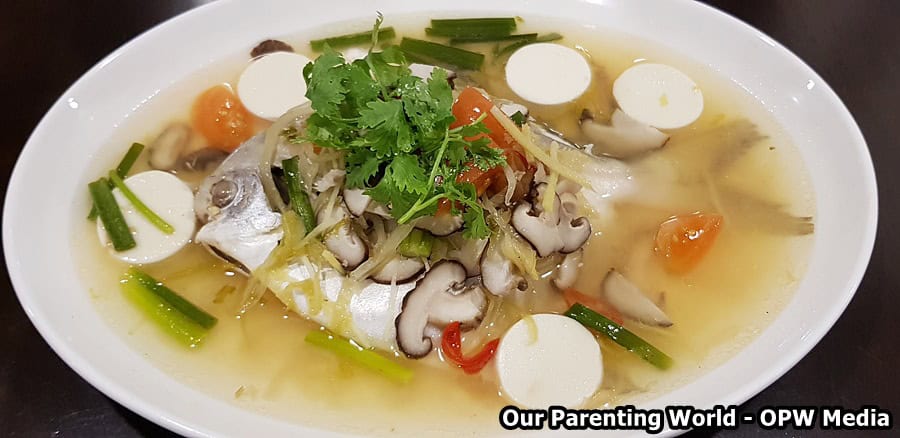 Teochew-Style Steamed White Pomfret 潮洲蒸 Seasonal Price
This white pomfret has been steamed perfectly in Teochew style using salted vegetables and salted plums to bring out the natural sweetness of the meat. The fish is very fresh and the taste is really good. A healthy and delicious dish that all can enjoy!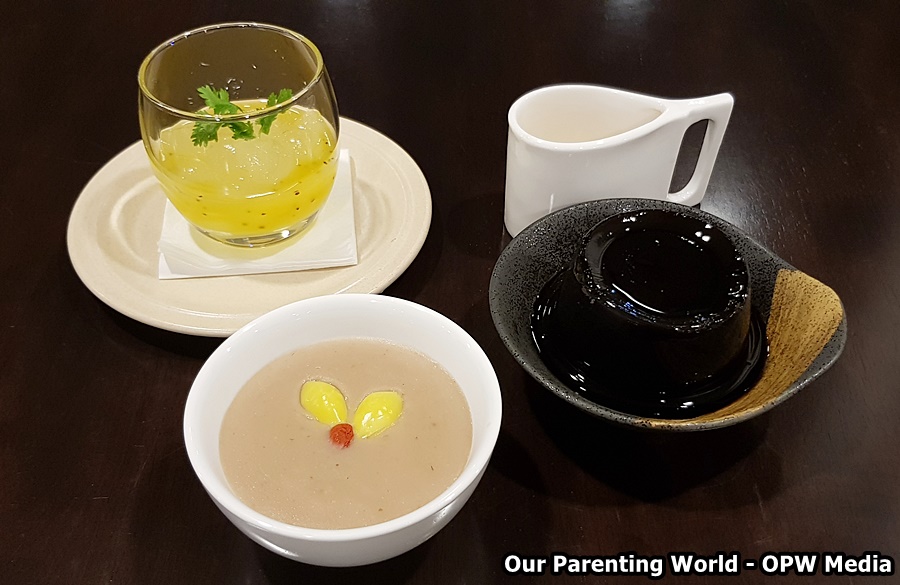 Aloe Vera with Passion fruit Puree 百香果蘆薈 $4.80 (Top Left), Yam Paste with Gingko Nuts 白果 $4.80 (Middle) and Herbal Jelly 龟苓膏 $4.80 (Right)
A good way to end a hearty and delicious meal is to round off with desserts, Goldleaf Restaurant serves refreshing and fruity dessert like Aloe Vera with Passion fruit Puree, traditional Teochew's favourite dessert like the hot creamy and milky, Yam Paste with Gingko Nuts and healthy, jelly-like, Herbal Jelly for you to indulge in. Yummy!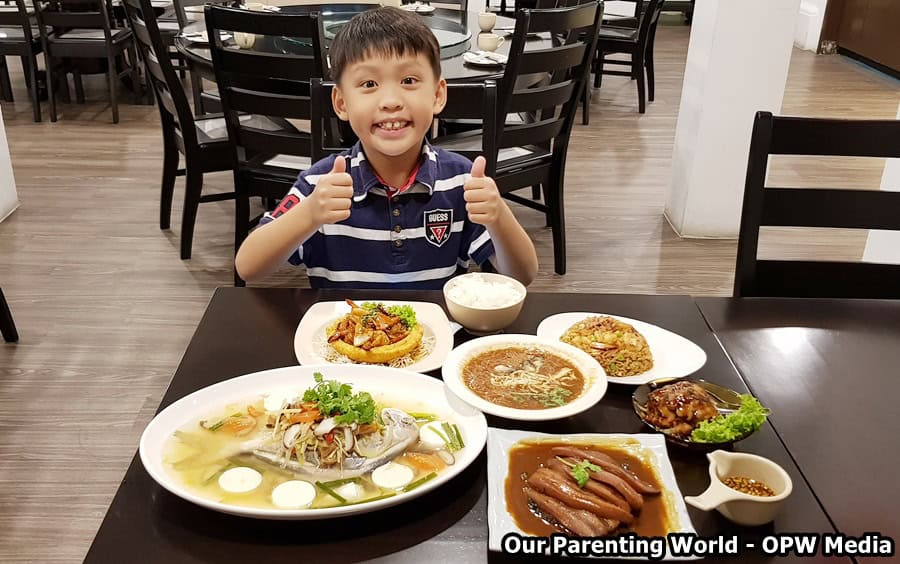 We enjoyed dining at Goldleaf Restaurant and our kids love the food! Visit Goldleaf Restaurant for its authentic, tasty Taiwan porridge and heartwarming homemade dishes!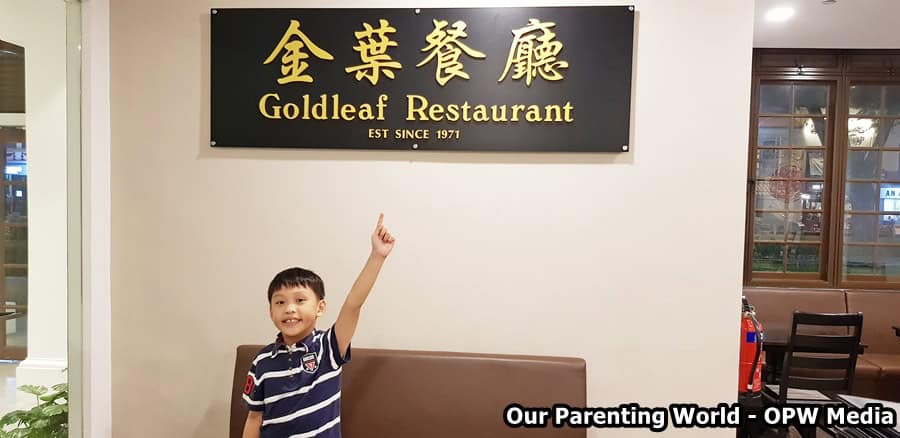 Goldleaf Restaurant
Venue: 86 East Coast Road
#01-02 Katong Square
Singapore 428788
(former Joo Chiat Police Station)
Opening Hours:
Monday – Sunday
11am – 2.30pm
6pm – 10pm
Tel: 6344 1735
(Reservations Recommended)
To find out more, please visit: https://goldleaf.com.sg/
Good News! Giveaway Alert! 
We are giving away 3 x $50 dining vouchers for 3 lucky winners for you and your family/friends to visit Goldleaf Restaurant.

Redemption to be made on Monday to Thursday except public holidays. Can't use with other ongoing promos. Terms and conditions specified by Goldleaf Restaurant.

Facebook and Instagram Contests:
Simply do the following:
1) LIKE and FOLLOW Our Parenting World Facebook Page and Goldleaf Restaurant Facebook Page. 
2) LIKE, SHARE and TAG 5 friends to share this Facebook Giveaway Post
3) FOLLOW our Instagram at @opwmedia
4) LIKE, SHARE and TAG 5 friends to share this on @opwmedia Instagram Giveaway Post
* Please set your profile to public and indicate your instagram handle at the Facebook Comment Post and check that all the steps are entered correctly to be eligible for the giveaway 🙂
Hurry, giveaway will close on 25 May 2018 at 23:59Hr. Winners will be announced and notified on 28 May 2018, please check this space for announcement.
Thank you and Good Luck! 🙂 
Giveaway Closed and Winners' Announcement, please refer to Our Parenting World's Facebook Page for winners' details at 
Terms and Conditions 
Entry into the giveaway contest will be deemed as acceptance of these terms and conditions. The rules of the giveaway contest and how to enter are as follows:
1) The prize is as stated, subject to change and fulfillment by the sponsors. Winners are not allowed to change the prizes. The prize will be non-transferable, non-refundable and non-exchangeable for other products/dates/times. The sponsors reserve the right to amend the competition, substitute any prize or with another of equivalent value without giving notice.
2) All participants have the opportunity to win as long as you have completed and fulfilled all the steps required by the giveaway contest. Please make sure your likes and shares are set to public for verification purposes. Incomplete entries and fake accounts will be disqualified at the discretion of the organisers.
3) Winners of past giveaways in the last one month will not qualify for this giveaway, please wait till after one month from the date that you have won to participate in the current giveaways. 
4) Giveaway contest is open to all Singapore residents with a valid Singapore mailing address
5) The organiser (ourparentingworld.com) is not responsible for inaccurate prize details supplied to any entrant by any third party connected with the giveaway contest by the sponsors.
6) Winners will be notified by email /Facebook/Instagram after the contest has ended. If the winner cannot be contacted or do not claim the prize, we reserve the right to withdraw the prize from the winner and or pick a replacement winner. 
7) The organiser reserves the right to cancel the contest if circumstances arise outside of its control.
8) The sponsor's and the organiser's decision in respect of all matters to do with the giveaway contest will be final and no correspondence will be entered into.
9) Other terms & conditions applied.