Update: Thank you all for your participation. The giveaway is now closed and the winners are:
1) Carol Mei Mei Lim
2) Doris Huang
3) Yeo Peh Hui
4) Sharon Tay
5) Razally Bin 
We have notified all the winners. The organizers will be sending the e-tickets directly to you. 
Once again congratulations and have a good time at the workshop!
Please remember to mark the dates in your calendar for the first and only expo on raising happy and healthy children. September 27-29. 2013 – Suntec Convention Hall 401.
Introducing The Power of Music from the Heart workshop!
In this interactive workshop, Carmee who was the Principal of Raffles Girls' School from 1988 to 1999, will share with parents the importance of music education during the early years of childhood and how music will enhance visual spatial, verbal and mathematical performance of children.
She will also teaches how parents can integrate music into their daily teaching and how to use fun activities and music & movement to stimulate their kids' development.
This workshop is suitable for parents with kids from 2 years and above.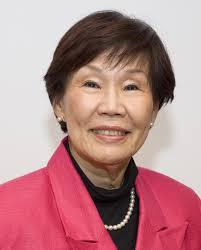 More about Carmee Lim, she is the founder of Aoede Music™ Enterprise, which aims to give children the "Gift of music for a Lifetime" by integrating music with technology to make music-making fun and enjoyable. She is the Mentor Principal of MindChamps and Champion Advocate For Music, Movement And Gymnastics In Early Childhood. 
Goodnews!
Our Parenting World in partnerships with Rise & Shine Expo is giving away 5 pairs of tickets to our readers. Hurry don't miss this opportunity to learn this essential topic with renowned expert.
Workshop will be held on:
Date: Sun, 29 Sept
Time: 2.30pm – 4pm
Venue:  Suntec Convention Hall 401 Room 300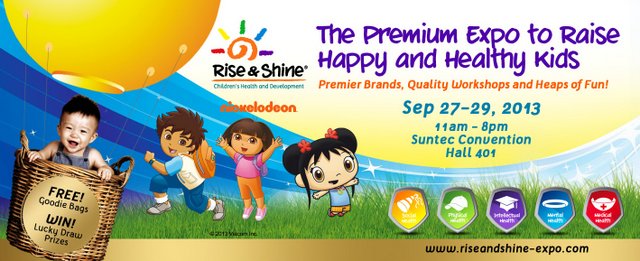 To find out more about Rise & Shine Expo, please download the brochure at http://we.tl/WH6oG2S9im to look at the wide range of enrichment trial classes offered by various top schools like MindChamps, My Gym, Julia Gabriel etc and essential parenting workshops available. Hurry and sign up for your preferred classes/workshops. 
To win the tickets to The Power of Music from the Heart workshop, please do the following:
1) Please Like Our Parenting World Facebook Page (so that we can inform you if you win and if there are any updates)
2) Please Like Rise and Shine Expo Facebook Page (so that you will be informed of Rise and Shine Expo good deals and activities)
3) Please leave a comment in our blog post below with your name and email address. You can also email us at ourparentingworld@yahoo.com before or on 15 August 2013 by 23:59hr.
Additional information on Rise and Shine Expo workshops:
More goodnews!
There is an early bird discount of 15% which will end on the 15th August. To apply please key in this Discount Code: earlybird15 in your booking. 
If you book 3 or more in a group, you'll get to enjoy 50% OFF and Passion Card holders get 1 for 1 sign-up (partner attends for free). 
Thank you and Good Luck!