Update on 17 February 2020: Geronimo Stilton Live – The Return of the Kingdom of the Fantasy has been postponed due to the Novel Coronavirus (COVID-19) situation. We will announce the new show dates once we received the finalized details from the organisers. Please also check SISTIC for the latest update! 
Details about the show:
Geronimo Stilton Live – Geronimo Stilton never expected to return to the Kingdom of Fantasy, but the Queen of the Fairies, Blossom, asks him to find the Heart of Happiness. Thus, Geronimo Stilton is re-united with Scribblehopper and walk through kingdom to kingdom again.
Holey cheese! Geronimo Stilton had the most fabumouse adventure!  Join Geronimo Stilton to save and spread happiness with a smile around the world!
Geronimo Stilton Live – The Return to the Kingdom of Fantasy is a journey using multi-media effects, music and animation to bring the magical elements of the second book of the Kingdom of Fantasy series to life onstage.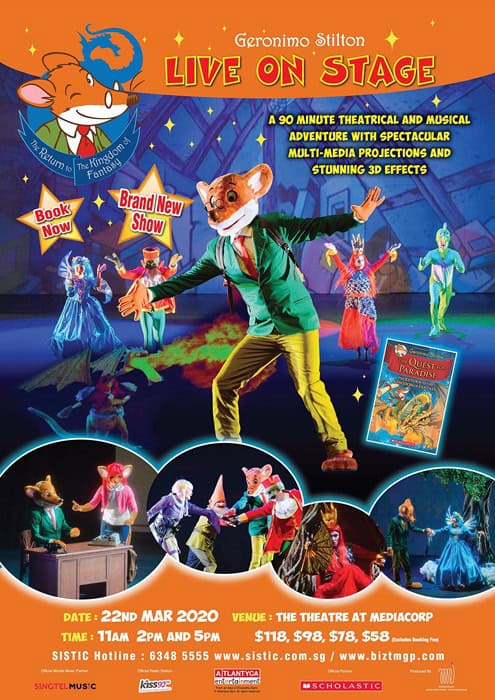 Get your tickets now and don't miss the opportunity to catch Geronimo Stilton Live at The Theatre at Mediacorp on 22 March 2020!
Geronimo Stilton Live – The Return of the Kingdom of the Fantasy
Show Dates and Time:
Sunday, 22 March 2020
11am, 2pm & 5pm
Venue:
The Theatre at Mediacorp
Ticket Pricing:
(Excludes Booking Fee)
Standard: S$118, S$98, S$78, S$58
Restricted View: S$78, S$58 
To find out more and to purchase the tickets at SISTIC, please go to https://www.sistic.com.sg/events/gero0320