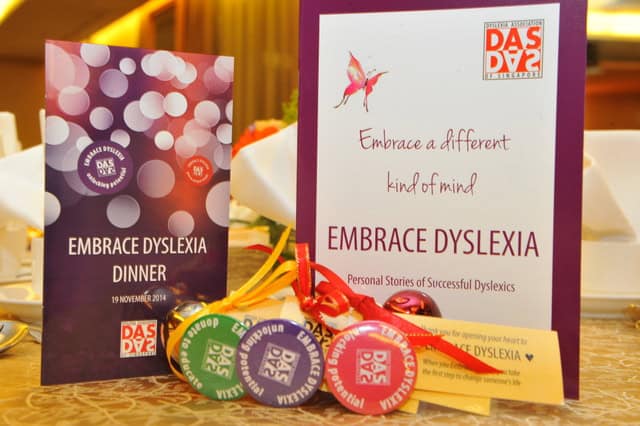 Our Parenting World team was invited to attend the Embrace Dyslexia Dinner and Seminar to create awareness and support Dyslexia Association of Singapore (DAS) movement. It is an educating and meaningful movement where DAS hopes that the public will embrace dyslexia through nationwide awareness and advocacy campaign. There are many people with dyslexia who are smart, motivated to learn and have excelled in life. Some of the famous people are Leonardo da Vinci (find out more about him, who was a great painter, designer, scientist, futurist and thinker at the "Da Vinci: Shaping The Future" exhibition currently on display at ArtScience Museum. Please click HERE to read about our review of the exhibition), Thomas Edison. Albert Einstein, Richard Branson, Founder of Virgin Enterprises, Steven Spielberg and many more.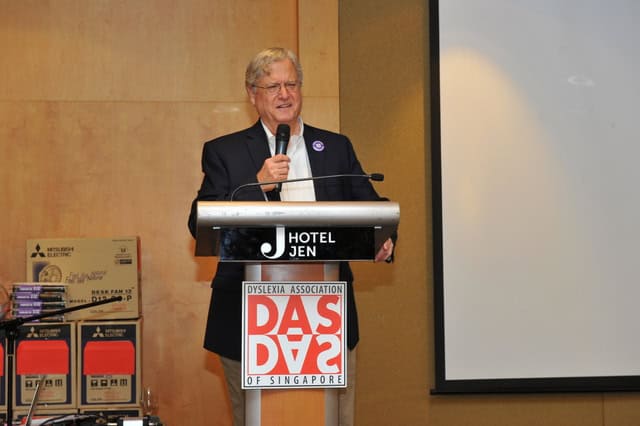 At the dinner, we get to hear from Mr Sam Tan, our very own famous dyslexic in Singapore who is the Minister of State, Prime Minister's Office & Ministry of Culture, Community and Youth. Mr Sam Tan found out that he is dyslexic some 30 years ago. He understands the difficulties and challenges that dyslexics face and speaks openly about his own battle with dyslexia and Mr Thomas West, a globally-renowned dyslexic author, researcher and international presenter (shown in the picture above) and listen to other dyslexics sharing their personal experiences.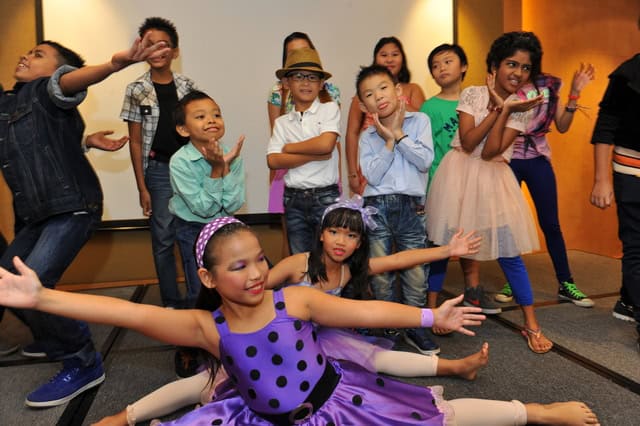 The lovely and talented students including Dr Jiajia (the adorable boy in the middle with white T-shirt and hat) from Dyslexia Association of Singapore (DAS) put together entertaining performances for the guests. The guests roared with applause after their performances. 
Our Parenting World, Gor Gor and Di Di love to watch "Dr Jiajia and BigBro" Youtube videos and they get excited seeing Dr Jiajia each time they met him. They are big fans of Dr Jiajia and BigBro! 
The following day, participants who have signed up for the one day seminar organised by Dyslexia Association of Singapore (DAS) attended the seminar held at the NTUC Auditorium.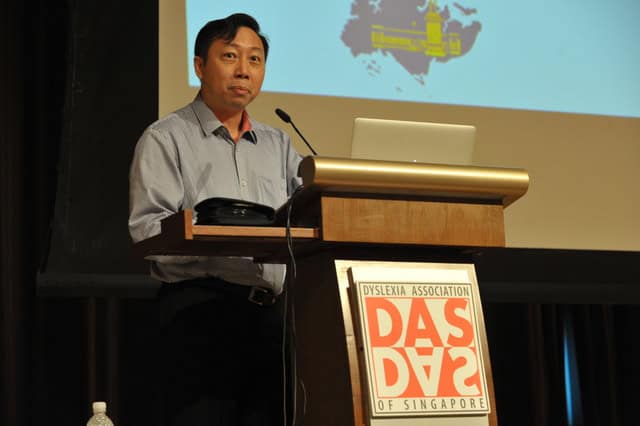 The seminar was opened by Chief Executive Officer, Mr Lee Siang of Dyslexia Association of Singapore (DAS) and featured many speakers who shared their personal stories on inspiring dyslexics.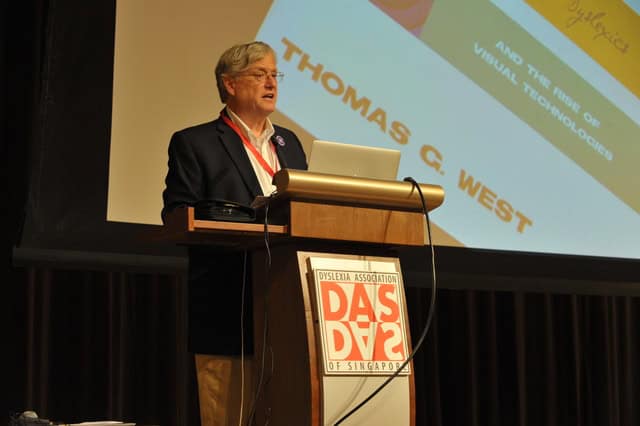 One of the speakers, Mr Thomas West is an award-winning author of 'In the Mind's Eye: Creative Visual Thinkers, Gifted Dyslexics and the Rise of Visual Technologies' and globally-renowned researcher and international presenter on dyslexia. 
In the Mind's Eye was published in Japanese translation as 'Geniuses Who Hated School'. A Chinese translation was published in 2004 and a Korean translation was released in 2011. West's second book is Thinking Like Einstein: Returning to Our Visual Roots with the Emerging Revolution in Computer Information Visualisation.
Dyslexic himself, Mr West has been invited to provide presentations for scientific, medical, art, design, computer and business groups in the U.S. and overseas, including groups in Australia, Canada, New Zealand, Hong Kong, Taiwan, Dubai and 12 European countries. Recent invited conference lectures or keynotes have included: Magdalen College Oxford, Harvard and MIT, University of California at London and an education conference in Dubai, United Arab Emirates. Early in 2013, Mr West gave a talk on creative visual thinking, computer graphic information visualisation and dyslexia at Pixar Animation Studios in Emeryville, California – and presented a Director's Colloquium on a similar topic for scientists and staff of NASA Ames Research Center (at Moffett Field in California's Silicon Valley).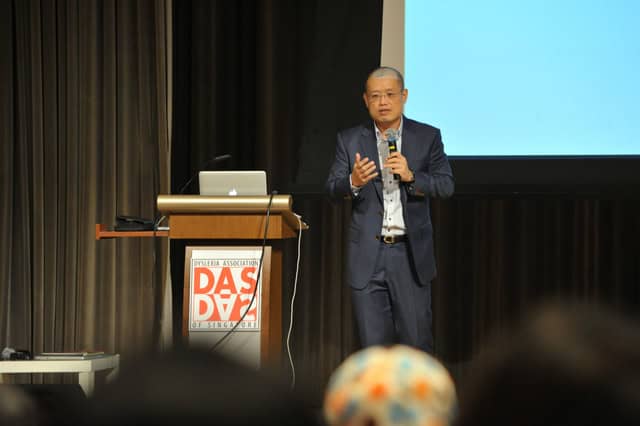 Mr Chua Weng Foo who is the father of Dr Jiajia and BigBro shared his personal journey with dyslexia and how the whole family supported Dr Jiajia who has dyslexia. 
About Mr Chua Weng Foo is a business leader, an entrepreneur, a coach and an evangelist for organisation effectiveness. For 15 years, he has served as CEO/MD growing Asia businesses for international software and service companies. His clients span a wide variety of sectors—such as insurance, higher education, NGO/NPO, GLC, public sector, shipping, logistics, media and construction. Weng Foo has a flair for creative thinking and used it well in tackling complex business challenges. He is passionate about what coaching can do to accelerate individuals and organisations' performance and success. He therefore plans to share his years of management and coaching experience with his clients to improve their performance and results in business and life. As a student, he had dyslexia and struggled in his studies. However, he graduated in the top 3% of his class year at Rutgers University with a bachelor degree in computer sciences. In his career, he started out as a door-to-door salesman selling fax machines, and ended up with an exciting career as a business leader in the IT industry.
The one day seminar was very well received and participants are inspired by the speakers who are experts in the field of learning differences and their personal journey of coping with dyslexia. Let's all be inspired to embrace dyslexia for its uniqueness!
All the above photos credit to Dyslexia Association of Singapore (DAS). To find out more and support Dyslexia Association of Singapore (DAS), please click HERE. 
********
Announcement posted on October 29 2014

"Dyslexics – Focus on their strengths!"
Our Parenting World is pleased to support Embrace Dyslexia campaign and Dyslexia Association of Singapore (DAS) call to embrace dyslexia through nationwide awareness and advocacy campaign. 
With an estimated one in ten individuals in any society having dyslexia, there could be almost 540,000 individuals with varying levels of dyslexia in Singapore. DAS is embarking on a campaign called Embrace Dyslexia, to reach out to the Singaporean community to raise awareness in a more positive way, in the hopes that more embrace dyslexia and not be frightened of it.  The focus is on debunking the myths about learning differences and celebrating the strengths and talents of people with dyslexia. 
For too long, many see dyslexics as individuals with learning difficulties who cannot go far in life. For the first time in Singapore, the Dyslexia Association of Singapore (DAS) will kick off the 'Embrace Dyslexia' campaign on 19 November 2014 to celebrate the achievements and potential of dyslexics. The new DAS initiative will commence with a dinner at the Hotel Jen (formerly Traders Hotel) graced by Mr Sam Tan, Minister of State for Prime Minister's Office and Ministry of Culture, Community and Youth; and a one-day seminar on 20 November 2014 at the NTUC Auditorium featuring Mr Thomas West, award-winning author of 'In the Mind's Eye: Creative Visual Thinkers, Gifted Dyslexics and the Rise of Visual Technologies' and globally-renowned researcher and international presenter on dyslexia.
To inspire dyslexic individuals, especially children, to reach their fullest potential and their parents and caregivers to perservere, DAS encourages adult dyslexics from diverse professions to come forward and share their stories as part of the campaign, which will be published as a collection of success stories. With this publication, DAS hopes to give children with learning differences role models to look up to and to instill hope amongst them.
The 'Embrace Dyslexia' campaign also comprises the DAS 'Champions Chart', which recognises organisations that have made a difference in the lives of dyslexics or raised awareness of dyslexia in Singapore. To be placed on the chart, organisations can donate to DAS' Learning Programmes, sponsor the DAS Seminar and Dinner, or help locate adult dyslexics within their organisations. Organisations can also pledge support for dyslexics by signing the 'Embrace Dyslexia Commitment' and work towards inculcating a dyslexia-friendly workplace by sharing information about dyslexia in the workplace, inviting DAS to conduct awareness talks, incorporating information about dyslexia in the staff handbook, providing appropriate support for dyslexic employees and exploring opportunities to work with DAS through workplace giving, volunteering initiatives or mentoring DAS alumni.
"Besides receiving professional help to overcome their learning differences at the Ministry of Education and DAS, dyslexic children also need the support of the greater community. DAS hopes that through a dedicated campaign, we will elevate the level of understanding and advocacy for dyslexia, direct people's attention to the strengths and talents of dyslexics, and extend to them the support they deserve to unlock their fullest potential," said Mr Lee Siang, Chief Executive Officer, DAS.
REGISTRATION FOR 'EMBRACE DYSLEXIA' DINNER AND SEMINAR NOW OPEN!
Register before 31 October 2014 to enjoy early bird tickets!
A dyslexic who has spoken openly about his learning difficulties in school, Mr Sam Tan will be gracing the first in the series of events that will be rolled out under the 'Embrace Dyslexia campaign'. He will join dinner guests in celebrating the unique minds of dyslexics, listen to inspiring stories by successful dyslexics and watch DAS students perform.
Mr Thomas West, international expert in the field of dyslexia, will be presenting at the seminar on the advantages of having visual dyslexics in the workplace and the distinctive value that they bring to the organisation with their creative potential. He will also be speaking about the impact and potential of visual technologies levelling the playing field for dyslexics.
Registration for the dinner and seminar is available at http://www.das.org.sg/embrace-dyslexia/registration at $100 and $178 respectively, or $263 for both, for early bird tickets purchased before 31 October 2014. DAS members and groups of five and above enjoy special rates.