Dr. Hauschka is a natural cosmetics brand with a focus on organic makeup, skin care & body care products from Germany. It has been harnessing, the protective, fortifying and nourishing natural raw materials in the formulas that they have been developing since 1967. It uses aromatic, medicinal healing plants from its own biodynamic garden and produces holistic skincare, body care and makeup range that is highly effective, safe and suitable for anyone. 
Here's the highlights of some of the key Dr. Hauschka's products that you can use for your skincare regimen as follows: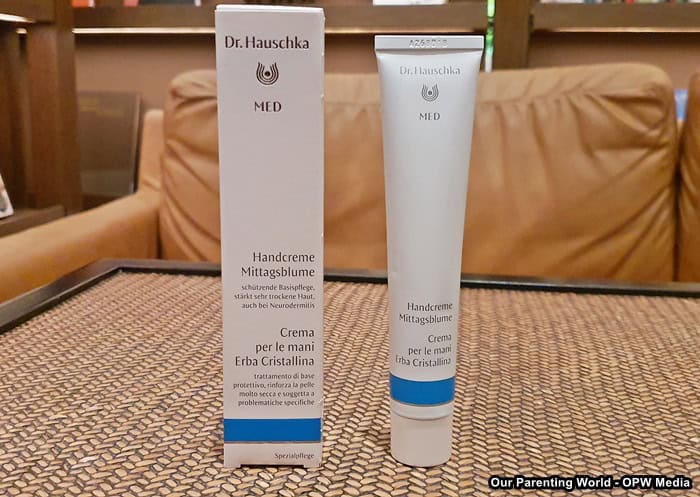 Ice Plant Hand Cream 50 ml
Using a good hand cream is very important to protect, repair and restore damaged hands. Dr. Hauschka MED Ice Plant Hand Cream formulation contains pressed ice plant juice that will activate the skin's moisturising abilities to reduce dryness, prevent itchiness and helps to relieve skin prone to atopic dermatitis. You can apply the hand cream several times a day and as needed. Best to apply daily for prevention and maintenance.
After using the hand cream, our hands look well-nourished and supple. Hands are smoother and softer to the touch. This hand cream is suitable for anyone and even for children or eczema prone skin.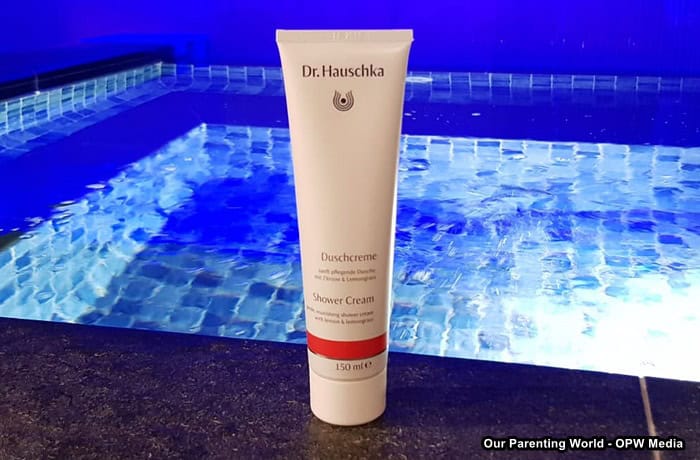 Shower Cream 150ml (NEW!)
This shower cream is a new product, it is a gentle and creamy body wash that comes with protective quince seed extract that activates the skin's natural powers. This shower cream is suitable for all skin conditions. 
This lovely shower cream comes with scent of fresh lemons and lemongrass that makes showering refreshing and the creamy light foam cleanses the skin gently without drying it. This pleasant shower cream makes our showering time more enjoyable and we love the fresh scent that uplifts our mood.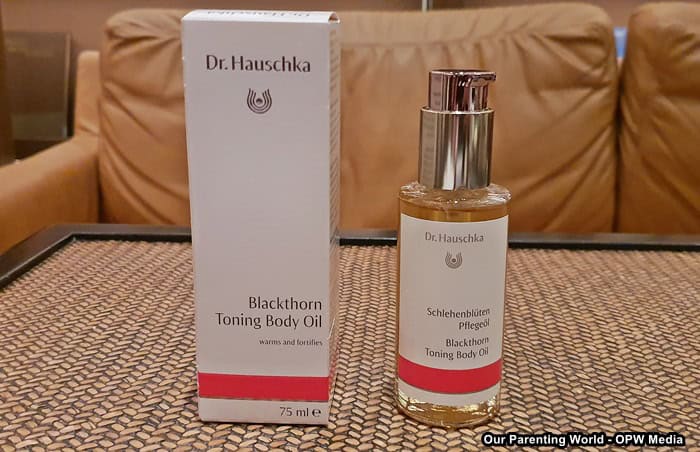 Blackthorn Toning Body Oil 75 ml 
Blackthorn Toning Body Oil helps to strengthen the skin and provides warming skin care that is suitable for all in the family. This product is especially useful and successful during pregnancy to help pregnant mothers prevent pregnancy-induced stretch marks and keep the skin supple.
This is a great body oil that absorbs quickly and does not leave a greasy feeling. It has a nice scent and after applying the oil, skin looks hydrated, feels so soft and silky.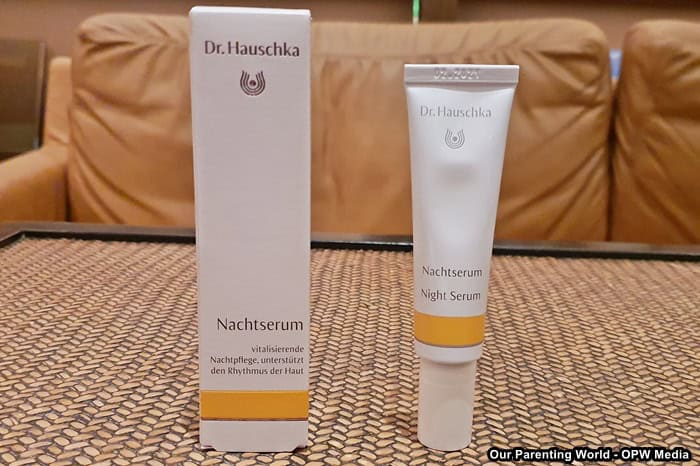 Night Serum 20ml
Serum is able to absorb deep into our skin unlike moisturisers, it can only stay on the surface of our skin. This Night Serum is an important part of night-time skin care that will help to revitalise and enable the skin to restore to its nature balance.
We enjoyed using this oil-free night care which allows our skin to breathe freely, it is light and absorb quickly. It does not have a greasy feeling upon application. The next day, the skin looks fresher and brighter. There is a glow on our skin!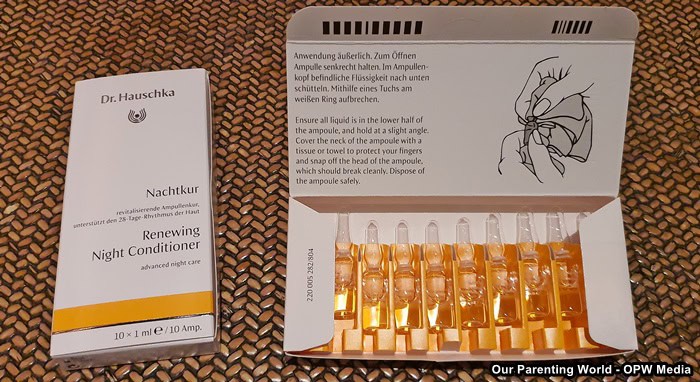 in addition, check out our earlier feature on Dr. Hauschka's star product "Renewing Night Conditioner" that will help to balance and glow your skin from inner to outer with this powerful ampules! Please visit http://ourparentingworld.com/dr-hauschkas-star-product-renewing-night-conditioner/
Dr. Hauschka's flagship store is located at the Star Vista as follows: 
1 Vista Exchange Green
#01-03 The Star Vista
Singapore 138617
Tel: 6262-6602
Opening hours: 11am-9pm daily
For all the above products' prices, details and to purchase the products, please visit Dr. Hauschka's official website at https://www.drhauschka.sg/.
Dr. Hauschka 20% Promo Code – Parenting20
Dr Hauschka is offering a generous 20% Promo Code, simply key in the code "Parenting20" to enjoy 20% off your online purchase at https://www.drhauschka.sg/.
Hurry, this promo code is valid till 30th June 2020 and in addition, enjoy free delivery with your online purchase! T&Cs apply. 
Now is a good time to try out Dr Hauschka's products and or to stock up your favourite products!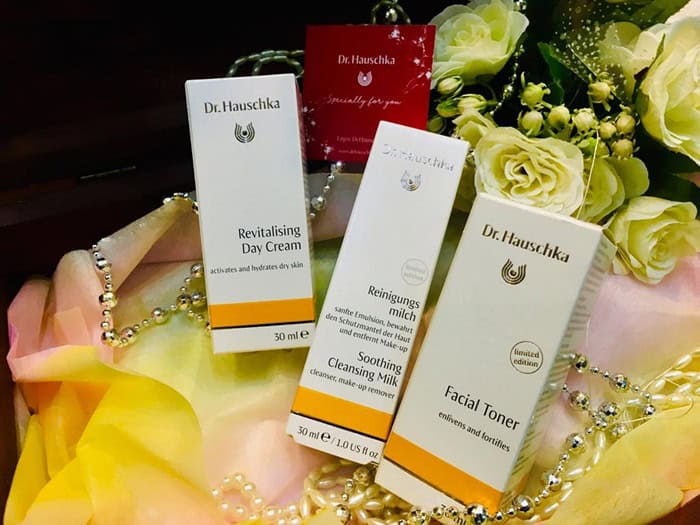 Good News! Dr. Hauschka's Giveaway!
Thanks to Dr. Hauschka, we are giving away 2 sets of Dr. Hauschka Skin Care products consisting of Soothing Cleansing Milk 30ml, Facial Toner 30ml and Revitalising Day Cream 30ml worth $113 each to TWO Lucky Winners!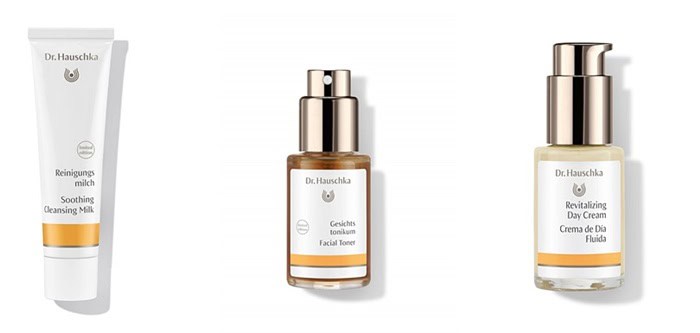 Soothing Cleansing Milk 30ml (L), Facial Toner 30ml (M) and Revitalising Day Cream 30ml (R)
Soothing Cleansing Milk gently removes dirt and make-up to promote healthy and radiant skin.
Facial Toner gently guides the skin's natural processes to achieve a radiant, rosy complexion.
Revitalising Day Cream is a lightweight moisturiser, which balances the oil and moisture content of the skin. The light citrus scent, refreshes and enlivens skin.
Facebook and Instagram Contests:
Here's how to win the giveaway:
1) LIKE and FOLLOW Our Parenting World Facebook Page and Dr.Hauschka Singapore Facebook Page
2) LIKE, SHARE and TAG at least 5 friends or more to share this Facebook Giveaway Post
3) FOLLOW our Instagram at @opwmedia and @drhauschkasg
4) LIKE and TAG 5 friends or more to share this on @opwmedia Instagram Giveaway Post 
*Please set your profile to PUBLIC so that we are able to verify your entry.
*Please check that all the steps are entered correctly to be eligible for the giveaway.
Hurry, giveaway will close on 22 March 2020. Winners will be announced and notified on Our Parenting World's Facebook Page. 
Thank you and Good Luck!
Giveaway is closed, winners have been announced and notified. For winners' announcement, please check our Facebook Page giveaway post for winners announcement at this LINK.
Terms and Conditions 
Entry into the giveaway contest will be deemed as acceptance of these terms and conditions. The rules of the giveaway contest and how to enter are as follows:
1) The prize is as stated, subject to change and fulfillment by the sponsors. Winners are not allowed to change the prizes. The prize will be non-transferable, non-refundable and non-exchangeable for other products/dates/times. The sponsors reserve the right to amend the giveaway contest, substitute any prize or with another of equivalent value without giving notice.
2) All participants have the opportunity to win as long as you have completed and fulfilled all the steps/requirements specified on the giveaway contest. Please make sure your likes and shares are set to public for verification purposes. Incomplete entries and fake accounts will be disqualified at the discretion of the organisers.
3) Winners of past giveaways in the last one month will not qualify for this giveaway, please wait till after one month from the date that you have won to participate in the current giveaways. You are welcome to participate in the coming giveaways after one month from the date that you have won. 
4) Giveaway contest is open to all Singapore residents with a valid Singapore mailing address
5) The organiser (ourparentingworld.com) is not responsible for inaccurate prize details supplied to any entrant by any third party connected with the giveaway contest and by the sponsors.
6) Winners will be notified by email /Facebook/Instagram after the contest has ended. If the winner cannot be contacted or do not claim the prize, we reserve the right to withdraw the prize from the winner and or pick a replacement winner. 
7) The organiser reserves the right to cancel the contest if circumstances arise outside of its control.
8) The sponsor's and the organiser's decision in respect of all matters to do with the giveaway contest will be final and no correspondence will be entered into.
9) Other terms & conditions apply.