Our Parenting World team attended the press media preview of Danone Dumex  which it introduces a new tool to help pregnant women check if they are at risk of developing gestational diabetes and also reveals its Parenting from the Heart Gourmet Dinner. 
What is gestational diabetes? It is a type of diabetes that some women get during pregnancy. It is one of the most common health problems of pregnancy affecting about 2 to 10% of expectant mothers. "Gestational diabetes can be a serious medical condition in pregnancy" quoted by Daddy from Our Parenting World who is also a medical doctor.
If it is not detected early in the pregnancy, it may cause complications to the pregnancy which will affect the well being of the baby.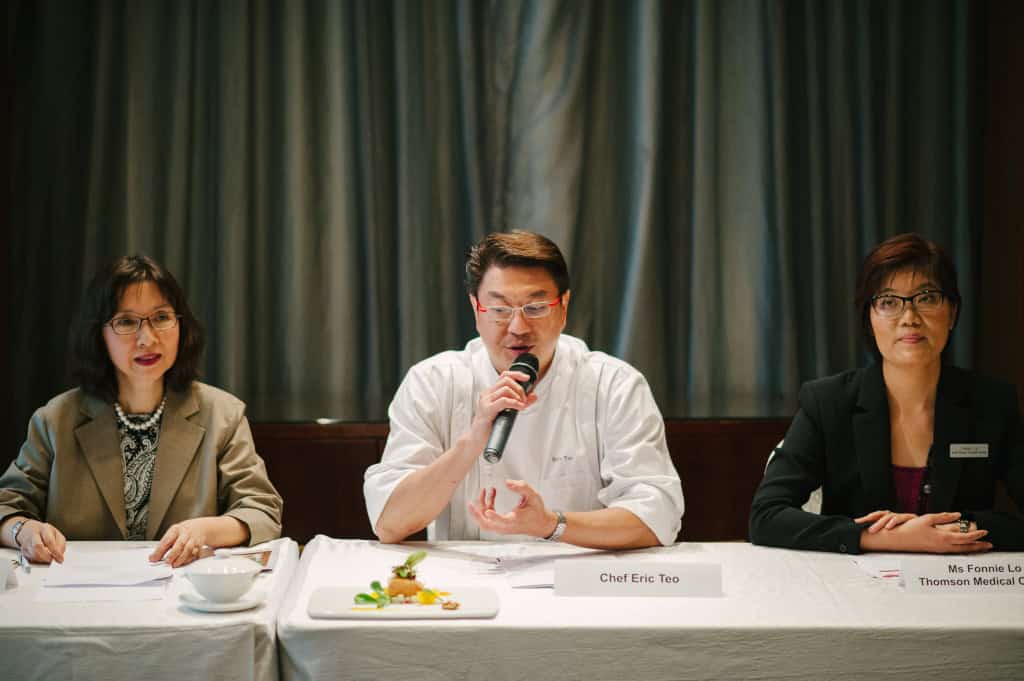 Danone Dumex cares for pregnant mothers and is thoughtful in coming up with a new tool to help pregnant mothers check if they are at risk of developing gestational diabetes. In today's society, most pregnant mothers have hectic schedules and to ensure their nutritional needs are met, Danone Dumex organized  Parenting from the Heart – Best Nutrition For Two.

It teamed up with Celebrity Chef Eric Teo (a prestigious three-time winner of the World Gourmet Summit Executive Chef of the Year) and Parenting Experts like Ms Tai Yee Fui, Regional Nutrition Director from Danone Asia Pacific and Ms Fonnie Lo, parentcraft expert from Thomson Medical Centre to come up with specially crafted nutritious and delicious gourmet meal with the dietary needs of expecting mothers in mind.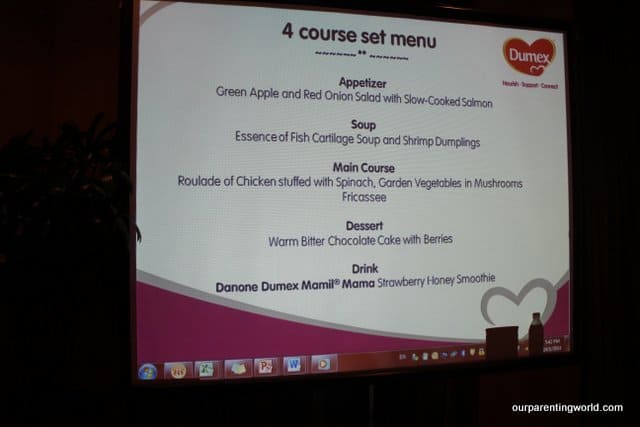 At the press review, Chef Eric Teo and the panel of experts introduced and talked about the creative process of designing these nutritious and delicious 4 course set menu.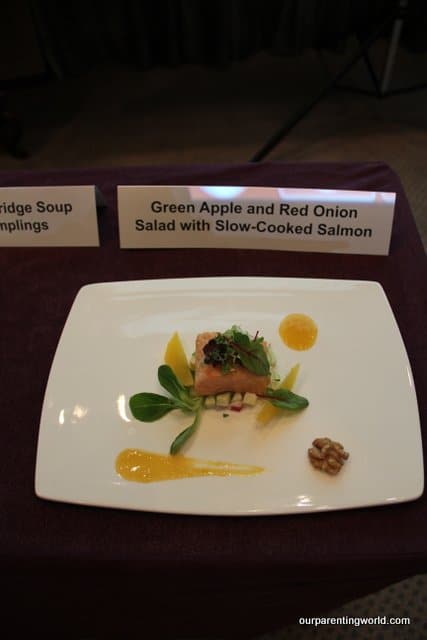 Appetizer – Green Apple and Red Onion Salad with Slow-Cooked Salmon
Soup – Essence of Fish Cartilage Soup and Shrimp Dumplings
Main Course – Roulade of Chicken stuffed with Spinach, Garden Vegetables in Mushrooms Fricassee
Dessert – Warm Bitter Chocolate Cake with Berries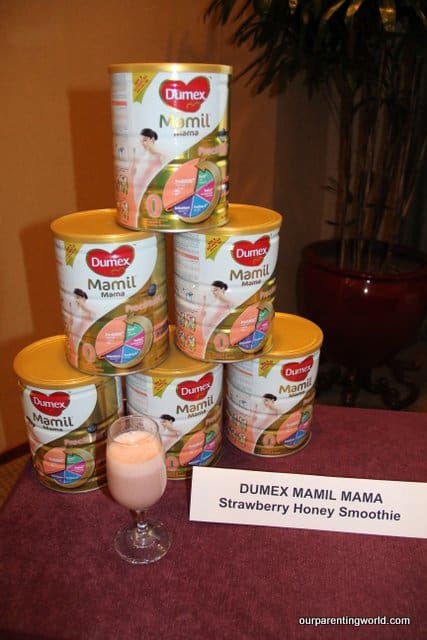 Drink – Dumex Mamil® Mama Strawberry Honey Smoothie.
These dishes are freshly made, full of nutrients tailored with pregnant mothers in mind, visually appealing and tasty as you can see from the pictures of the dishes above.
Danone Dumex organized Parenting from the Heart – Best Nutrition For Two, a gala dinner event for 250 first-time mothers and their partners on January 19. At the event, mothers will be introduced to the newly launched gestational diabetes mellitus (GDM) screener tool. It helps pregnant mothers check if they are at risk of developing GDM, attendees get to enjoy the gourmet meal and also learn more about early life nutrition from doctors and experts from Thomson Medical Centre.
In addition, all participants will receive a goodie bag valued at $300 and these beautiful mothers will relish soaking up the glamorous red-carpet treatment with a free Shiseido makeover (on a first come first serve basis) and an on-site photo shoot. The Most Glamorous Mummy of the night will stand to win attractive prices of up to $500 in cash value and a chance to be Mother & Baby magazine's cover model in April 2014! The gala dinner event is valued at $228 per couple. 
To find out more, please visit the website at  www.dumex.com.sg/pfh2014