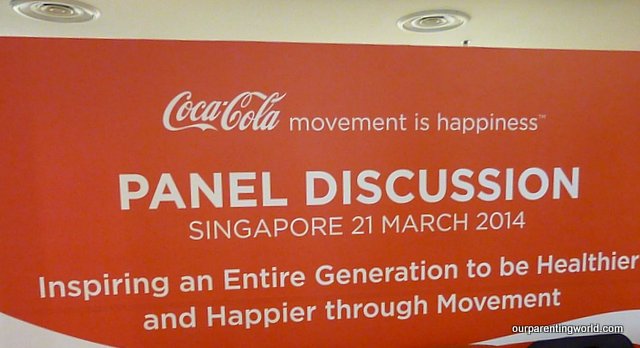 Coca-Cola Singapore in line with its global commitments to help fight against obesity, launched Movement is Happiness™  which is an initiative that aims to show Singaporeans the emotional benefits of physical activity, with an expert panel discussion.
Movement is Happiness panelists (L-R Mr Stephen Lew, Prof Steve Blair, Dr Benedict Tan, Mr Archawat Chareonsilp).
The panelists consist of international and local experts. Professor Steve Blair, one of the world's experts on obesity and physical activity from the Arnold School of Public Health, University of South Carolina, Dr Benedict Tan, Head and Senior Consultant at Changi Sports Medicine Centre, Changi General Hospital, Mr Stephen Lew, Founder, School of Positive Psychology and Coca-Cola Singapore representative Archawat Chareonsilp. Together, they talked about the current health landscape in Singapore and the link between physical activity and emotional well being.
Mr Archawat Chareonsilp emphasizes that Coca-Cola has a long term commitment to support healthy active living in Singapore. They want to inspire Singaporean to get moving and remind them that physical activity is not a chore but can be fun and uplifting! Coca-Cola initiated the physical activity programs Movement is Happiness™ by providing opportunities for local communities to get moving through their grassroot activity programmes.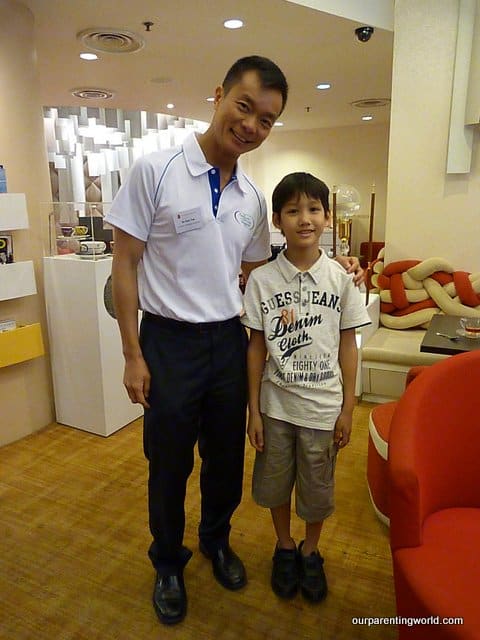 We are so happy to see Dr Benedict Tan who is Daddy's friend. Dr. Tan is an Asian Games (1994) and four-time consecutive Southeast Asian Games (1989, 1991, 1993, 1995) Gold medalist in sailing. He is also a three times Singapore Sportsman of the Year. He is Singapore's pride!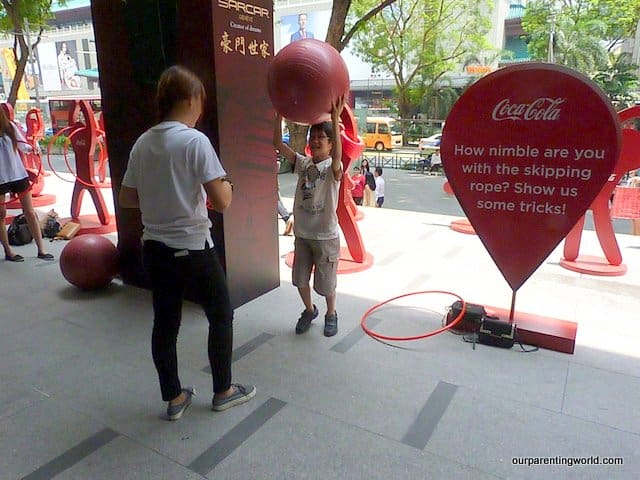 Gor Gor exercising his muscles playing beach ball with the friendly Coca-Cola's helper.
Coca-Cola Singapore has kicked off the first of a series of Movement is Happiness™ activity stations at Wisma Atria, to inspire people to find fun ways to move in their daily lives.
The pop-up stations will provide people with the opportunity to build more movement into their lives and will include fun activities such as hula hoops, flying discs and beach balls.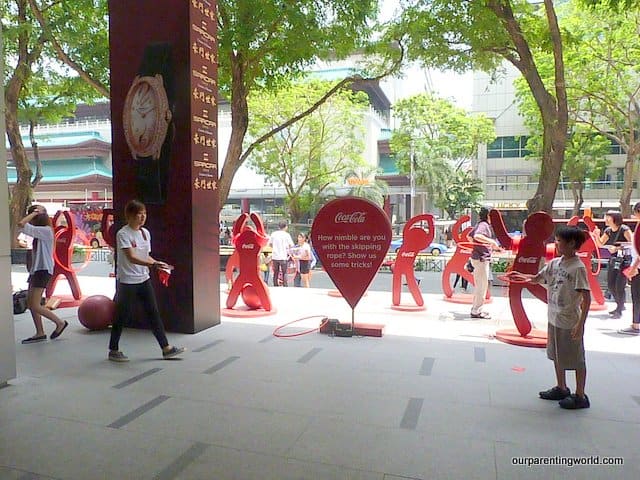 Gor Gor having a fun game of flying discs.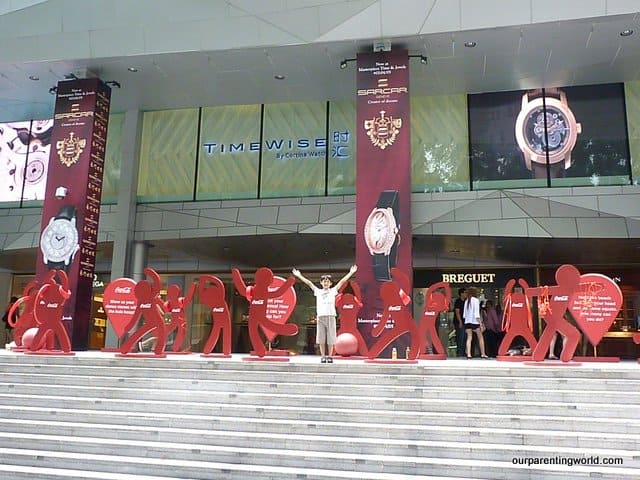 Movement is Happiness™ activity stations at Wisma Atria.

Additional Information:
From now till the end of April, Coca-Cola will be inviting Singaporeans to get moving at Movement is Happiness™ activity stations at various locations across Singapore.
Coca-Cola has partnered with Spotify to launch a 'Move Happy' Facebook app, which allows users to create personalised music playlists for their daily activities.  The App will launch at the end of the month.
Coca-Cola Singapore has also partnered with the Health Promotion Board to launch their 'Million Kilo Challenge' programme and at the end of this month they will be partnering the National Parks Board and the Exercise is Medicine™ Singapore taskforce to create more opportunities for Singaporeans to get moving. It hopes to encourage Singaporeans to build more movement into their lives, empower them to feel healthier and happier too. 
Please click HERE to find out more about Coca-Cola Singapore.