Celebrate the coming Chinese New Year with healthier and great food choices from Cedele! Enjoy a choice of 14 cookie flavours from its classic best sellers to all new combinations, 12 types of cakes from local to western influence, and savoury dishes from its own version of Yu Sheng to roast platters of Siew Yok (Pork Belly) and Char Siew (Roast Pork). What a treat! 
Cookies 
The popular Cedele's cookies comes in 14 varieties including well-loved flavours like Chocolate Chip Macadamia ($22), Almond Crunch ($20), Cranberry Almond Oatmeal ($19), new must-try creations with a local twist such as Ondeh Ondeh ($21) buttery pandan cookies with gula melaka coconut filling and Prawn Otak with Kaffir Lime ($21) a Peranakan-inspired taste that gives a spicy and savoury kick! For those with dietary restrictions, you can choose the egg-free and baking powder-free flavours such as Lemongrass Pistachio ($22), Earl Grey Tea Cookies ($22) and Espresso Crunch ($20) that will perk you up with their aromatic ingredients and the new gluten-free Almond & Seeds Clusters ($22) that is packed with the heart healthy goodness of linseed, black sesame and almond flakes.
Pineapple tarts is one of the most popular Chinese New Year snacks and at Cedele, its Pineapple Pocket Pie ($23) consisting of lightly sweetened pineapple jam is encased in a crumbly and buttery pastry. This is a classic best seller and a number one seller every Chinese New Year! 
Cakes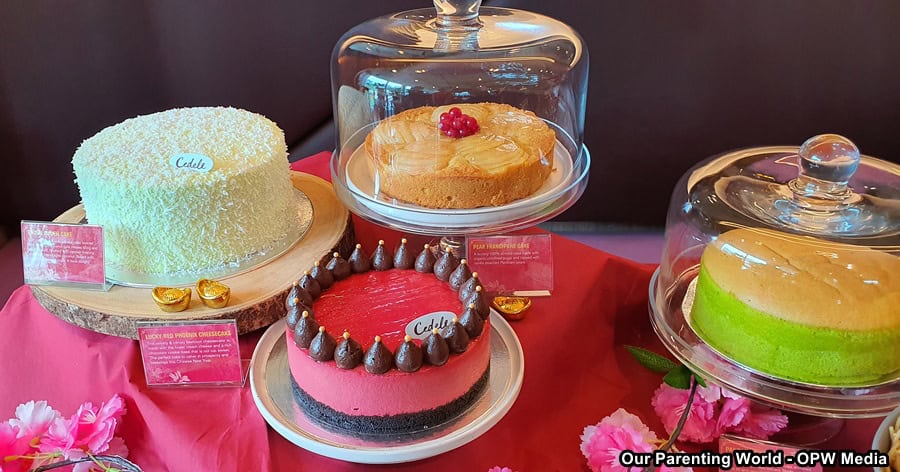 Cake lovers will be pleased to know that Cedele has launched its newest flavour Ondeh Ondeh ($63, whole). It has eight layers of soft pandan and gula melaka cake, gula melaka filling, pandan curd and a frosting of fresh desiccated coconut. Baked with organic unrefined sugar, fresh cream and olive oil. Another cake is The Lucky Red Phoenix Cheesecake ($40, whole) with its natural red beetroot hue and velvety smooth texture made with the finest cream cheese. It is not too sweet with a refreshing citrus infusion. 
Savoury Specials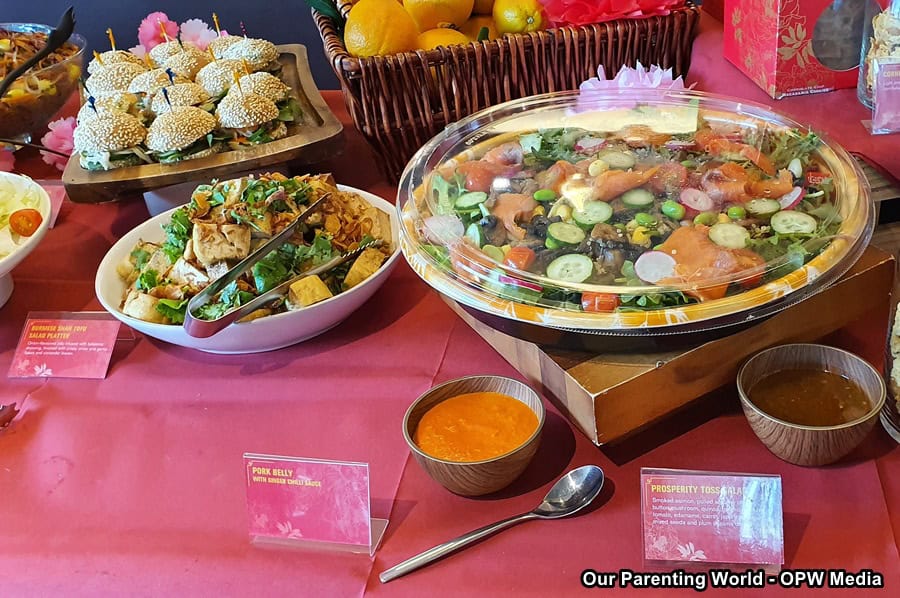 Lo Hei to prosperity with Cedele's Prosperity Toss Salad ($45, good for 10 pax) with each of the ingredient specially picked to bring luck and prosperity, health and abundance.
For those who are health conscious, this is a healthier Yu Sheng version that is filled with smoked salmon, pulled sesame chicken, button mushroom, quinoa, gingko nut, cherry tomato, edamame, carrot, Japanese cucumber, mixed seeds and plum sesame dressing.
If you are looking at Chinese New Year dishes, Cedele has specially created Chinese New Year celebratory dishes like Roast Platters of Szechuan Roast Chicken ($32, raw weight approx. 1.4kg) rubbed with 5-spice and Sichuan peppercorns served with a homemade ginger chilli sauce, Pork Belly ($48, raw weight approx. 1kg) oven-baked for more than two hours to a crackling skin with less salt, and Honey Char Siew ($48, raw weight approx. 1kg) slow baked for two hours till tender with the red colour from naturally fermented bean curd. The Pork Belly and Roast Chicken are sugar-free while the Char Siew marinade is low in sugar at 3%. Normal marinade ranges from 15% to 20%. Only organic unrefined sugar is used. 
Unique dishes from family recipes that will impress your guests like Black Pepper Curry Chicken ($48, good for 10 pax) with slow cooked tender chicken pieces in homemade ginger curry sauce, curry leaves, Bombay onions and Sarawak black pepper without coconut milk, and Burmese Tofu Salad Platter ($38, good for 10 pax) with springy mung bean soy-based tofu marinated in balsamic sauce for a tangy flavour topped with coriander and crispy garlic flakes.
In addition, Cedele has a Chinese New Year Celebratory Set Special ($368, good for 20 pax) consisting of assorted pastries (24 pcs), mixed fruits platter (1 tray), small cakes (48 pcs), sliders (24 pcs) and tartlets (48 pcs), and Hampers ($168 and $228) filled with its in-house brand of delectable snacks and beverages, some including partner brands for wines and raw honey. To find out the complete range of Cedele's delectable Chinese New Year offerings, please refer to its catalogue at http://www.cedelegroup.com/wp-custom/upload/2019/12/CNY.pdf 
Ms Yeap Cheng Guat, Founder of Cedele shared that "This Chinese New Year we have a range of sweet to savoury treats, from old classic favourites to new delectable local flavours to bring an abundance of health and blessings to all. Let us happily reunite with our families and friends, spend quality time together over nutrient-dense food and welcome a prosperous and successful year ahead."
Cedele's Chinese New Year Promotions
Buy 10 boxes of cookies and get 15% off, while stocks last. Buy 5 whole cakes and get 10% off, while stocks last.
Ceele Members 2X Redbates on all Chinese New Year goodies valid till 8 February 2020. Cedele $-points will be automatically credited into account.
Receive a $28 e-voucher with a minimum $328 nett spending (applicable with accumulated spend) on Chinese New Year goodies until 8 February 2020.
UOB Card Holders 10% off valid till 8 February 2020.
Terms and conditions apply. Not applicable for Hampers.
To find out more about Cedele, please visit its website at www.cedelegroup.com.