A British education is respected the world over. With a reputation for high standards of teaching and internationally recognized qualifications, students from Britain have access to the very best tertiary institutions. Many parents also value the wide range of extra-curricular activities, a long tradition in educational heritage as well as academic excellence for their children in order that they may have a rounded education.
BESSA, the British Education and Schools Show in Asia is a showcase for some of the best names in British education. This annual event provides a platform for families based in Asia to discover and meet representatives from top boarding schools and colleges that offer the British curriculum, as well as organisations with supporting roles.
Guardianship agencies may assist overseas students in finding suitable host families. The UK has well-established guardianship laws to ensure the safety and welfare of overseas students that have been welcomed in the country for many decades.
Tutoring companies offer expert help and advice with their services areas such as Oxbridge interview practice, pre-test preparations, guidance through school entrance examinations, other academic enrichment, and much more.
During the event, representatives of highly-regarded boarding schools will be available to answer queries ranging from admissions procedures to A level or IB curriculum, issues concerning special needs support as well as the recent reforms in British education. Attendees of BESSA are invited to pre-arrange individual meetings or simply drop into an exhibitor's booth. There will also be a program of keynote speakers starting mid-afternoon, giving all families a rare opportunity to hear advice from five highly respected experts.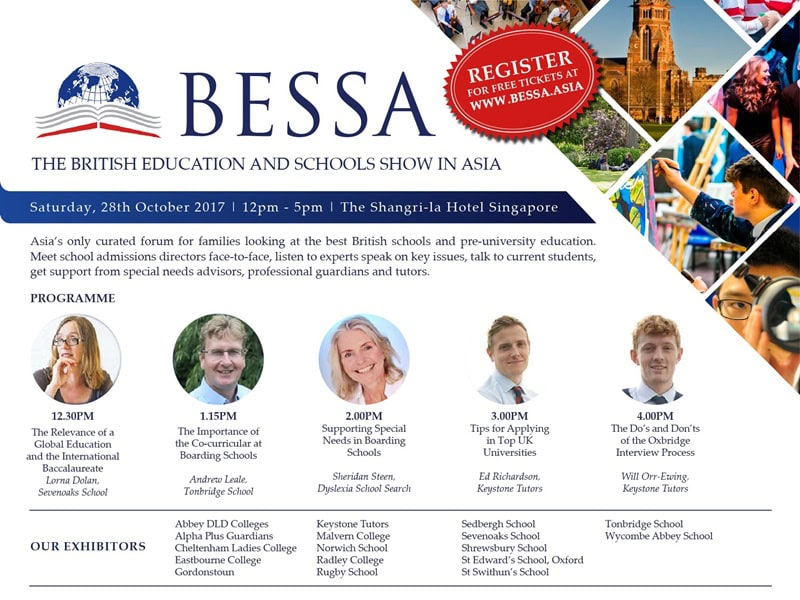 Will Orr-Ewing, the founder and director of Keystone Tutors, with more than twelve years of experience in tutoring, will provide an in depth look into "The Do's and Don'ts of the Oxbridge Interview Process".
Parents from Asia often want to find out how studying in the UK can help further enrich their children's educational background. Lorna Dolan, the Assistant Head of Sixth Form at Sevenoaks School will share her thoughts about "The Relevance of a Global Education and the International Baccalaureate".
Each speaker will have a Q&A session after their presentations, inviting attendees to have open discussions with relevant questions.
Carefully curated by Stephanie Cheah of Waypoints Pte Ltd, BESSA is the go-to forum for opportunities to come up close and personal with the best names and faces in British education.
Admission to BESSA is free, with prior registration for tickets online at www.bessa.asia. Each person, including children, must have a ticket for entry on the day of the event. Please not forget to print your ticket and bring it along with you. To arrange for individual appointments with an exhibitor (limited availability), please send a request to contact@waypoints.asia with the following information:
Full Name:
Email address:
Mobile Number:
Name of Exhibitor you wish to meet:
List of Participants in BESSA 2017
Abbey DLD Colleges
Alpha Plus Guardians
Cheltenham Ladies College
Eastbourne College
Gordonstourn
Keystone Tutors
Malvern College
Norwich School
Radley College
Rugby School
Sedbergh School
Sevenoaks School
Shrewsbury School
St Edward's School, Oxford
St Swithun's School
Tonbridge School
Wycombe Abbey School
BESSA
Saturday, 28 October 2017
12:00pm – 5:00pm
The Shangri-La Hotel, Singapore