"A Boardway standard local musical of mother's love, betrayal and power in a mesmerising 2 hours' performance"- Our Parenting World
Fans of locally produced musicals always wondered when can Singapore produce a Broadway standards musical? Well, fret not, judging from the performance of this musical produced Singapore Repertory Theatre, we believed this musical can now be rank of equal to international names like "The Phantom of the Opera", "Cats", "The Lion King" etc.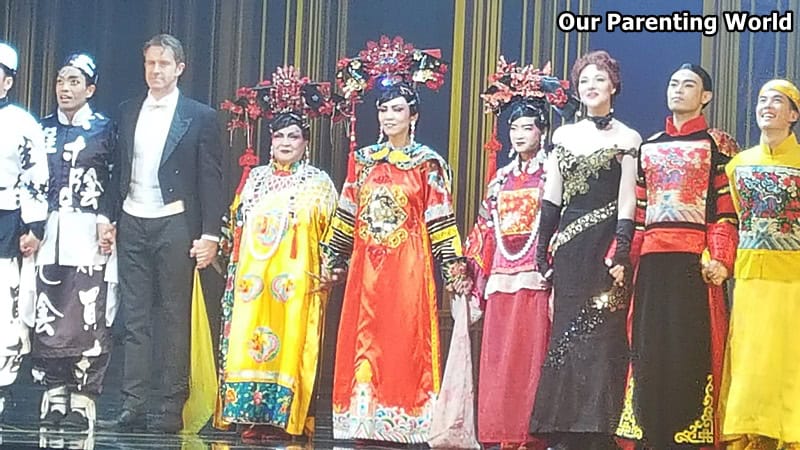 The musical is based on the history of Empress Dowager Cixi in China at the turn of the 20th century. There are 3 different actresses acting the role, Cheryl Tan as the young concubine who was pregnant with the Emperor's son, Kit Chan as the Empress Cixi during the earlier years when she was running the country and Sheila Francisco as the elderly Empress who invited an American lady painter Katharine Carl to paint her portrait and in the process told Katharine her life story.
All three actresses who acted the role of Empress Dowager Cixi were exceptional in their acting and singing. Most of us are familiar with Kit Chan as she is one of the top female singers Singapore has ever produced and credit should also go to Dick Lee, Singapore Cultural Medallion winner who is in-charge of the songs.
The supporting international casts include Steffanie Leigh who acts as Katharine and Earl Carpenter as her journalist boyfriend whom we last seen his powerful vocal performances as one of the phantoms at "A Night At The Musicals With Three Phantoms" at MES Theatre, Mediacorp and our very own local Sebastian Tan who used to act in "Boardway Beng". 
The audience were mesmerised by the strong vocals of the performers, a minimalist background props which allows the focus on the performers instead of distracting audience and the good supporting orchestra. Certainly, having this musical in the Esplanade Theatres is the best choice as there is nowhere better in Singapore to showcase this locally produced musical than this national theatre.
This musical was first produced in 2002 and for those who are like us and did not manage to watch it then, do not miss this opportunity to watch it now. This is certainly a Broadway standard local musical of mother's love, betrayal and power in an enjoyable and captivating 2 hours' performance!
Forbidden City: Portrait of an Empress
Tuesday, 8 – Sunday, 27 August 2017
Tuesday – Friday: 8pm (except 9 August Wednesday, 2pm)
Saturday: 3pm & 8pm
Sunday: 1.30pm & 6pm
Preview Show (8 – 10 August 2017) 
Standard: S$108, S$78, S$68, S$48
VIP: S$118
Premier Box A & B: S$118
Restricted View: S$28
Tuesday – Thursday Evening / Saturday & Sunday Matinee / Sunday Evening Shows
Standard:S$118, S$98, S$78, S$58
VIP: S$128
Premier Box A & B: S$128
Restricted View: S$38
Friday & Saturday Evening Shows
Standard: S$128, S$108, S$88, S$68
VIP: S$138
Premier Box A & B: S$138
Restricted View: S$38
To find out more and to purchase the tickets, please go to https://www.sistic.com.sg/events/cempress0817