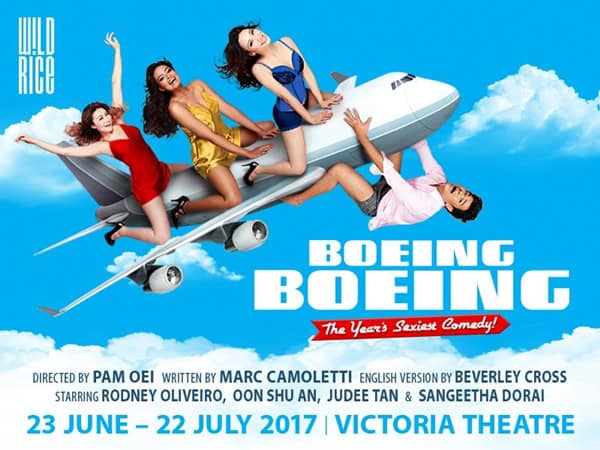 W!LD RICE's Boeing Boeing brings Non-Stop Laughter and Delight to the audience! – Review
We are always impressed with W!ld Rice's productions, like La Cage Aux Folles, which was also performed at the same Victoria Theatre in April to May. This time round is Boeing Boeing, which is another big hit for this local theatre production currently showing at the beautiful Victoria Theatre till 22 July 2017. 
The story is about a Bernard, a handsome bachelor acted by Rodney Oliveiro who has been juggling his relationship with three different beautiful airline stewardess who are his lovers and they also live in the same apartment with him. He has been managing 3 of them successfully without any of his 3 lovers knowing about his affairs with the other women. Bernard has the help of his Filipino domestic helper Rosa by Bibeth Orteza to manage his three girlfriends.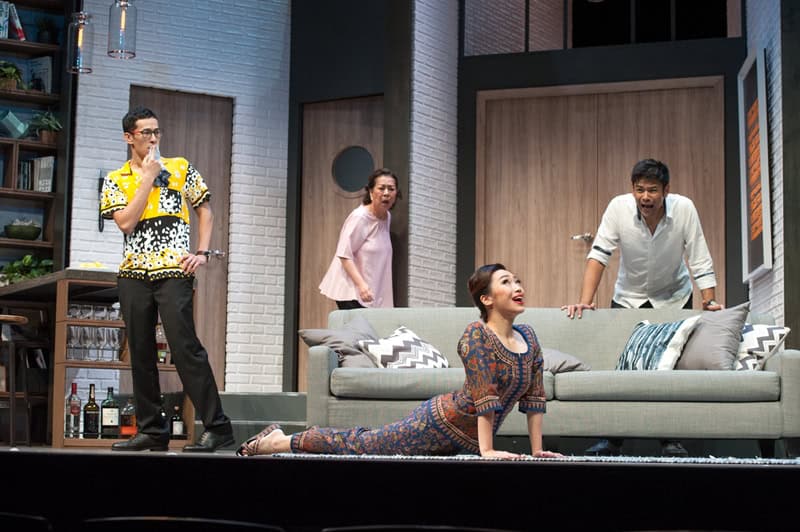 All three of Bernard's girlfriends have different striking personalities, girlfriend 1, Jeanette, she is from Singapore Airlines, sexy, attractive and flamboyant even though she loves Bernard, she aspires to marry a billionaire which she shared her aspiration openly with Bernard. Girlfriend 2, Jayanthi, the charmingly beautiful air stewardess from Air India. She is a confident, determined and no-nonsense lady. Finally girlfriend 3, Jin Jin, a romantic lovely air-stewardess from Air China who is sentimental, passionate and saccharine sweet lady.
Edward's life changing moment comes when his old university mate Robert Toh by Shane Mardjuki from Kuching came to visit him after 15 years. Edward was eagered to share his fling story with Robert and bragged to him how he was a born organisers and managed to juggle with 3 lovers. 
Robert was impressed with Bernard's superb planning and not letting any of his 3 girlfriends know of one another existence.
Like all best laid plans, one day it will fail, and in this case, it is so hilarious to see how Bernard and Robert, with the help of Bernard's domestic helper, Rosa, tries to juggle the ladies from meeting each other in the same apartment. Audience was roaring with laughter with the excellent comic timing and performances by the cast! Bravo! 
The individual cast performed very well. Oon Shu An who acts as a typical Singaporean Ah Lian, Singapore Airline stewardess Jeanette with a practical outlook on marrying for money and not love, Judee Tan who acts as an exaggeration of the typical China girl with strong PRC accent in Singapore is Jin Jin from Air China and the firm and in control Jayanthi acted by Sangeetha Dorai is the Air India stewardess.
They are supported by Bibeth Orteza who speaks with the typical Filipino domestic helper accent and of course the two male cast, Shane Mardjuki and Rodney Oliverio who are excellent buddies on stage.
All the above images credited to W!ld Rice
The storyline is easy to follow, there are lots of near misses when one of the lady almost bumped into the other in this small bachelor pad and the two guys trying their best to keep the ladies away from each other.
In the end, all turns out well, Jin Jin fell in love with Robert and Bernard was more than happy to let her go because he decided to settle down with Jayanthi and Jeanette who is the ever practical money faced Ah Lian went to USA to marry a rich man.
It is a truly enjoyable show with interesting storyline and impressive cast! If you are looking for a night of fun comedy, Boeing Boeing is definitely one that you should not missed!
Hurry, get your tickets now Boeing Boeing is performing till 22 July 2017. 
To find out more and to purchase the details, please go to 
https://www.sistic.com.sg/events/cboe0717
Boeing Boeing 
Show dates and time: 
Friday, 23 June – Saturday, 22 July 2017
Tuesday to Saturday: 8.00pm
Saturday & Sunday: 3.00pm
Venue:
Victoria Theatre
Ticket Pricing:
(Excludes Booking Fee)
Preview (23 June, 8pm & 24 June, 3pm)
Standard: S$70, S$60, S$45
Tuesday – Thursday, 8.00pm
Standard: S$75, S$65, S$50
Friday & Saturday, 8.00pm and Saturday & Sunday, 3.00pm
Standard: S$80, S$70, S$55