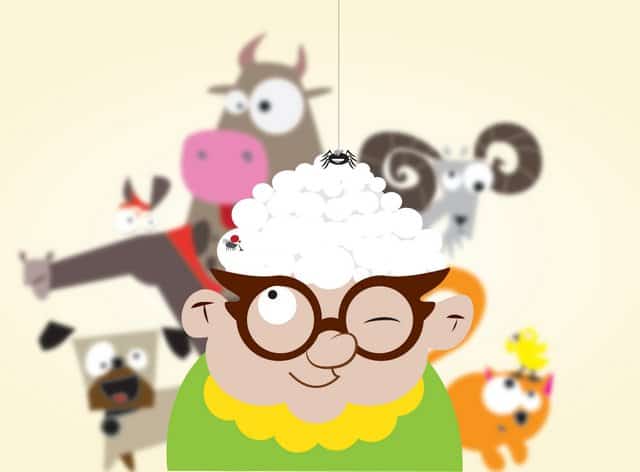 This June school holidays, ACT 3 International, Singapore's leading Arts company for the young will be presenting a delightful 'all-in-one' arts-filled workshop based on the witty ditty 'There Was an Old Lady Who Swallowed a Fly'.
The workshop is held twice daily from 11 to 17 June 2014, this 90-minute session is specially curated for 4 to 8 year olds and comprises four key elements – exhibition, performance, drama workshop and visual arts activities. 
This workshop guaranteed to be FUN, FUN, FUN for your children, this exciting "all-in-one" held at the Ion Art Gallery will certainly get them hustling and bustling as soon as they enter.

When Our Parenting World, Gor Gor and Di Di first heard of this workshop and that they will be going for it, they are so excited!
Di Di being younger is especially curious with the catchy title an old lady who swallowed a fly, he is wondering why did the old lady swallowed a fly? So he went to ask his Grandma why she would want to "eat" a fly? Grandma asked him to find out at the workshop.
The workshop started with a play on this ridiculous yet lovable storyline of a woman who swallowed a fly, who then swallowed something else to eat the fly (and so on).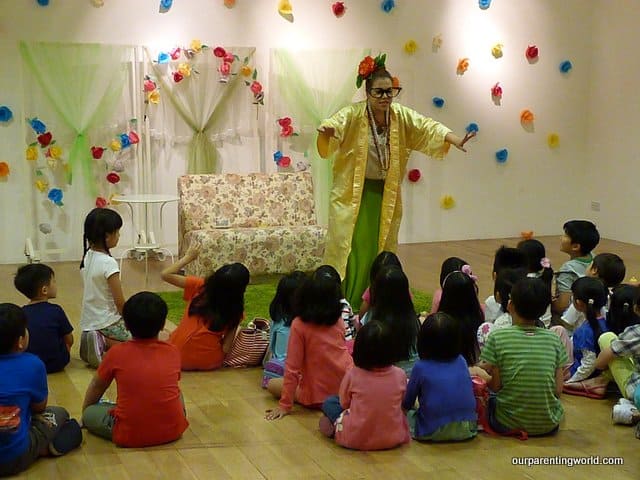 The story captivated the children and they were all listening attentively to it.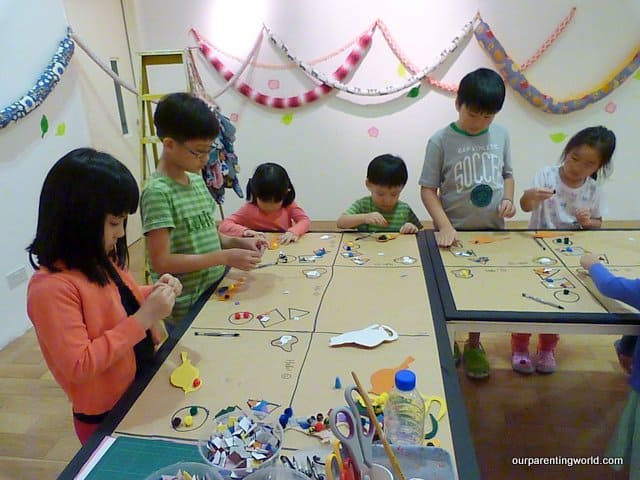 After the interesting play, children get to unleash their creativity by doing arts and crafts. Gor Gor and Di Di settled down to work on their own art piece, a cut out bird and decorate it.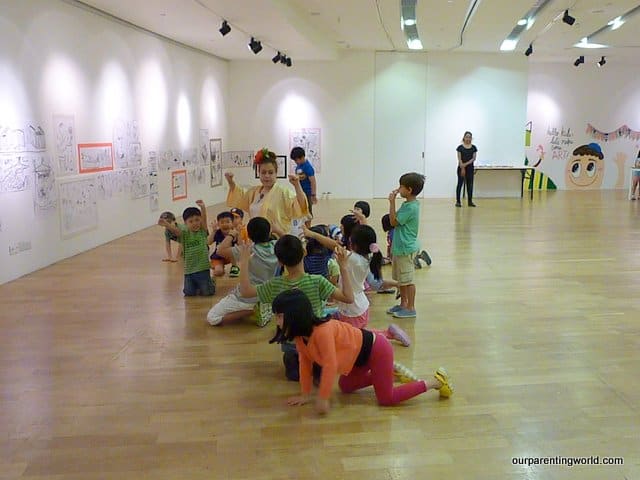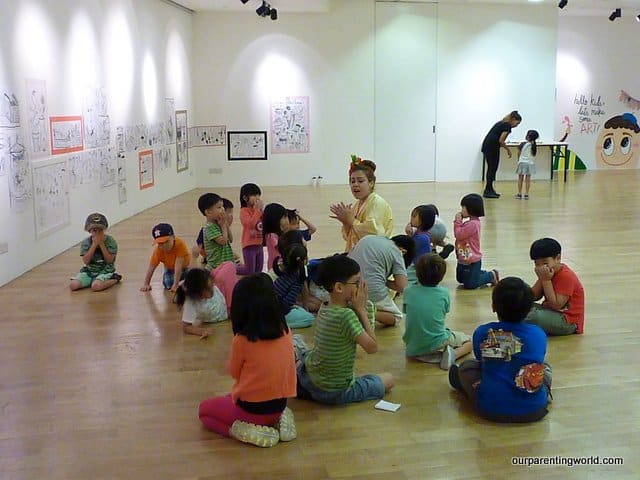 After the children have finished their arts and crafts sessions, they all get to gather around and do interactive play. This play aims to draw on the kids' artistic expressions.

Looking at how Gor Gor and Di Di were involved in the interactive play and their happy faces, we are glad to know that they enjoyed the session!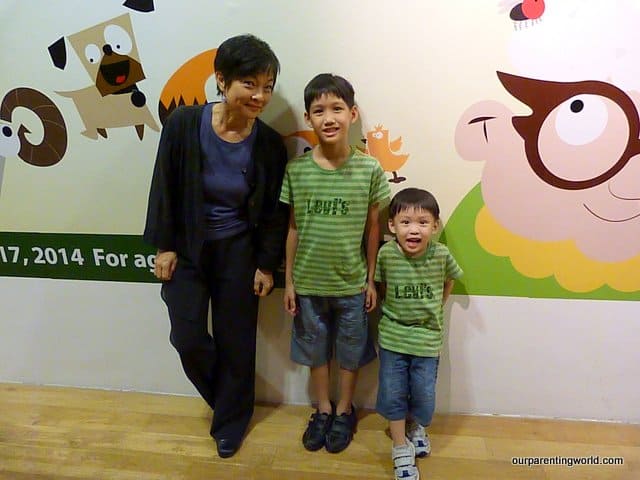 We would like to thank the kind and lovely Ruby Lim-Yang, Artistic Director and co-founder, ACT 3 International and organisers for having us. We have a fun and memorable time at the workshop!
Mummy has always wanted us to be involved in play and drama and she is more convinced now that it's time to get started after attending the workshop. 
Additional Information:
Performance and drama workshop
Children will also be treated to a 1 ½ hour interactive one-woman play by Frances Lee for a taste of performance and theatre!
'There Was an Old Lady Who Swallowed a Fly' information Venue: ION Art Gallery, Level 4, ION Orchard, 2 Orchard Turn Date: 11 to 17 June 2014, daily
Workshop times: 10.30am to 12pm or 4pm to 5.30pm
Price: S$25 per child
Book online:  www.act3international.com.sg
For more information: Call or email ACT 3 International at (65) 6735 9986 and act3int@act3international.com.sg 
Please take note that this is a drop off workshop – ie parents drop off their children and come pick them up when it finishes. Parents can come back 15 minutes before the end of the class should you wish to take any photos!
June Holiday Workshops at ACT 3 Drama Academy
Five exciting workshops, including one on Circus Arts, will be available for children from 3 to 16 years old. Apart from acquiring basic drama tools, children  will  also fine tune their communication, social and sensory skills. The effects of drama on a child's learning journey are invaluable to his or her development.
Juggle the Juggler with Dan the Hat
2 to 6 June 2014 (five-day workshop)
Sharing tips and tricks on the art of juggling, manipulation and spinning, while focusing on physicality, comedy, entertainment and confidence-building, Dan the Hat will enthral children with his circus art form. S$380 per child (recommended for 7 to 12 year olds).
The following five-day workshops will take place from 2 to 6 June, 9 to 13 June, 16 to 20
June and 23 to 27 June 2014.
To the Land of the Wild
Inspired by Maurice Sendak's 'Where the Wild Things Are', 3 to 5 year olds will embark on an adventure through forests and oceans, and meet zany characters along the way! S$300 per child.
The Little Quest
Children will go on an adventure with the debonair mouse named Stuart Little as he faces comic misadventures during the journey. Suitable for 6 to 8 year olds. S$300 per child.
Expedition Weird, Wild and Wonderful
This workshop is an opportunity for 9 to 12 year olds to go on a journey in search of treasure just like how the Famous Five did in Enid Blyton's 'Five on an Island'. $380 per child.
Adventures in Middle Earth
Strange and amazing creatures come together on a journey across Middle Earth to attain what  they  wish  for.  Teens  aged  13 to  16  will  be  challenged  with  character  work  and achieving a sense of mastery as they story tell and dramatise. S$450 per child.
To register for the workshops, parents are invited to book online at www.act3international.com.sg, call ACT 3 Drama Academy at (65) 6735 9986, email at act3int@act3international.com.sg or visit the premises located at ONE-TWO-SIX Cairnhill Arts Centre, 126 Cairnhill Road. 
About ACT 3 Drama Academy Holiday Workshops
Since 1999, the Holiday Workshops, held four times a year, have been very well-received and much favoured by parents and children for its well-rounded and stimulating programmes that encourage learning through interaction, creativity, movement and self-expression. Past workshops have worked on scripts such as The Chronicles of Narnia, Alice in Wonderland, Doctor DoLittle, Journey to the Centre of the Earth, 1001 Arabian Nights and The Pied Piper. Taught  by  seasoned  drama  teachers  trained  in  Theatre  Studies  and  Drama,  these workshops typically consist of no more than 15 children at any one time, ensuring that ample attention is given to each child.
About ACT 3 International
Singapore's leading Arts company for the young, ACT 3 International continues to build on the pioneering efforts started 26 years ago in 1984 as 'ACT 3' – a Children's Theatre company – by co-founder Ruby Lim-Yang. Then, ACT 3 International was set up in 1994 with the intention of furthering its vision beyond the Singapore shores to touch the lives of the young through the Arts, not just as audiences but in the creative process as well. Today, it works in both private and public sectors on a variety of Arts-based initiatives that have transcended theatre and moved into aspects where the Arts is juxtaposed with the environment, heritage and culture.